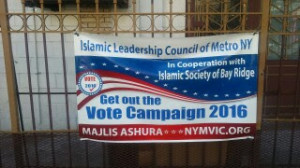 I took the image you see above in my old stomping grounds of Bay Ridge, which has earned the moniker Beirut in recent years, for obvious reasons. Aside from the Alpine Theater-which was in danger of being added to the adjacent mosque at one point-and Galaxy Comics, you would be hard-pressed to find a building along Bay Ridge or 5th Avenue whose awning was not covered in Arabic script. Judging by the number of hookah bars, halal restaurants and food carts, not to mention demure apparel shops for the fashion forward 7th century Muslima, a tourist would be forgiven for thinking he'd landed somewhere in the Maghreb rather than southwest Brooklyn.
Lest you think the Islamic Leadership Of New York is merely a benign group of patriotic citizens, here is the website mobilizing this New York's civic-minded Muslims. Although seemingly under construction, you will notice a few things which belie the red, white and blue messaging of the banner seen in my photograph. Leaving aside the fact that every member of this group's executive committee is a man-I'm sure there's absolutely no Koranic basis for that anomaly-you'll also notice a few other oddities, including the prominent place of unindicted co-conspirator in the 1993 World Trade Center bombings and former Louis Farrakhan acolyte  Siraj Wahhaj. After all, what could be more quintessentially American, more mom and apple pie, than working with the leader of a mosque which invites 9/11 truthers to expatiate on topics of public interest and believes this country serves no greater purpose than to enlarge upon the Caliphate?
Perhaps North American offshoots of the Muslim Brotherhood, several of which are members of Majlis Ashura, including the Islamic Circle of North America, Mohammed Morsi's old pals. It almost makes you wonder if those Americans who oppose resettling tens of thousands of Syrian Muslim refugees in the United States might be on to something after all. Is it possible that the adulatory praise Muslims receive from the American press corps, and the self-serving dawah Muslims themselves churn out for public consumption, is simply a load of manipulative crap? These are questions begging to be asked, especially since the leading presidential candidate's closest aide is a woman intimately linked to radical Islamists.
That's right, in addition to being an unofficial political liaison for rich donors to the elaborate money-laundering scheme known as the Clinton Foundation, Huma Abedin is also the daughter of a woman who-like most Pakistanis-doesn't believe in quaint Western customs like women's emancipation. Saleha Abedin does believe that Muslims in the diaspora-men, at the very least-are entitled to the full panoply of rights and privileges, including, presumably, the right not to have their religious beliefs critically examined by non-Muslims. In fairness, her parents were recruited to Saudi Arabia for the express purpose of proselytizing for the Muslim World League, an anti-Semitic, anti-Christian, Wahhabist NGO bankrolled by the Saudi government, so these beliefs shouldn't come as much of a surprise.
Whether these beliefs influenced their daughter is an open to question, but the fact that no mainstream media outlet has deigned to ask that question tells you how thoroughly corrupt the fourth estate has become. While European nations are having their national identities effaced under a flood of migration, America is undergoing its own radical transformation which is being cheered on by the ruling class. The lives our our fellow citizens are under attack, both literally and figuratively, by invaders it has welcomed into this country and their instinctive reaction is to condemn the victims of these assaults. If the Majlis Ashura gets its way, expect more attempts to squelch the speech of its perceived enemies. Their preferred candidate has already promised as much in private. After all, what difference does it make?