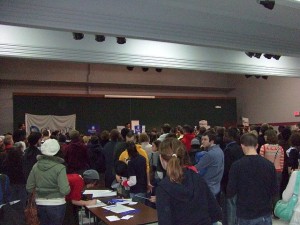 Update: Senator Cruz has emerged victorious, with Donald Trump and Marco Rubio rounding out the top 3, while Hillary Clinton and her socialist opponent are virtually even with nearly all of the precincts counted. 
The Guardian is tracking the Iowa vote as it comes in. Follow the county-by-county results here. 
Breitbart is providing live coverage of the Iowa Caucuses as the returns come in. Follow it here. 
After nearly a year of jockeying and polls in our interminably long presidential news cycle, we'll finally know later tonight who the actual front-runners in the Republican and Democratic fields are. Whether this is truly the year of the insurgent candidate remains to be seen, but rest assured we will be here to cover the results and their political aftermath.
Until then, we recommend checking out some of our good friend Pamela Hall's photos from the anti-capitalist, pro-Bernie Sanders march which took place in Manhattan this weekend. It would be interesting to find out if they checked in at Starbucks afterwards.