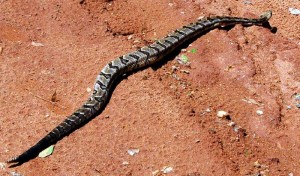 In today's Rattle, we cover everything from the Obama administration's continued dismantling of border security and immigration enforcement, to the trivialization of the Civil Rights Movement by the open borders left, to congressional oversight into Attorney General Eric Holder's obstruction of justice in the Fast and Furious probe.
But first, we look at the increasingly misnamed Southern Poverty Law Center, which continues its progressive slide into buffoonery with a report into the national security threat posed by purportedly misogynistic weblogs. As Mark Krikorian explains in The Corner, the SPLC has adopted new hate objects now that its demonization of patriotic immigration reformers has run its course. Notwithstanding the dearth of civil rights violations by non-government entities or white-on-black crimes-the ostensible raison d'etre for the organization, the SPLC continues to rake in millions of dollars from credulous liberals. Even so, the fundamental illegitimacy of Morris Dees' operation hasn't escaped notice, and its laughable mission is now the source of mockery on countless blogs and websites.
On a much more distressing note, yet another vicious attack by an illegal alien has been recorded in Lexington, South Carolina. In a case of life imitating art, Jose Hernandez Mendez has been charged with a string of brutal machete attacks against innocent South Carolinians and is being held on an immigration detainer. As those of you who've been following American Rattlesnake probably know, the dramatic spike of machete attacks inside of the United States correlates with the increase in illegal and legal immigration from Central America and Mexico, hubs for brutal criminal gangs like MS-13  and Los Zetas. Look for more such arrests-and less preventive deportations-in the future as this administration removes even the faintest veneer of immigration enforcement. What's more, the exodus of emigrants from Latin America will increase as these organized crime syndicates go global, as this piece from InSight demonstrates.
As for the lack of enforcement stateside, there are several new, disturbing developments to report. Even as John Morton moves to expedite the administrative amnesty implemented by this administration last year, the process of eviscerating this nation's border security and internal immigration controls has been expanded to include the United States Border Patrol. Not content to merely persecute dedicated law enforcement officials like Agent Jesus Diaz, and heedless of the lack of interagency cooperation between Customs and Border Protection and ICE, this administration seems bent on doing away with whatever remaining obstacles impede or deter illegal aliens in any substantive way. But you need not fear, because Angelenos are being protected from counterfeit sex drugs peddled by septuagenerian Koreans! What tax dollars aren't being funneled into fake Viagra suppression sweeps are being redirected to hormone therapy for transgendered illegal alien detainees.
There are a few-far too few, unfortunately-members of Congress objecting to cuts in border security appropriations, but the vast majority of congressmen seem to be mired in a state of torpor that would be risible if these individuals hadn't been elected in order to represent our interests. This administration is in the process of eliminating even the vestiges of immigration enforcement-while simultaneously engaging in political charades intended to mask its true intentions-and the one possible check on its exercise of unconstitutional power shirks its oversight responsibility altogether. What's more, the leaders of the Republican House majority are actively thwarting attempts by backbenchers in their own caucus to advance E-Verify, a state of affairs so blatant in nature that Numbers USA feels compelled to run television ads taking Speaker Boehner to task for his inaction.
Congress's dereliction of duty has had a deleterious impact across a wide spectrum of issues. For example, a new audit from the Treasury Department's Inspector General for Tax Administration found that illegal aliens and immigrants ineligible to work had pocketed over 4 billion dollars as beneficiaries of the Addition Child Tax Credit. As if the serial manipulation of our tax code for social engineering purposes and squandering of tax dollars for economic "stimulus" weren't enough, our federal government is now subsidizing the creation of more anchor babies.
Perhaps one issue where Congress-or at least, its Republican membership-has continued to press this administration for accountability is its ongoing probe into the Fast and Furious fiasco. Breitbart.com's Big Government reports on the growing chorus of Republican congressmen who have called upon Eric Holder to resign, a group which now includes former presidential candidate Michele Bachmann-who has pushed for a no-confidence vote on the Attorney General in the House of Representatives. To discover what the House Government Reform and Oversight Committee is doing to bring this administration to account, take a look at Representative Jason Chaffetz grilling Holder for his serial evasion and obstruction of justice.
While Congress vacillates between dithering and actively holding this administration to account for its skewed priorities, the impact of the greatest recession-and most stunted recovery-in decades continues to be felt by ordinary Americans. Unfortunately,  many of those Americans who are unemployed are not able to find work at home. As CNN reports, American manufacturers are scouring foreign shores to find qualified factory workers that allegedly do not exist in this country. However, much like the purported dearth of qualified American engineers, this media narrative is a complete and utter fabrication.
There are more than enough factory workers and engineers to occupy vacancies within their respective industries, but the problem is that "tech titans," as the Wall Street Journal so lovingly describes them, would rather fill them with illegal aliens and imported workers using the H1-B visa program, which-as we've pointed out repeatedly in the past-is rife with fraud and corruption. The reason being that American workers expect to command a salary commensurate with their level of training and education, whereas foreigners can be locked into contracts that even supporters of lenient immigration laws compare to indentured servitude. These policies obviously have devastating consequences for Americans seeking employment, as this Edwin Rubenstein analysis of last month's job data illustrates.
The quest to replace the American worker continues at nearly all levels, as does the attempt to stretch the increasingly elastic immigration laws that do exist. For example, in the state of Massachusetts, Senator Scott Brown is attempting to expand the E-3 Visa-currently available only to Australian workers-to include nearly 11,000 Irish nationals seeking admittance to the United States. In the proud tradition of ethnic pandering carried out by his predecessor, the late Ted Kennedy, Senator Brown is attempting to curry favor with a mainstay of Massachusetts' politics, i.e. Irish-American voters, by contorting American immigration law. It should be noted, however, that drastic changes to immigration laws often have unintended consequences.
On a statewide level, the fight for immigration enforcement plods along, encountering the same impediments that Arizona did when Governor Jan Brewer decided to stand up to the Obama Justice Department nearly two years ago. Even so, activists like D.A. King-president of the Dustin Inman Society-have begun to wield the law to our advantage. The Montgomery Advertiser has a story exploring how he has lodged a complaint with the Immigration Enforcement Review Board-an entity charged with applying Georgia's new immigration law-over Atlanta's decision to accept illegitimate Matricula Consular  cards as valid identification for the purposes of dispensing public benefits.
Mexican-issued identification cards are prevalent in many American cities and states, especially in the South. In addition to the mockery they make of our election laws-a threat this administration does not seem to be cognizant of, based upon its attempts to nullify voter i.d. laws-these fraudulent i.d. cards, through their wide availability, also invite domestic terror attacks, as the House Judiciary Committee pointed out nearly nine years ago! To appreciate the true scope of the damage inflicted by American institutions which have chosen to accept these cards, check out this CIS backgrounder, which explains how and why the Matricula Consular has proliferated in the United States.
Moving on to Georgia's neighboring state, Alabama, we find open borders hysterics beclowning themselves once again. This time, by analogizing Alabama's landmark immigration enforcement law HB 56  to Jim Crow Era segregation. Dr. Frank L. Morris, punctures this insipid, desperate comparison brilliantly in his Daily Caller column, which I urge you all to read in its entirety.
Finally, our fight against the negation of American immigration law shouldn't let us lose sight of the courage and compassion displayed by the front line warriors in this nation's battle to protect its borders. Officer Ross Goodwin is just one member of the Border Patrol who deserves our gratitude for his selfless devotion to duty, which has been recognized by the New Mexico Sheriffs' and Police Association, as KOB reports. Officer Goodwin was accorded the honor of being named Officer of the Year  for saving the life of an illegal immigrant while in the line of duty.
In spite of the racist crudities heaped upon them by embittered Mexican nationalists, and the unremitting hostility open borders dogmatists exhibit towards them, our nation's Border Patrol agents continue to risk life and limb in order to protect Americans, as well as save the lives of Mexican and Central American border crossers who have been left to their fate by coyotes wholly indifferent to human suffering. While this administration continues its predecessors' policy of political prosecutions of Border Patrol agents, these men and women are putting themselves at risk in order to help their fellow human beings, something we should all keep in mind the next time we see or hear a know-nothing assault against immigration enforcement.