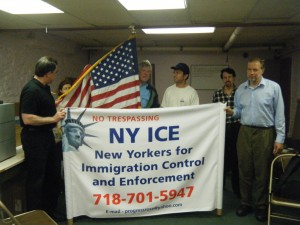 Most of you will recall the outrageous assault upon NY ICE activists during May Day, an attack which was extensively documented by this website. Well, I'm pleased to report that the violent, pusillanimous open borders demagogues who tried to silence the voice of this great organization have not succeeded. I'll let Joanna Marzullo tell the rest of the story. 
As most of you know, our old NY ICE Banner was destroyed by the adversary during our May Day counter-demonstration.  Most of you have seen the videos, but if you haven't they are up on our new NY ICE website. 
We have a new NY ICE banner due, in no small part, to donations made all over the country  for our new, bigger, stronger banner!
Joanna Marzullo, President of New Yorkers for Immigration Enforcement (NY ICE)