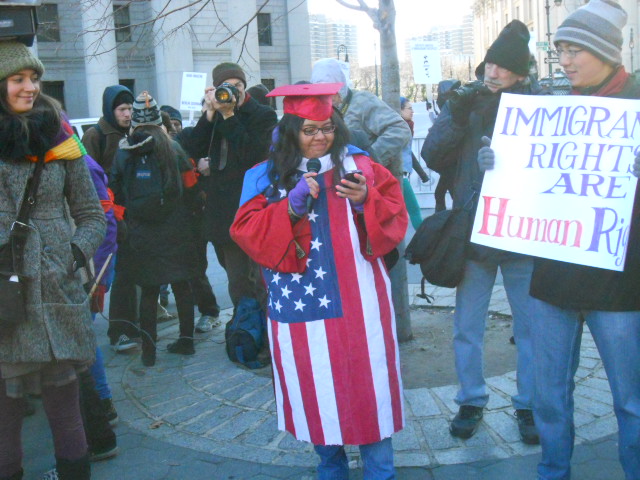 Update: Thank you 9/11 Families for a Secure America for highlighting this entry on your Facebook page. Peter Gadiel-who lost his son James in the September 11th massacre at the World Trade Center-serves as an inspiration to us all for continuing to hold politicians' feet to the fire on border and national security issues. Thank you, Peter. 
Sunday, as most of you who've followed the past few updates probably know by now, was the day when Occupy Wall Street demonstrators decided to link up with open borders advocates a few blocks from City Hall. Of course, a number of  speakers invited to the event were themselves illegal aliens, including the young girl sporting a disfigured American flag fashioned into a graduation gown. She was entreated to deliver a ten minute-long speech which-if the consequences were not so grave-would have been jaw-droppingly hilarious.
In addition to lamenting the misfortune that has befallen her family merely for consciously and premeditatedly breaking the law, she decried the injustice that made her at times ingest dirt. Yes, that's right. In order to elicit sympathy from her audience-which was unnecessary, considering the crowd-she recounted an anecdote about being forced to eat cakes made of dirt. However, unlike the Haitians forced to eat dirt cookies in Cite Soleil, I doubt the veracity of her tale, not least because it would mean she didn't avail herself of the free school lunch program in this city, that her parents somehow missed the lavishly funded network of Catholic services intended specifically for the benefit of illegals, and that everyone in her immediate family-including those proficient in the English language-ignored the dozens of open borders advocacy groups-at least half a dozen of which participated in this event-located in the Tri-State Area. 
The political exploitation of children was a recurring theme, as was the deliberate obfuscation of the issues, which shouldn't surprise anyone who followed last year's debate over Congress's possible approval of the DREAM Act. There was even a "family" that dragged itself to Foley Square, although the integrity of parents willing to subject their kids to sub-freezing temperatures in order to be propagandized is questionable.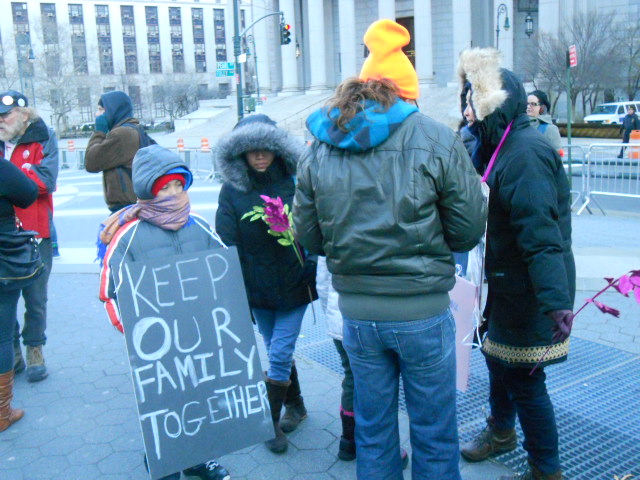 Left unasked was the question, "why should families be separated?" Apparently, these adults graduated from the Elvira Arellano School of Parenting.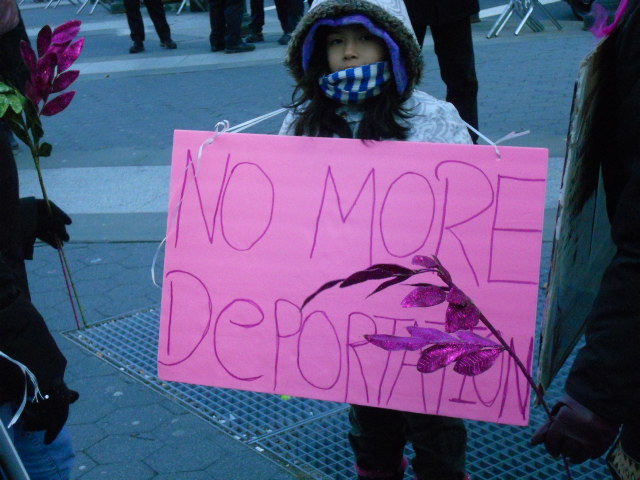 I'm not quite sure what the pink, artificial flowers signified, but they were ubiquitous at the demonstration, as plentiful as the palm fronds at a previous, equally absurd demonstration opposing the concept of enforcing immigration laws.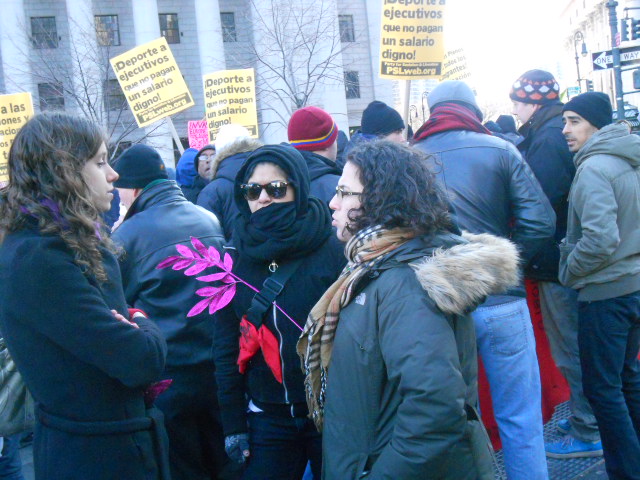 It took a while for the crowd to fill out-perhaps some would-be participants were scared off by La Migra-but eventually 70-80 illegals, their supporters, as well as Occupy Wall Street stragglers, made their way into the area the NYPD had cordoned off beforehand.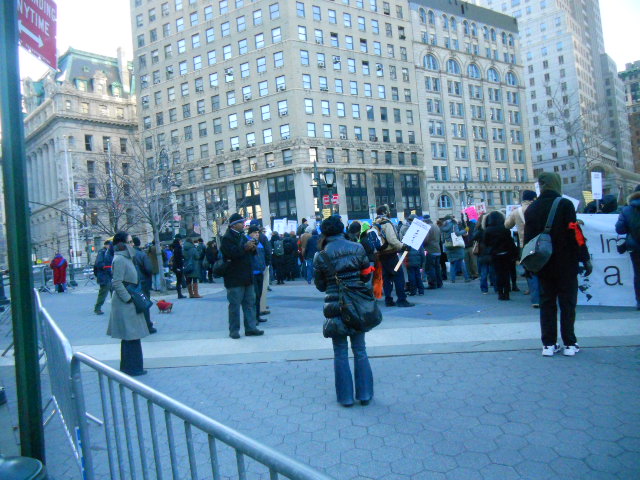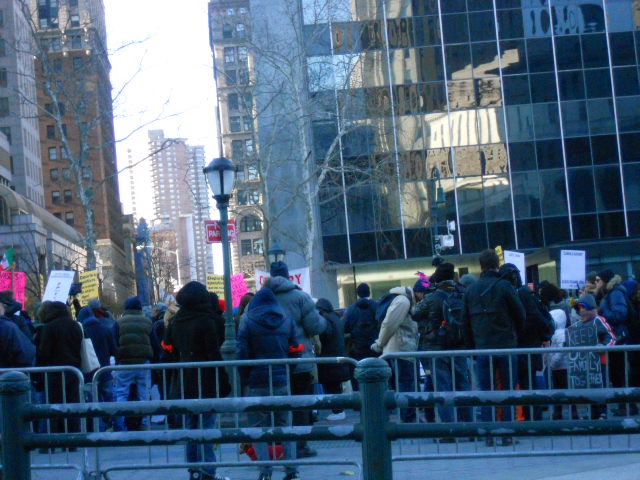 The folks in the red arm bands-one of the speakers described them as "orange," so perhaps I'm color blind-were ostensibly there in order to provide security and protect their "community." Evidently, the 100+ uniformed police officers did not constitute a sufficient force to deter a few dozen aging Communists and inept soccer players.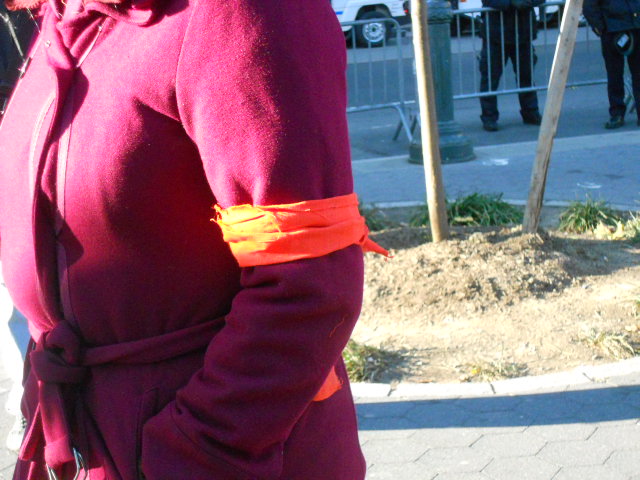 It wouldn't be an unfocused, left wing demonstration without a number of platitudinous, seemingly incoherent placards, and this day was no exception. The one below would seem to imply that diversity is a necessary prerequisite for a functioning society, although as Adam Carolla has pointed out, true diversity seems to be the last thing on the minds of people agitating for unfettered immigration.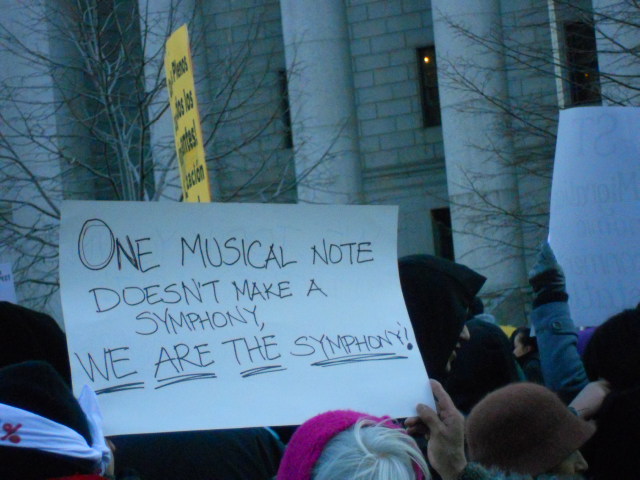 The artistic dimensions of this protest were manifold, although aside from the more ardent defenders of Roman Polanski, who've been taken to task elsewhere, I don't know of many people who would consider obeying the law an esthetic choice.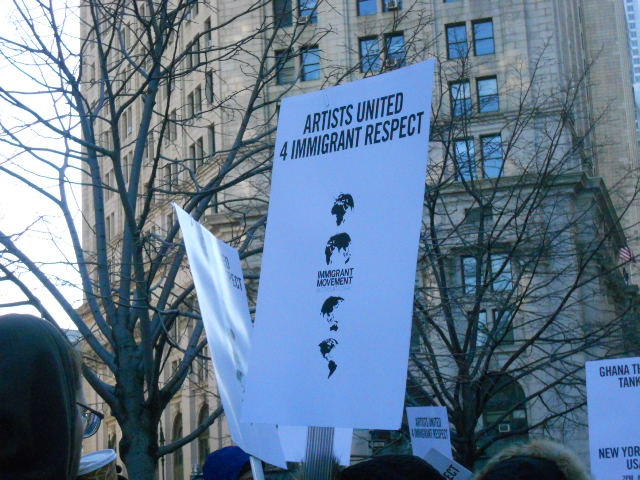 There was also, perhaps unsurprisingly in a post-OWS world, a marching band.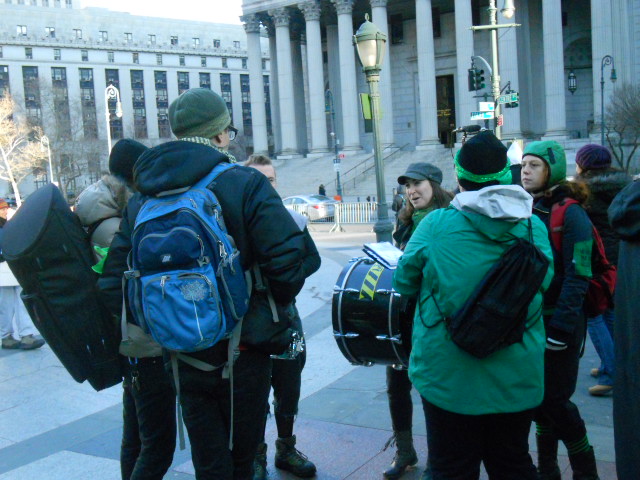 We will not be silent. A call to arms, or-considering the talent level of the musicians in question-an implied threat?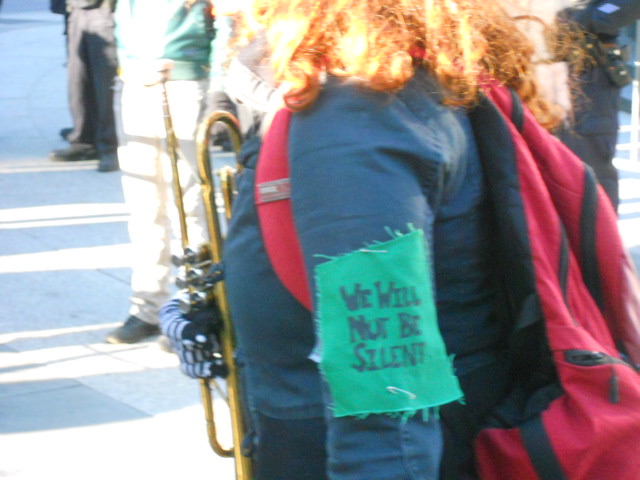 Some of the demonstrators even brought their pets along, including this daschund. I don't think I'm being presumptuous by taking it as a given that she was one of the few present with legal papers.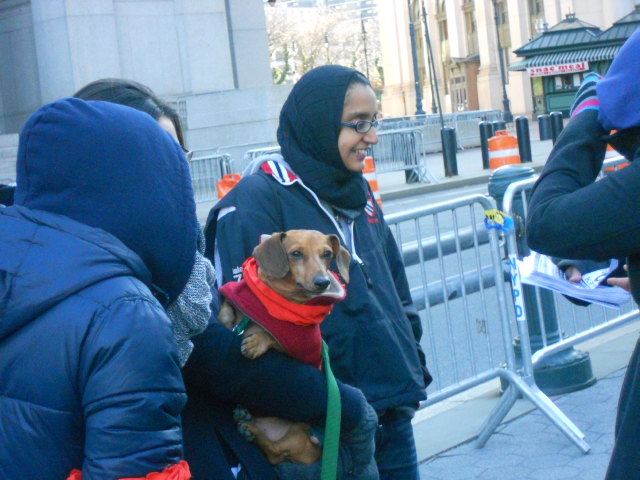 The only possible response to this sign? Too late, pal.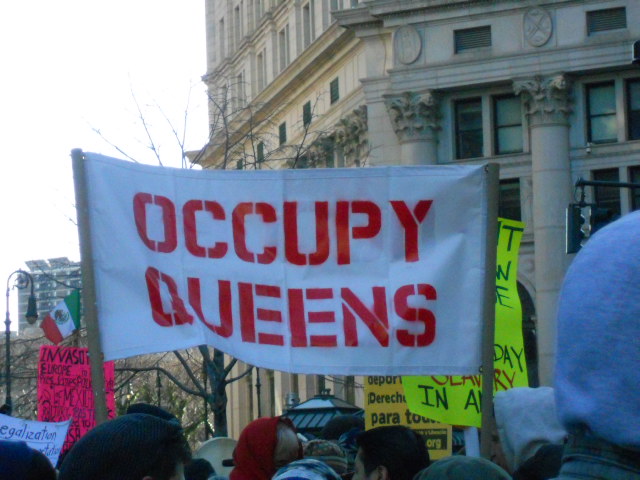 There was at least one activist who made a passing reference to the May 1st Coalition, a militantly open borders organization that stages anti-American protests each May Day. This website, as well as NY ICE, has tangled with them in the past.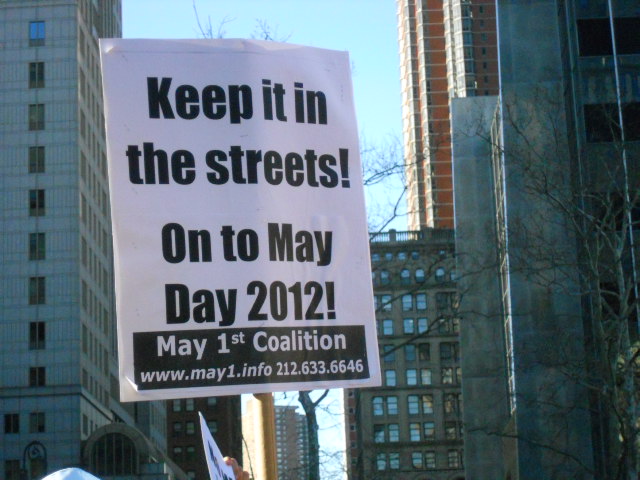 Again, the signs on display expressed sentiments that ranged all the way from utterly vacuous, to incoherent, to utterly inaccurate and ahistorical. The one below is just one such example. Apparently, dignity isn't a state that you earn through deeds your fellow man deems worthy of esteem, it's something that you demand of the people you're imposing youself upon-in this case, illegally. One wonders whether this person thinks about the dignity and self-worth of the millions of Americans rendered unemployable by our government's deliberate actions, or the people who have to bear the costs associated with its inability to pursue a rational immigration policy that revolves around America's interests. Somehow, I doubt he has.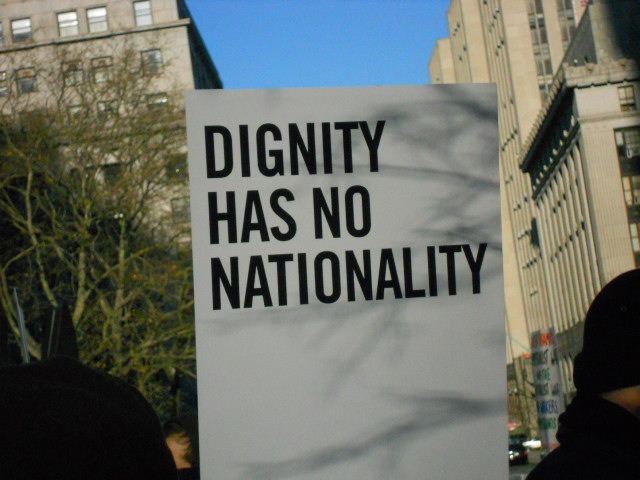 Another trusty standby, immigrants pay taxes. There are only two problems with this one.
1. Illegal aliens are not immigrants.
2. The taxes paid by the cohort of immigrants this country currently absorbs are vastly outweighed by the amount of taxpayer funds they consume in the form of costly social welfare benefits.
Other than those two minor quibbles, she presents an irrefutable, logically airtight argument.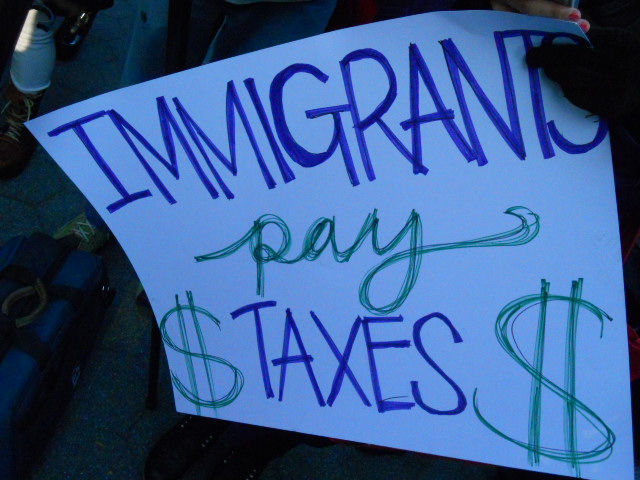 Ironically, many of the signs on display simply reinforced the arguments that this website and its supporters have been making for years. The ones decrying workplace exploitation of illegal alien workers, for example, did not convey any concept that Roy Beck hasn't articulated quite vociferously and eloquently over the past two decades.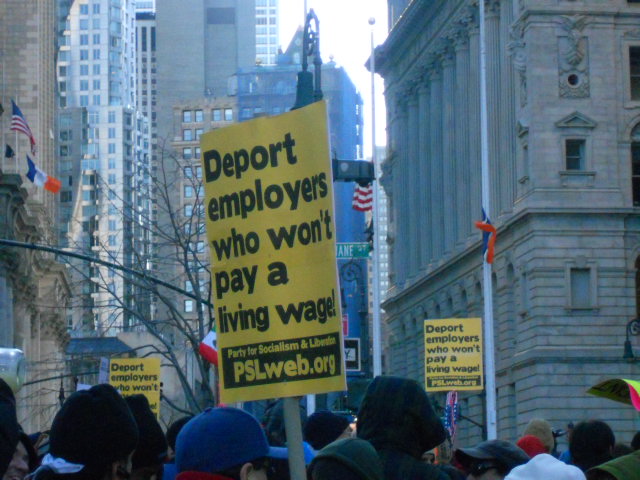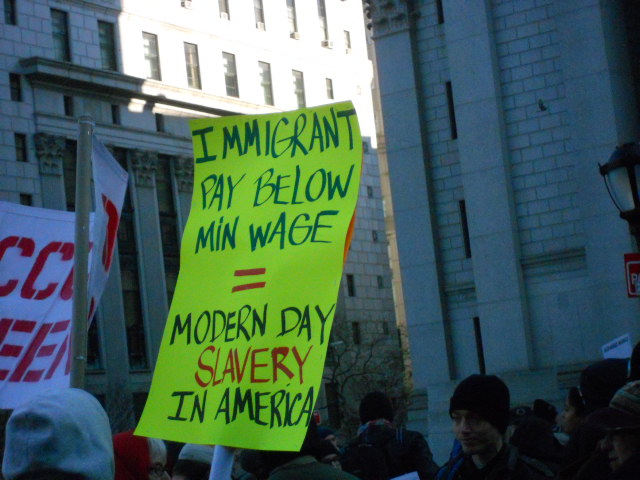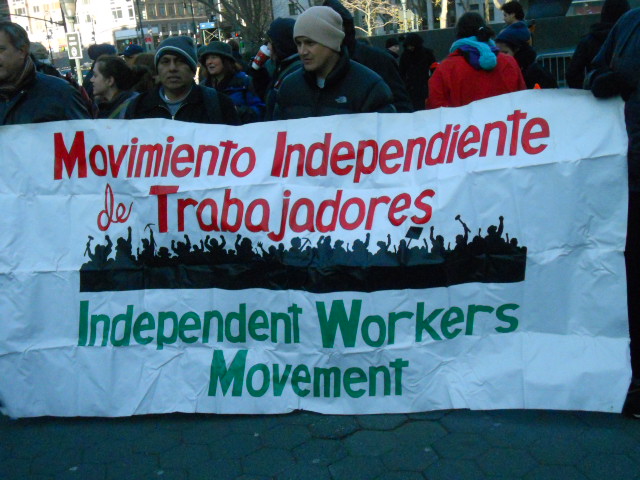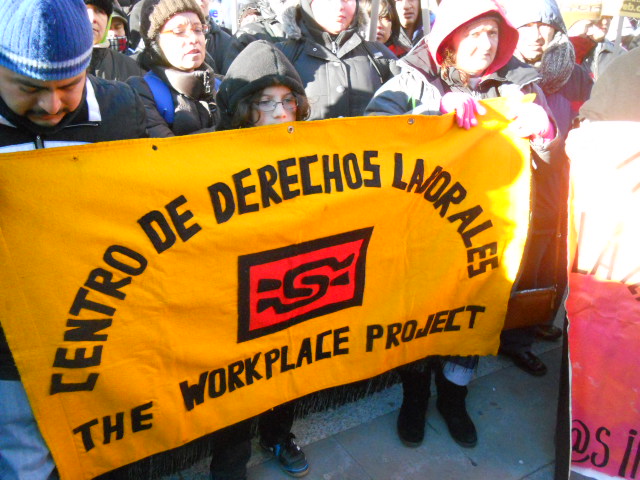 The generic nature of some of the signage began to get tiresome after a while. The banner below serving perhaps as the apotheosis of vapidity. Immigrants represent a better future for whom? The utterly superfluous nonprofits and advocacy organizations that suck up taxpayer subsidies in order to justify their existence? The political elite  that cultivates them in order to remain ensconced in office and wielding power over the rest of us indefinitely? The media gatekeepers who intentionally squelch an honest debate about this issue? The beneficiaries of our current open borders policies were never specified.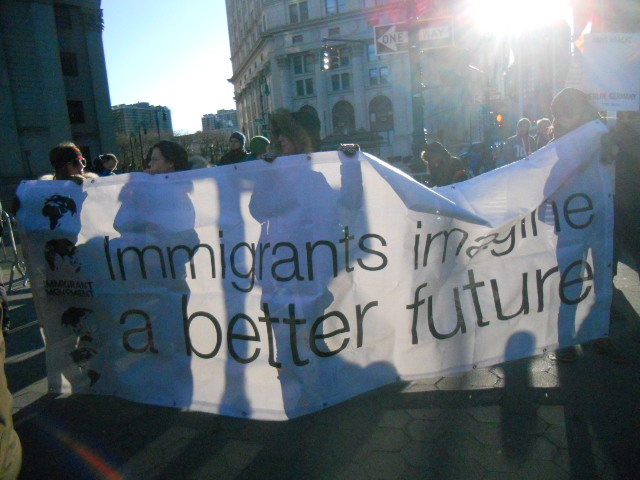 The most obnoxious-to say nothing of historically inaccurate-sentiment expressed at this rally was the notion that "we," the collective noun in this case referring to nonwhite Hispanics or Amerindians, were here first. The incandescent stupidity of this assertion was illustrated by a brief conversation conducted with the woman holding the sign seen below.
When I asked her who the referent was in the statement "we were here first," after stammering for a few seconds she replied that it was the North Americans who were here before the Europeans. She averred that she was a Puerto Rican and that they had been there forever. Not quite satisfied by her answer, I pressed and was told that we referred to "brown people." When I brought up the counterexample of Kennewick Man, who most assuredly wasn't brown-unless the Ainu are now conidered members of La Raza- she demurred.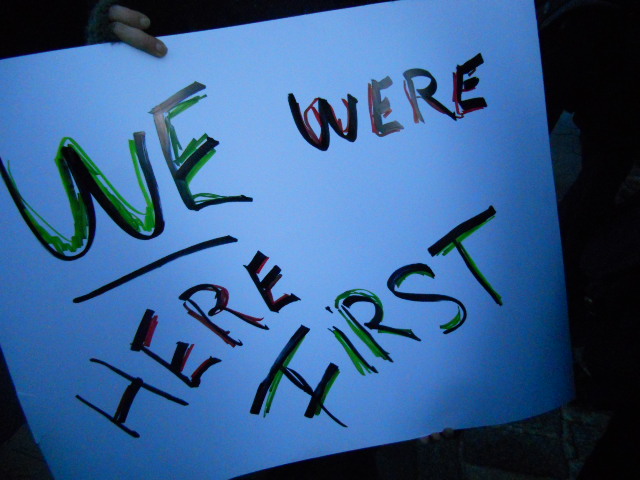 Unfortunately, her mistaken belief was echoed by many others in the crowd, including this woman, who seems to be operating under the misconception that there really is a North American Union.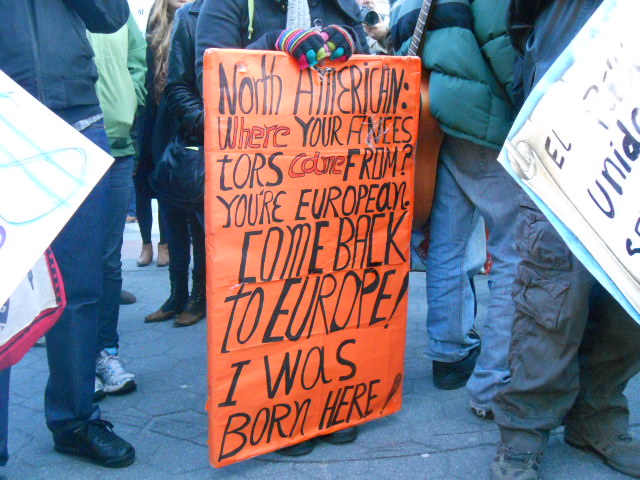 This startingly incoherent banner expressed similar sentiments: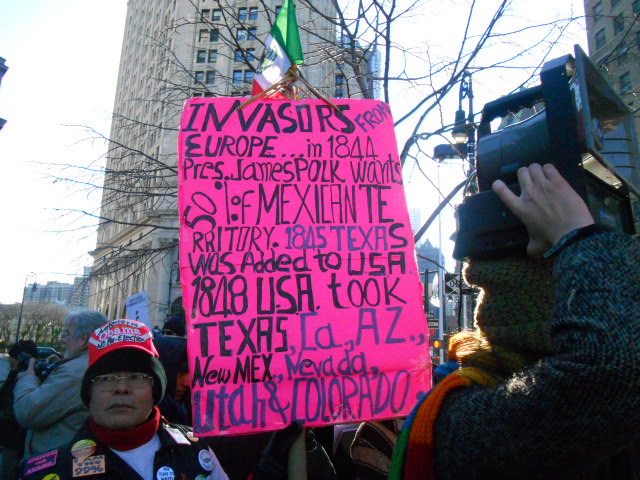 After glancing at the back of his oak tag, I realized that he was referring to the realignment of political cartography that resulted from this nation's military victory in the Mexican-American War. Although the origin of the war between Mexico and the United States is an extraordinarily complex topic, and the political boundary between the two nations has been questioned by many since Abraham Lincoln served as a Whig congressman from Illinois, I don't remember the Treaty of Guadalupe Hidalgo including any mention of New York, current demographic trends notwithstanding.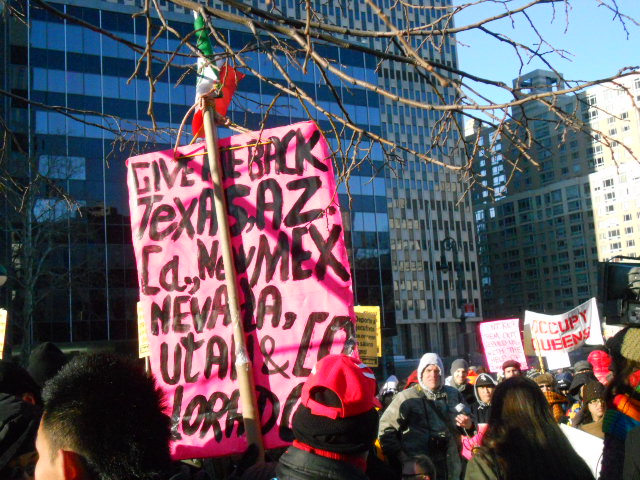 The demonstrators attempt to play on the heartstrings of the overly emotional and credulous was consistent, as evinced by the banner below. Not surprisingly, the families torn apart by illegal aliens did not merit any sympathy among those in attendance.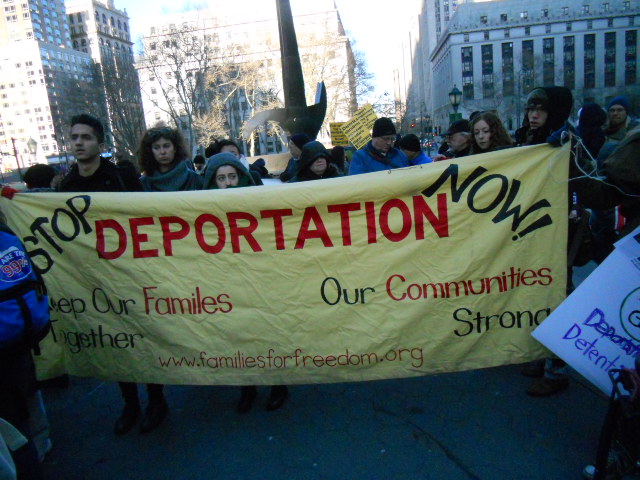 Of course, the legality of enforcing any immigration law was brought into question by the protestors. Although it's possible that she was referring to something else, "double jeopardy" in the context below means trying and/or deporting an alien because he or she was charged with a crime for which the defendent has already been acquitted. What puzzles me is why she went through the trouble of devising such a specific sign when in all likelihood she doesn't believe any illegal alien-even those who have been subjected to fair legal proceedings-should be deported.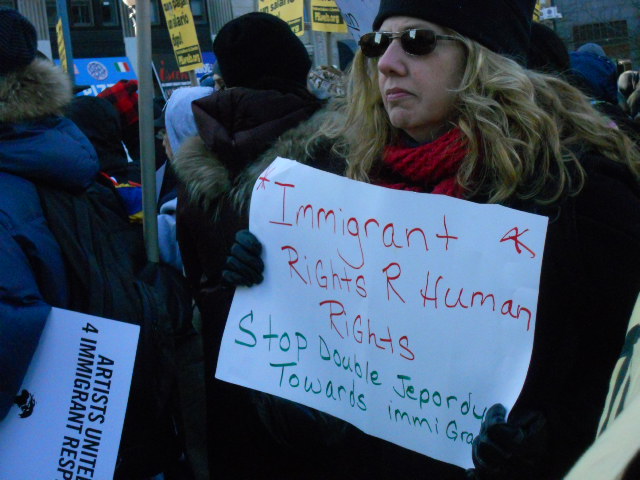 Note for the unitiated: La Migra, not to be confused with the Mexican grupera artists of the same name, refers to any immigration enforcement agency within the federal government, including ICE, the  U.S. Border Patrol, and Customs and Border Protection. A popular staple of pro-immigration art, including a somewhat clever gloss on a Ramones' classic, the anti-migra spirit was pretty abundant this weekend, although how much illegals have to fear from la migra is open to debate, especially in light of this administration's rather lenient record with regard to these matters and this city's lackluster record of cooperation with federal immigration agents.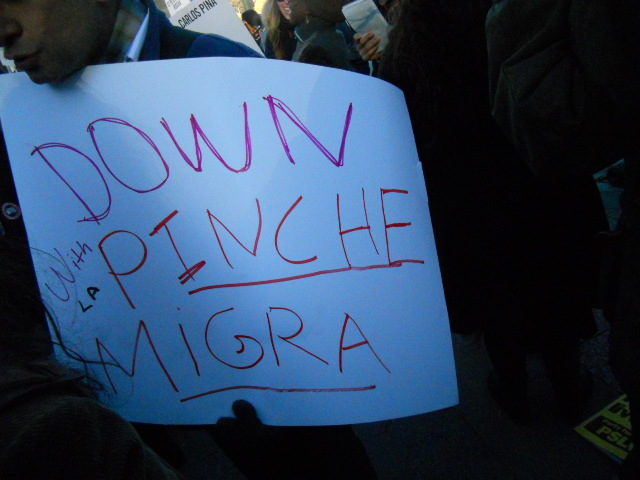 This was one of the more unintentionally amusing signs I spotted: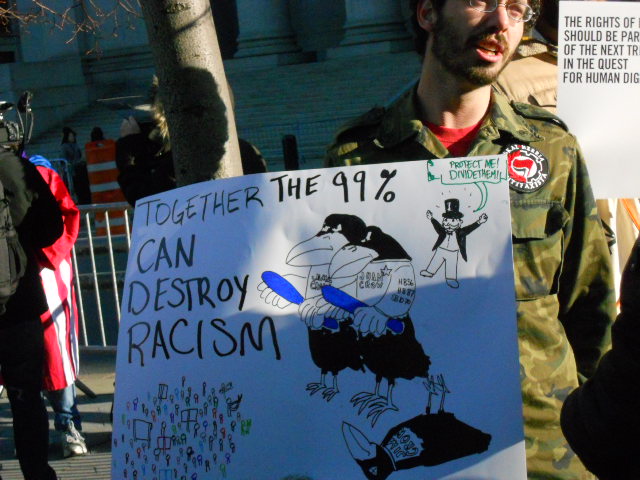 Although the analogy between explicitly discriminatory and unconstitutional ordinances targeting African-Americans and laws intended to punish people who've disobeyed the law-and usually have no constitutional right to remain in this country-has been made many times  in the past, this fellow must be commended for actually going to the trouble of drawing and inking two menacing looking crows, as well as a jubilant Rich "Uncle" Pennybags. Why a wealthy oligarch would be in favor of immigration enforcement is not delineated; Mr. Monopoly would certainly be an anomaly in that regard. There is a relationship between the corporate world and federal immigration enforcement agencies, although not in the way implied by this wholly misleading sign.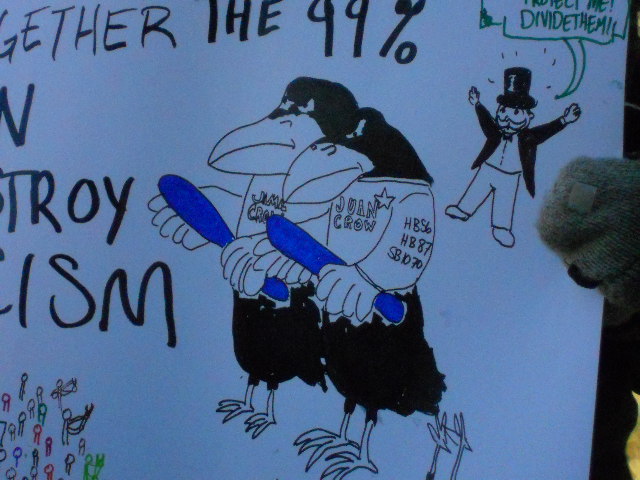 The Occupy Wall Street movement operated as the hinge of this protest, and there were a number of attempts to tie it to the open borders advocacy which was the ostensible reason for this event. The linkage between the two was made explicit by several demonstrators.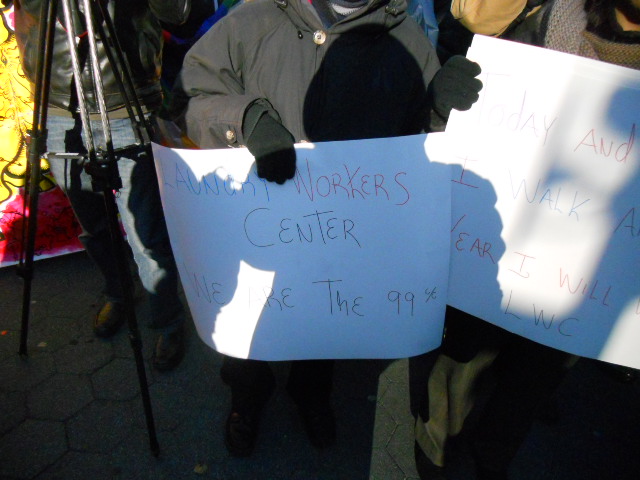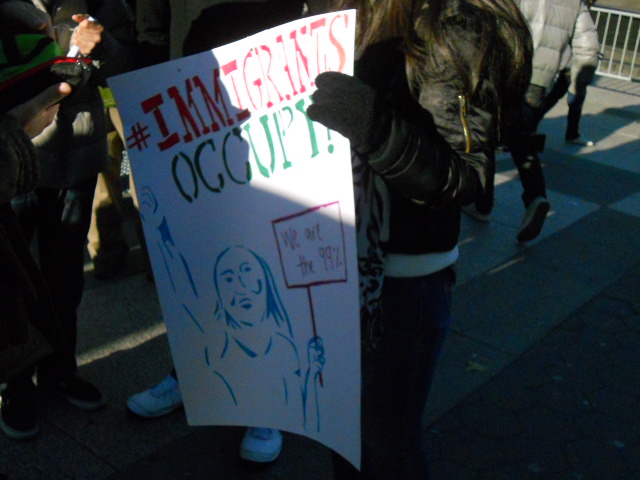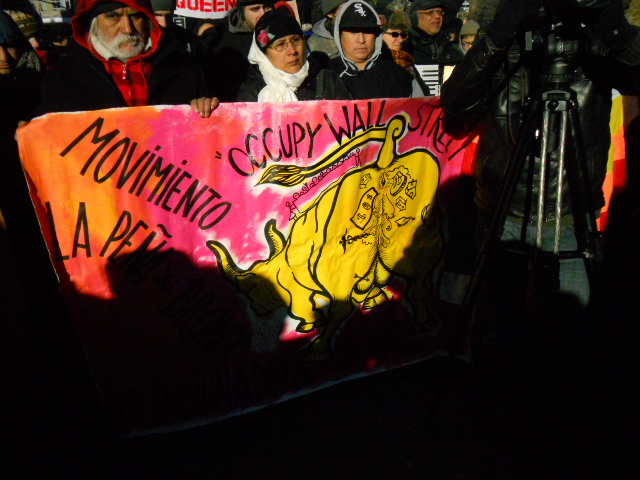 Although sectarian leftists and assorted Marxists attempted to monopolize the conversation, as they are wont to do. There were the Wobblies-yes, they still exist.
As well as Trotskyists hoping for a Fourth International.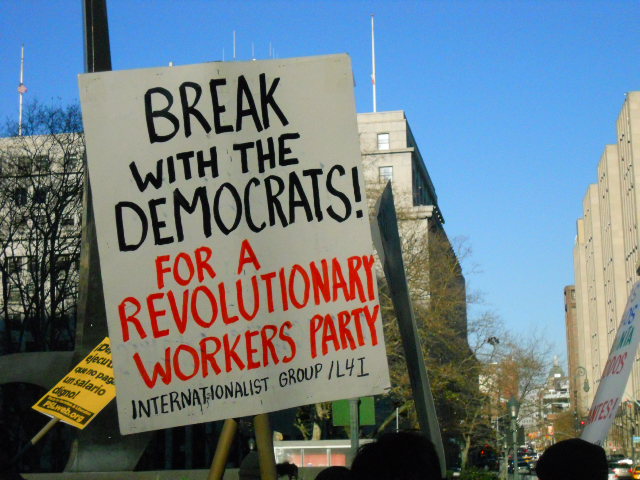 The unconsciously ironic hipsters of the Party of Socialism and Liberation were also there.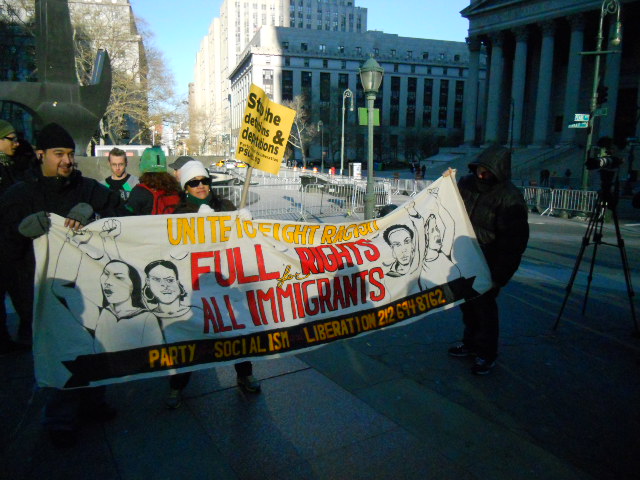 And it wouldn't be a full-throated, left wing NYC demonstration without a contingent from the brutally Communist, hard-line Leninist Workers World Party.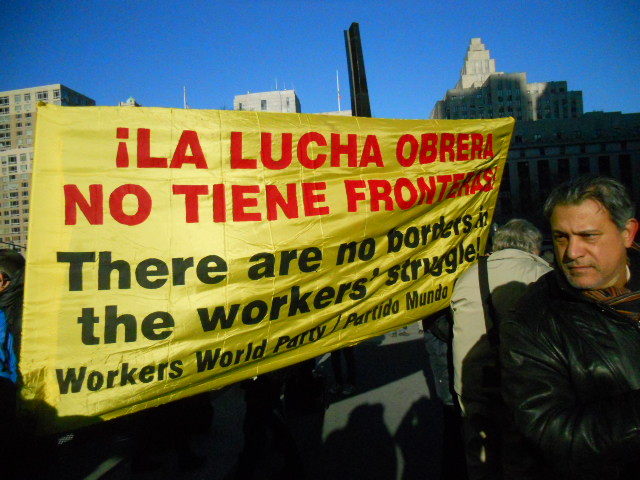 Some of the participants seemed eager to relive the halcyon days of the Contra wars of the 1980s, which-given their age-probably shouldn't have been that surprising. However, unlike in past May Day rallies, I didn't spot anyone holding aloft FMLN banners.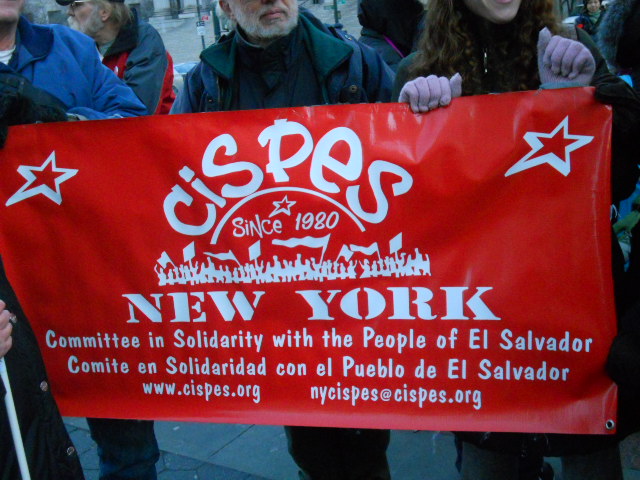 Our good friend, who henceforth shall be known as Button Man,  seemed to combine the two predominant themes of the afternoon, espousing support for unrestricted immigration and an adherence to doctinaire Marxism.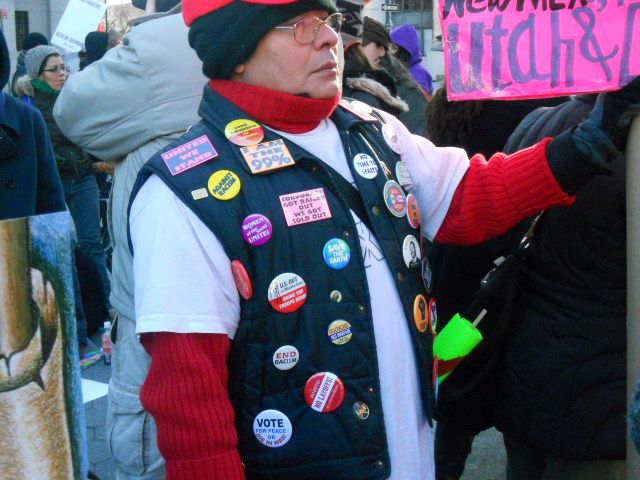 His vest expressing support for the left's favorite executioner, Ernesto Guevara Lynch…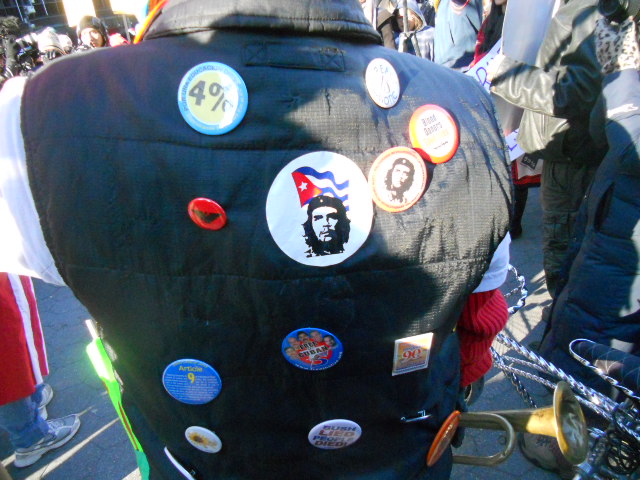 In addition to Fidel Castro's quintet of bumbling spies, whom El Jefe's American fan club view as political prisoners.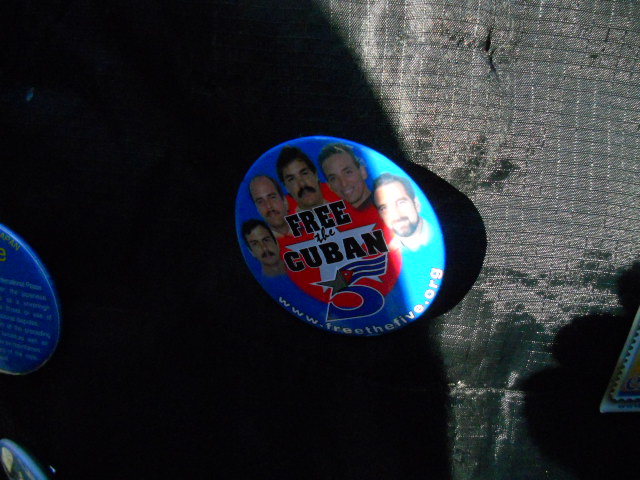 The fervor seen earlier in the day seemed to die down as the crowd marched towards Zuccotti Park, but I did manage to snap a few interesting pictures before calling it a day. This banner proclaims that we will die on our feet before we will kneel. Those of you more proficient in Espanol, feel free to correct any errors in translation.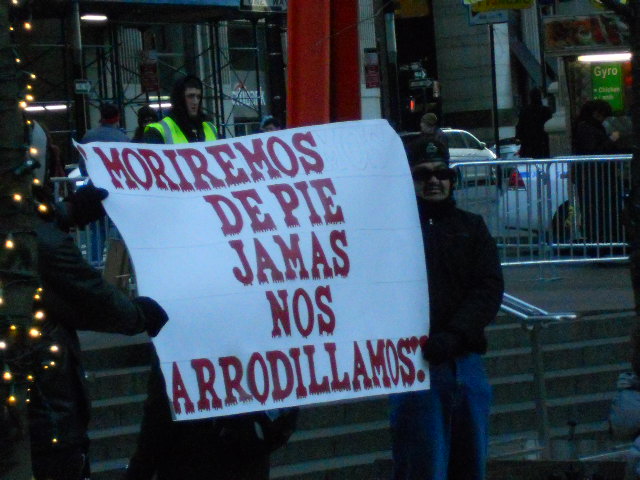 One of the last shots is a photograph of a duo representing the Ecuadorian Socialist Party of New Jersey. Yes, there is an Ecuadorian Socialist Party of New Jersey. Why there isn't one in New York City is beyond my ken.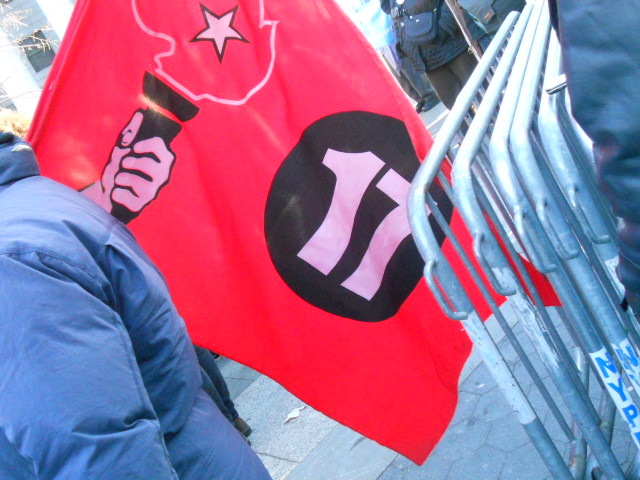 No more capitalism! We are constructing socialism. Isn't that a sentiment that all Americans can get behind? No? Really?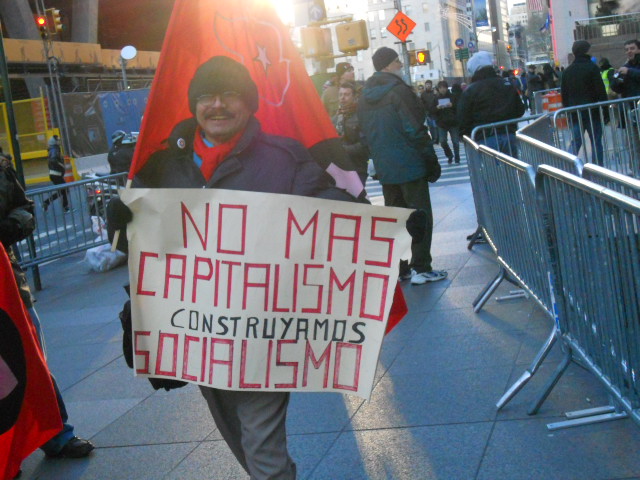 Although the demonstration gradually dissipated, law enforcement remained.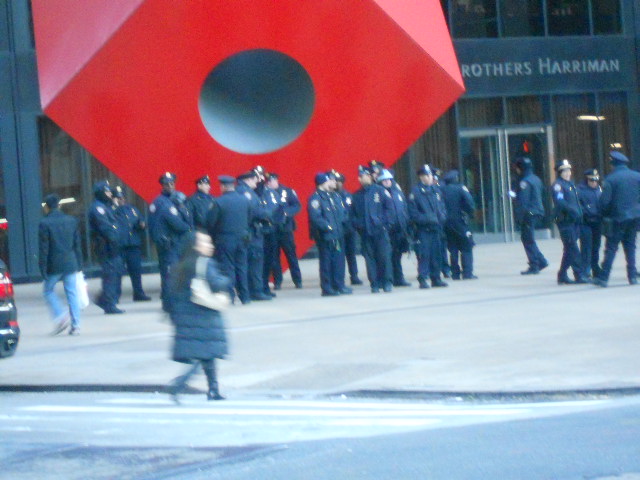 Perhaps to keep an eye on Santa?