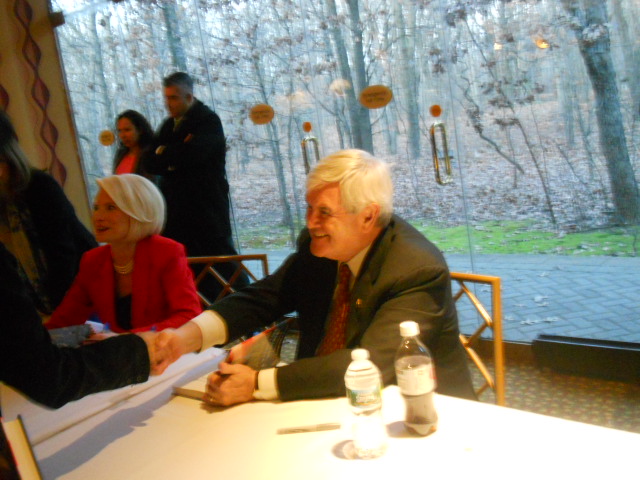 The photograph above is, of course, one of former Speaker of the House and current Republican presidential candidate Newt Gingrich. He was in town to sign his new book, A Nation Like No Other, along with his wife, who has a book of her own. But the most important part of his visit was a town hall forum held in the Hilton Garden Inn in Bloomfield, Staten Island, which was sponsored by the Staten Island Tea Party.  As a reminder, you can access my live tweet of the event by going to my Twitter profile page, Odd Lane.
There were a number of interesting aspects to this event, not the least of which was the decision to hold such an important campaign appearance in the backyard of former Staten Island borough president Guy Molinari, who's not only an important Mitt Romney backer but also a personal foe of Gingrich dating back to their days as backbenchers in the House of Representatives. This goes to the heart of his presidential campaign, and perhaps points to the essential duality of Newt Gingrich as a political personality. While critics would view this gambit, like his Eli Manningesque certainty of being the eventual Republican presidential nominee, as an example of Newt's insuperable arrogance, supporters would cite it as merely another illustration of their candidate's confidence in the resonance of his ideas among the public. It's that quality that impelled him to challenge President Obama to a series of seven Lincoln-Douglas style debates, should he be the Republican nominee. Without question, it's something that the media and potential primary voters and caucus-goers will focus on as the Gingrich campaign progresses.
There's no question that rhetorically Newt Gingrich cuts an impressive swath, and would be a formidable opponent in a theoretical race against the President. Yet, the discursive nature that was on full display yesterday is a double-edged sword. A perfect example was a period in his speech where he quickly transitioned, mid-stream, from a critique of this administration's hostile actions towards Israel, to a somewhat glib suggestion that the job of tracking illegal aliens should be outsourced to private corporations like Fed-Ex, to a more thoughtful, holistic analysis of the fundamental distinction between the private and public sectors. Some of his observations are spot-on, for example, his point that Russian organized crime is indispensable to Medicaid and Medicare fraud in this country, particulary in the state of California but throughout the entire country. Whether he'll be able to synthesize these conceptually intriguing themes into a systemic philosophy that will appeal to a majority of the electorate remains to be seen. Like the immigration question-which others have finally come to recognize as the defining issue of this Republican primary campaign-this is something that Newt Gingrich will have many opportunities to address if and when he becomes the de facto alternative to heretofore presumptive GOP nominee Mitt Romney.
Putting those caveats aside, here are some scenes I captured while I was attending yesterday's town hall, including some interesting neoclassical and modernist sculpture.
I arrived at the Hilton a few hours before the town hall was slated to begin, but the event organizers were kind enough to let us inside of the banquet hall early.
There was lots of Gingrich campaign paraphernalia available to those who wanted it.
Including that ubiquitous election prop, the campaign button.
In addition to ones advocating the election of Newt Gingrich, there were also others espousing more generic conservative and libertarian  free market themes.  Including Bureaucrash buttons:
As well as a variation on the Gadsden Flag, which has become the Tea Party's unofficial banner.
The rattlesnake made several appearances throughout the day, which this website can't help but appreciate.
The Gipper was also given his due:
I was surprised by how quickly the hall filled up, although perhaps I shouldn't be, considering the notoriety of the speaker invited.
I unexpectedly ran into several friends and compatriots there, including Long Island political activist Grace Colucci of the Independent Sentinel and Conservative Society for Action. A good friend of American Rattlesnake, Grace is also a Republican Party committeewoman in Suffolk County and an example of the necessity of participation to effect political change.
I was also able to meet Ilya Galak, the creator of Citizens USA, as well as a  leader of the recently created Jewish Tea Party.  Born in a country that was once part of the USSR, I'm sure he recognizes the sentiment expressed in the sticker below:
Also there was Andy Sullivan, of Blue Collar Corner, who has been active in what's come to be known as the anti-Ground Zero mosque movement.
Of course, the memes derived from the Occupy Wall Street movement were inescapable, even in a tony hotel on the West Shore of Staten Island. While several OWS attendees attempted to disrupt Gingrich's speech-all of them responded to in kind by Gingrich supporters-there were several people who used the opportunity to reframe the dialogue about class and politics that has been shaped by those with tendentious anti-capitalist viewpoints.
There were a bevy of well-connected politicos at the Hilton, including the current chairman of the Staten Island  Tea Party, Frank Santarpia, pictured below.
Newt himself was greeted by thunderous applause, as well as the wholly inexplicable Dog Pound "woof" normally associated with the former late night talk show host Arsenio Hall. Regardless of the peculiarity of the greeting, it can't be denied that his supporters are enthusiastic about his candidacy, in decided contrast to those endorsing Mitt Romney.
Time will tell whether the throngs who eagerly awaited his signature yesterday will translate into primary victories a few months hence.