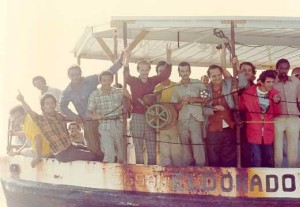 Until recently, most people in Europe and the United States-at least, those of us who had grown up and lived our lives as citizens-gave little thought to national immigration policy. Unless you had a vested interest in the issue, either as an immigrant yourself or someone who profited from specific immigration policies, e.g. as an immigration attorney, a member of a group like LULAC, the NCLR, or someone who worked for a VOLAG, the likelihood that this would be a galvanizing domestic issue for you was very slim. However, with the continuing flood of unaccompanied minors across the nation's southern border and decision by the Obama administration to shun most proactive immigration enforcement-as well as extend administrative amnesty to large classes of illegal immigrants-maintaining that this is an unimportant subject of little public interest is an increasingly untenable position.
Whether you believe the end of the German nation as it's historically been constituted is a cause for celebration or a grievous calamity is largely immaterial. The fact remains that the process it, like many other central and northern European nations, is undergoing is the most significant cultural revolution of the past 2 centuries. Perhaps the most significant of the millennium, although that remains to be seen. What can't be argued is that what North America and Europe will look like in the decades and centuries ahead is of the utmost importance and needs to be debated, publicly and robustly. That's why I'm pleased to invite you to Let's Talk About Open Borders, a lecture by Yevgeniy Feyman sponsored by the America Future Foundation and Foundation for Economic Education.
Although I'll probably be in the distinct minority within the audience, that's all the more reason for me-and those of you who read this site and live in the New York/Tri-State Area-to attend. We only have to look to Sweden to see what decades of societal and government-imposed conformity on this subject can lead to. That's why the subject of immigration/borders needs to be discussed, openly and honestly. Rationally, denuded of tedious cliches, by as many people with as many different viewpoints as possible.
Even if you happen to disagree with that perspective, how can pass up the opportunity for a stimulating lecture and beer/food spread for $5! How often do you get that opportunity in the middle of Manhattan? I hope to see you there.