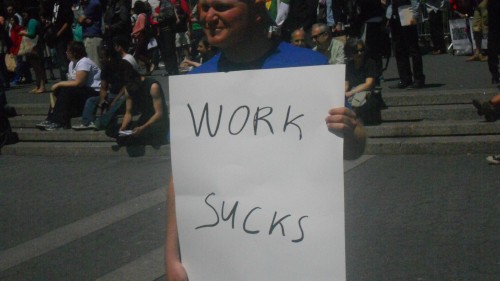 Update: The Silent Majority No More has some great coverage of the May Day absurdity, which I urge you all to check out for yourselves!
One of the perennial problems faced by the left is the inclination to either devolve into myopic, sectarian bands, or to remain so diffuse and broad in its appeal that it doesn't accomplish much of anything. The latter tendency can be seen in the evolution of movements like Occupy Wall Street, which never quite formulated a cogent agenda, despite rendering aid  to distressed victims of Hurricane Sandy this past year. Although, even this operation didn't proceed quite as smoothly or as transparently as one would expect from an organization that ostensibly has no defined hierarchical structure. 
The message emblazoned upon the placard seen above-whether  born out of sincerity or a mischievous desire to troll Marxists-was probably the most succinct, coherent statement I encountered in Union Square this week, however ironic it must seem juxtaposed against a public celebration of the international labor movement.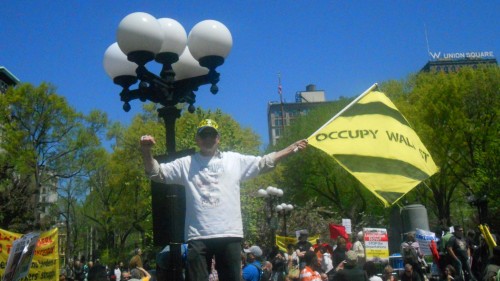 Nevertheless, supporters of OWS were plentiful during Wednesday's festivities, even as open borders activists attempted to use May Day  to mobilize their supporters on behalf of millions of illegal aliens seeking amnesty.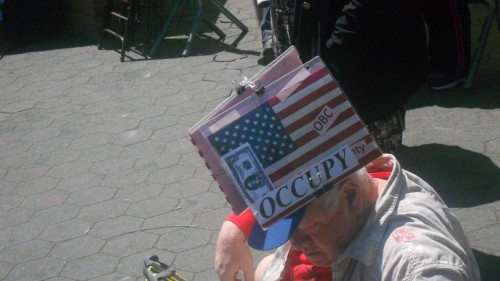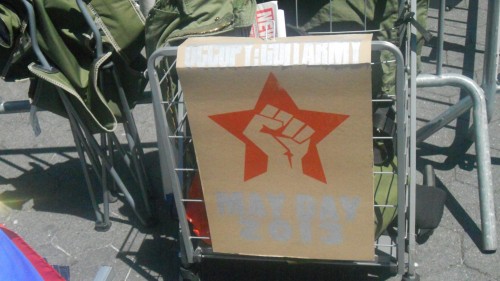 Aside from some conspicuous flag-waving, and manning a much smaller version of The People's Library, there didn't seem to be much activity among the occupiers, especially in comparison to last year, when the movement occupied the preeminent place among the day's citywide rallies.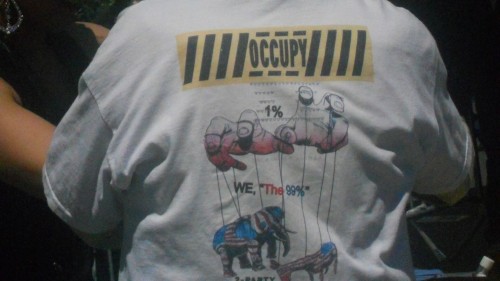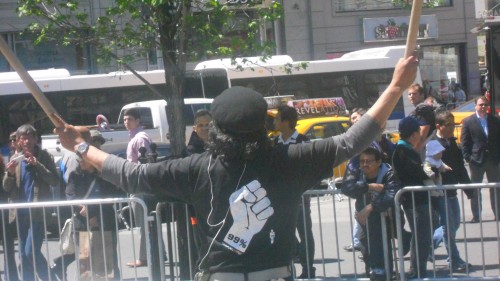 To its credit, the illegal alien lobby  recognized the fleeting nature of this particular historical moment. Alas, it might be another two years before their benefactors in Congress attempt to foist an equally unpalatable deal upon a skeptical American public. That's why they came out in force, albeit much reduced in number-in order to demand-their words, not mine-perpetual immunity from legal and political repercussions related to the laws they've violated.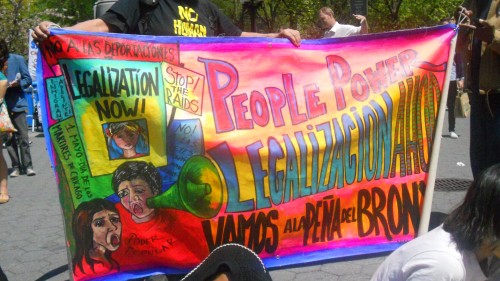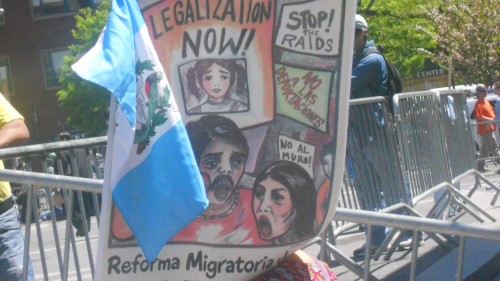 The focus, as always, was on the reunification of families-ones marked by severe genetic deformities, if these portraits are any guide-separated by the purportedly arbitrary, cruel immigration policies pursued by the American government.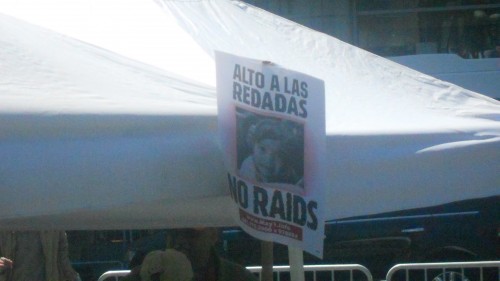 Although more focused than the generic leftists in attendance, the open borders enthusiasts did try to link to their opposition to immigration enforcement of any kind to a variety of other topical issues, including critiques of the military industrial complex. While some would opine that militarizing the border would be a far better use of American resources than some of the Defense Department's current priorities, especially considering the empirical evidence validating this assertion, those gathered in Union Square beg to differ. Interestingly enough, they seem to share the views of the Cato Institute in this regard.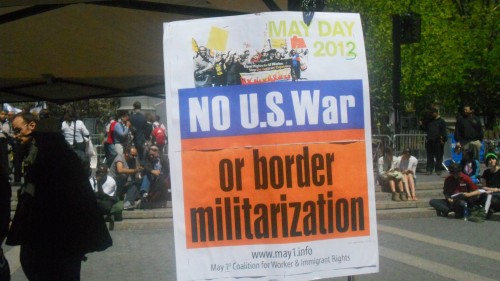 The May 1st Coalition-a group created in the wake of  a uniformly ineffective 2006 boycott of American businesses and public schools by illegal aliens-was the chief organizer of this event, and was responsible for much of the publicity advertising the rally.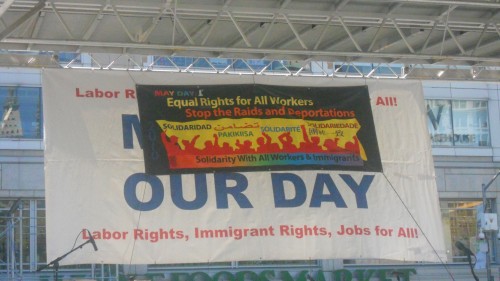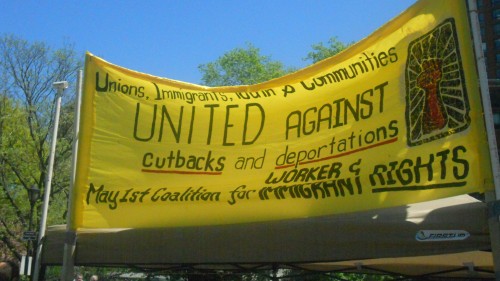 Perhaps unsurprisingly, this group opposes the Gang of Eight giveaway in its current form because they view it as far too punitive to the poor, beleaguered migrants who simply want legislative immunity conferred upon them for trespassing our laws-both civil and criminal. I suppose a tax amnesty is too heavy a burden to ask them to bear in return for funding their  health care, welfare and unlimited access to legal counsel.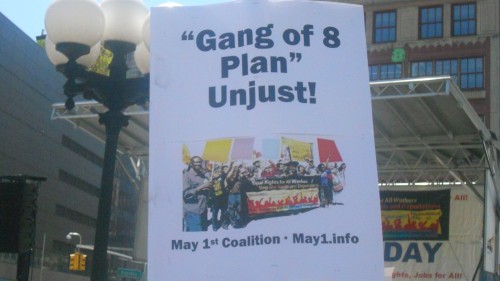 As expected, organized labor-including our good friends from the SEIU-constituted a significant presence. After all, who else is going to replenish the declining ranks of union membership in this country's private and public sectors?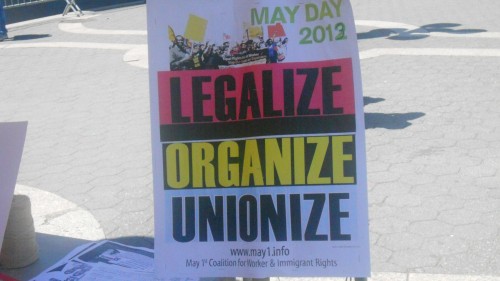 Having a portion of your paycheck confiscated and subsequently earmarked for the political ambitions of  union executives, is apparently a life-time affair.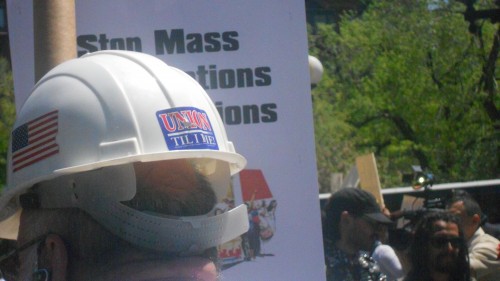 In addition to the open borders brigade-and its union auxiliaries-there were a host of Marxists; this being May Day, after all. No one has ever accused the reds of being reluctant to attach themselves to a more popular cause or party. In that vein, the  hoary Trotskyites of the Socialist Workers Party trundled out their pristine reading material-including copies of their flagship publication, The Militant-to generally disinterested passersby.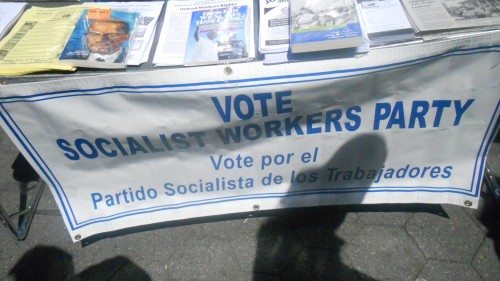 They did manage to incorporate anti-enforcement buzz phrases into their otherwise predictable signage. It's often said that politics make strange bedfellows, and immigration politics is perhaps the prime example of this cliche being grounded in truth. Very strange, in this case. Or perhaps not, when you view the proposed immigration law through the prism of a policy that guarantees a steady supply of cheap labor and cheap votes. Ostensibly, socialists oppose the former, but I suppose not when it imperils the latter.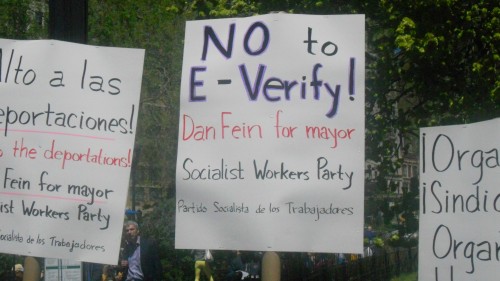 Nelson Mandela was chummy with one of the 20th century's most ruthless, prolific totalitarian despots? You don't say!? This sort of accusation might lead people to think he was a Communist! Well, I suppose the Trotskyists are good for something after all.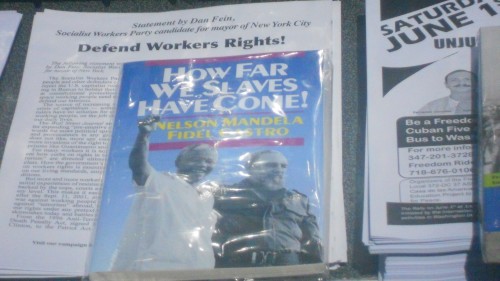 Not to be outdone, the SWP's arch-nemesis-the (Maoist) Workers World Party-was also there.  So coercive statists with an affection for genocidal Communists had a plethora of choices that day.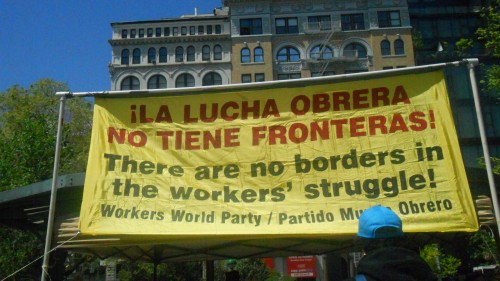 Some of them were more enthusiastic in their appreciation for the Great Helmsman than others. Thankfully, the two sides didn't come to blows. We all know how ugly these type of situations can get.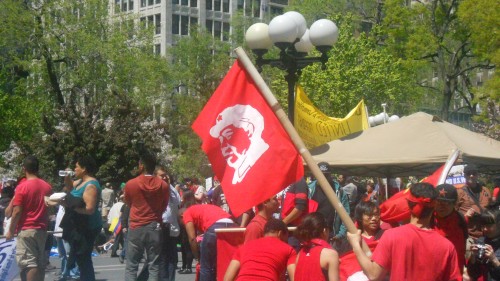 The Spartacist League was on message.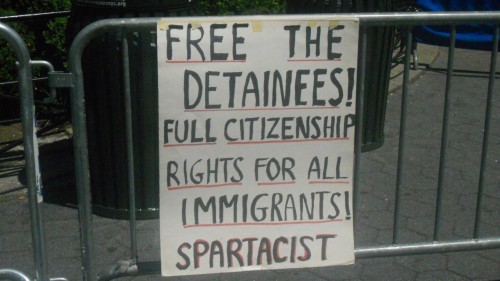 For the most part.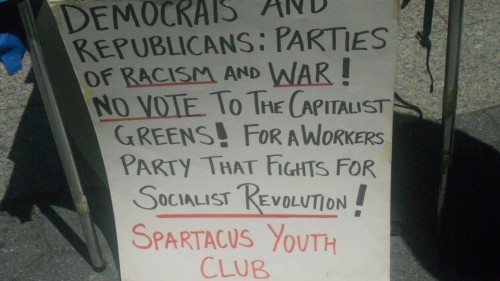 Much like Kim Jong-Un himself, admirers of the Democratic People's Republic of Korea couldn't help but plead for public attention.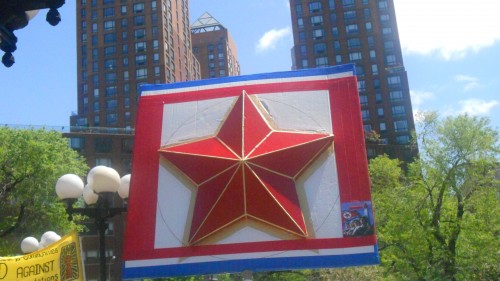 Ah yes, those dastardly warmongers. The nerve of them!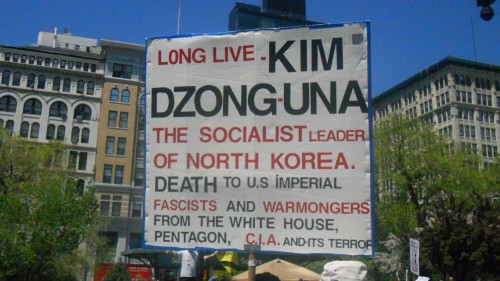 I wonder what this appreciator of Juche thinks of Kenneth Bae's recent arrest and conviction.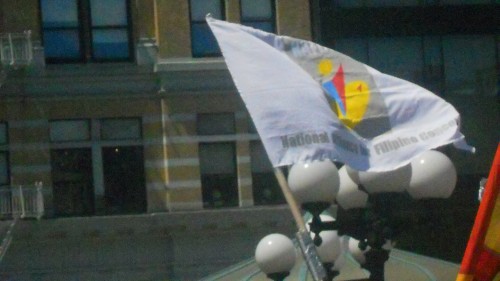 One of the more interesting aspects of these sort of events-whose hallmark is the repetition of cliched phrases-is learning more about some often overlooked groups in the world of political activism. The organization referenced above, the National Alliance For Filipino Concerns, is one such group. Founded in San Jose, California, it bills itself as an advocacy organization for the Filipino diaspora, a large segment of which can be found within the United States.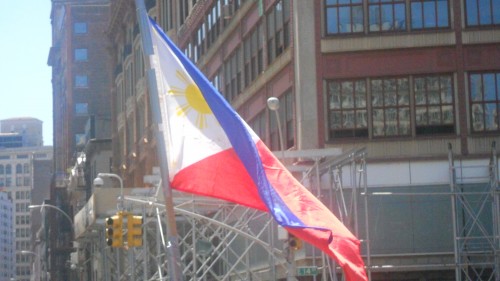 Despite the fact that there are over three and half million people of Filipino descent in this country-and over one and a half million Filipino immigrants-they have figured less than prominently in our nation's periodic debates over immigration. Several hundred thousand Filipinos are also here illegally, but they too haven't become a significant debating point in our national discussion of various amnesty proposals such as the DREAM Act. Juan Antonio Vargas-media darling and illegal alien scofflaw-seems to be the exception to the rule.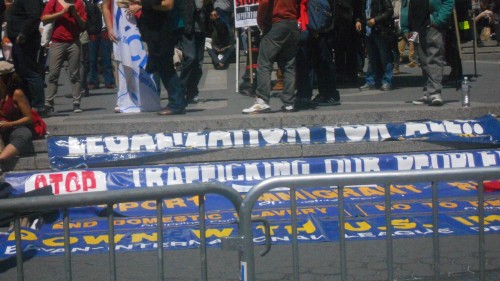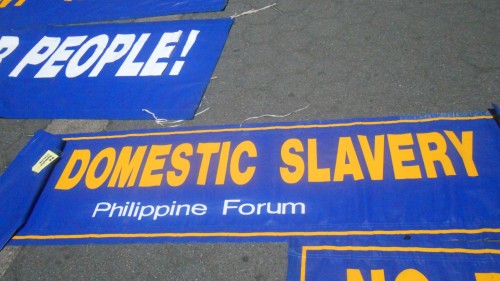 The maltreatment of domestic workers from The Philippines, especially those living and working in the Arabian Peninsula-but even for those who work in households on this continent-is notorious. The Saudi Arabian diplomatic compound that doubled as a modern-day slave pen is just one of the most startling examples of an epidemic that the Philippine Forum is attempting to highlight with that banner. Notwithstanding my disagreement with the political philosophy espoused by most of the protesters in Union Square-and opposition to their proposed solutions to our broken immigration system-I have to commend some of them for exposing a global moral blight that too few Americans are aware of.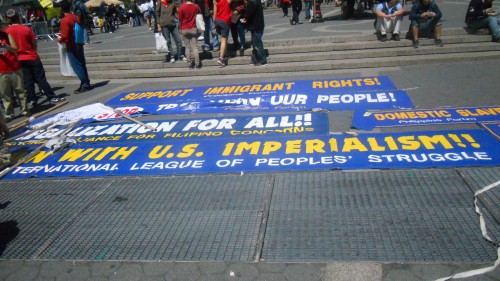 In addition to the individuals concerned about the flagrant abuse and exploitation of Filipino domestic workers, there was a large contingent of avowedly Communist political parties and Marxist organizations which are based in the Philippines itself.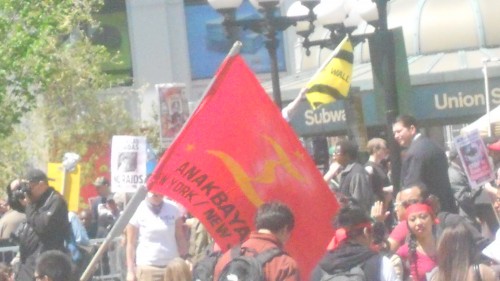 There were young Filipino Marxists.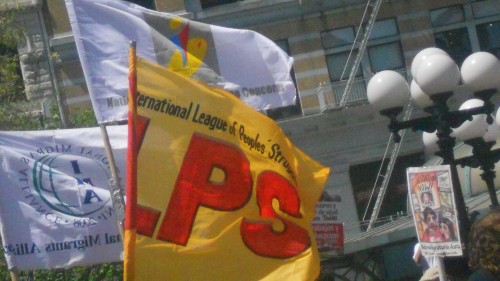 Older Filipino Marxists-standing next to a representative of the International Migrants Alliance.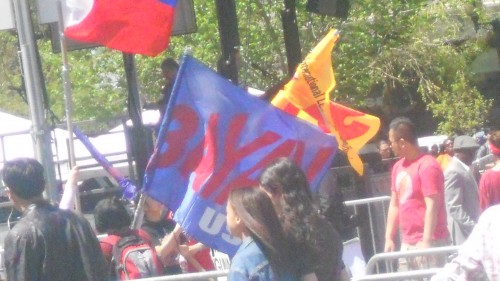 The political coalition with which most of these organizations are affiliated. I'll let you infer it's ideological proclivities.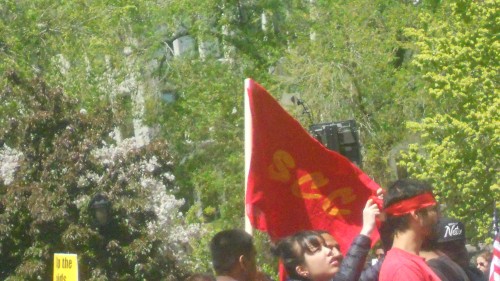 For the life of me I couldn't tell you what political current this woman's philosophy represents, but chances are she's Filipino.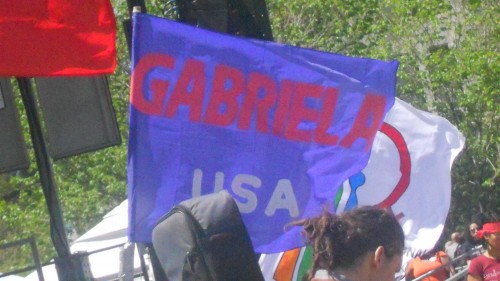 And finally, female Filipino Marxists.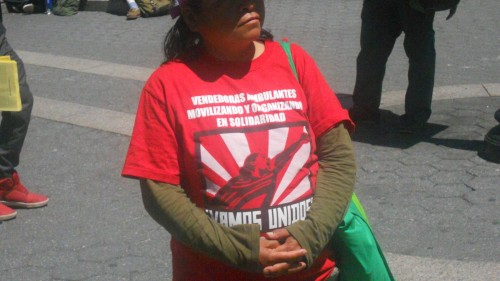 As most of you know, the vast majority of illegal immigrants come from Mexico-over sixty percent, according to the Department of Homeland Security. So it was not surprising that many of the participants in the May Day rally were Mexican nationals, including the woman seen above, who's part of an international alliance of vendors. For those of you who aren't fluent in Spanish, here's a link to their English-language website.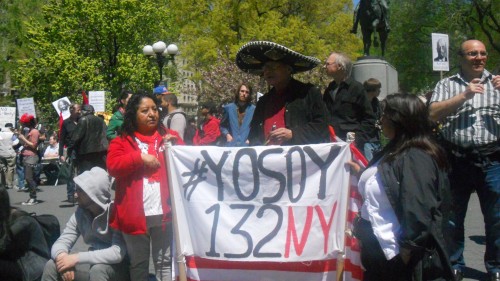 There were also friends of Yo Soy 132, a Mexican political movement created in opposition to then PRI presidential candidate-now president-Enrique Pena Nieto and the perceived deficit in honest coverage of his presidential campaign, as well as its bitterly contested aftermath. Like its counterpart in the United States, the establishment press in Mexico is controlled by large media conglomerates, often indifferent to the concerns of ordinary citizens. As we've learned recently, what doesn't get reported is often just as important as what is covered.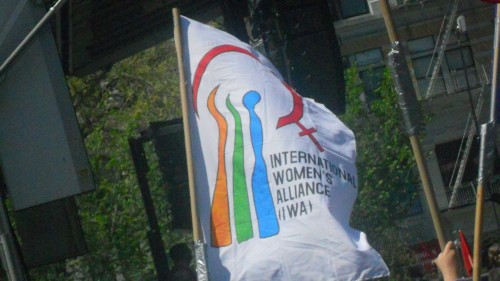 There were also devout adherents to the philosophy of third-worldism-such as the International Women's Alliance-at Union Square. Apparently, some people haven't gotten the message.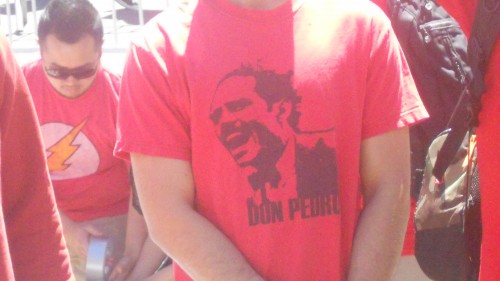 One curiosity was the apparent lack of any  Puerto Rican nationalists, which is a group that usually shows to events like these. I didn't spot a single machetero or independista, and was despairing of finding any until I saw the man wearing the colorful t-shirt seen in the photo above. Bingo!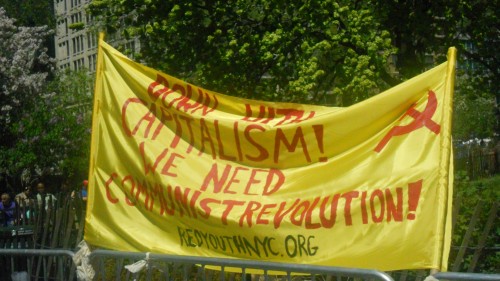 In contrast to that lonely devotee of the Puerto Rican Nationalist Party, there were a multitude of Communists willing to trod across the Flatiron District and Gramercy Park  in order to broadcast their innovative, youthful message of perpetual global enslavement, mass starvation and genocide, and statist terror.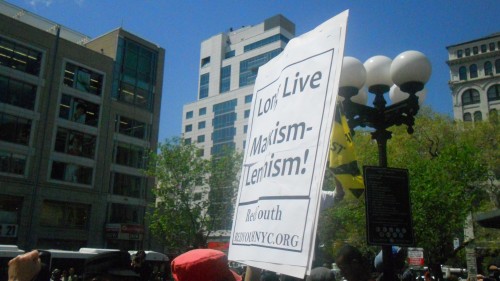 Despite its promising name, most of the individuals I saw bearing these signs seemed to have some tread on the tires.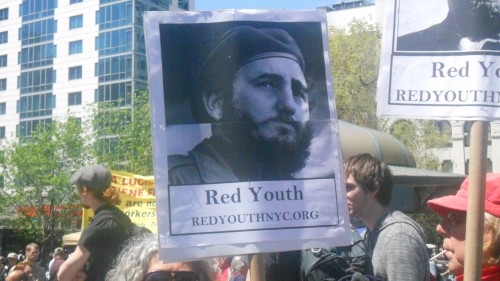 A few were in the Fidel Castro ballpark.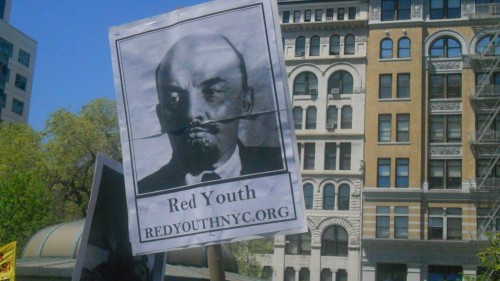 While one man seemed to be giving Lenin himself a run for his money in the youthful vigor department.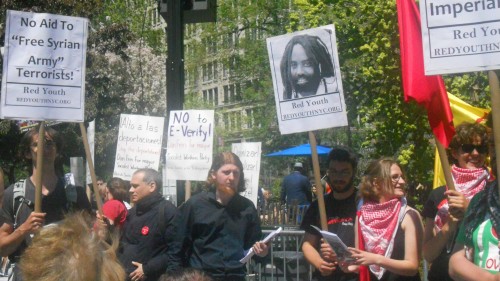 Luckily,  a few non-geriatric Communists did show up, including our favorite ginger-headed Kim Jong-il fanboy.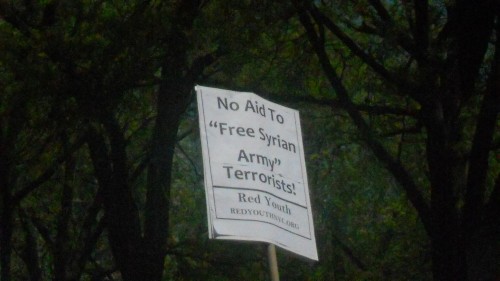 Even a stopped clock is right once a day.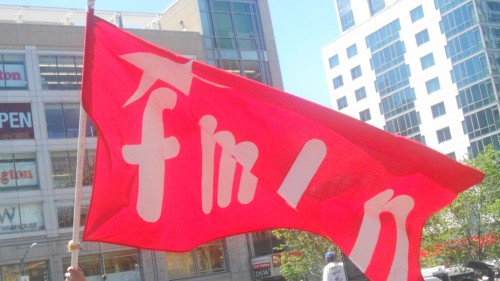 In the second part of my May Day coverage, expect more Communists-as well as a patriotic counterpoint!