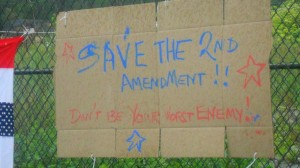 Update: You can also read coverage of the event by the Staten Island Advance.
The events of the past week have prevented us from discussing an issue dear to the hearts of many of our followers. Namely, the continuing, deliberate assault by public officials upon the intrinsic liberties of Americans. Specifically, the right to defend our lives and property from unprovoked aggression. We know what happens when citizens surrender their individual rights to the state; the burning fields in Mexico and the  inferno in Sweden illustrate why entrusting your security to the guardianship of the state-which in many cases is responsible for placing you in peril in the first place-is such a monumentally foolish idea.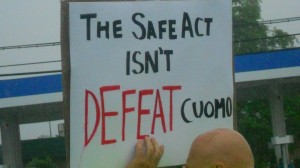 Unfortunately, that is precisely what public servants-who almost never serve the interests of the public-across the nation have embraced as a response to the most recent, horrific mass shootings. The most widely publicized attempt to circumscribe our right to self defense has been New York's SAFE Act, a hastily-written, arbitrary, and capricious bill that was stampeded into law under the most questionable of circumstances and with virtually no debate.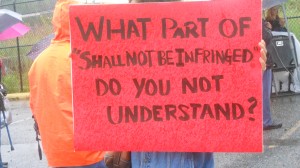 Therefore, it's no surprise that resistance to implementation around this state is widespread and growing. In addition to district attorneys who refuse to prosecute individuals who have run afoul of this unconstitutional, ex post facto law, there are numerous counties which have called for its repeal. In addition to these tangible demonstrations of opposition to Governor Cuomo and the legislature, there have been mass rallies, demonstrations and marches staged across the state rejecting the notion that New Yorkers who choose to exercise their constitutional rights are no better than common criminals.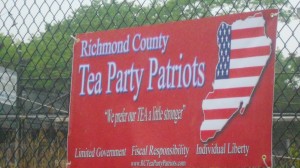 One such protest was held in Eltingville, Staten Island this past weekend by Gun Rights Across America and the Richmond County Tea Party Patriots, a local counterweight to the drearily statist political forces that dominate both the borough and city.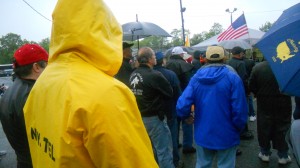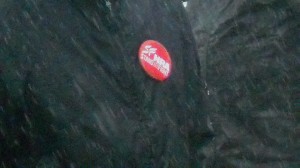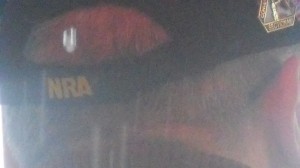 As you can see, the rally took place in the midst of a monsoon. Nevertheless, the inclement weather was not an impediment for the several dozen Second Amendment supporters in attendance, nor the Tea Party leaders who took the platform in order to describe why the SAFE Act must be repealed.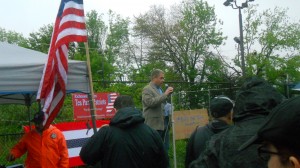 Bobby Zahn, president of the Tea Party Patriots, was the first to address the crowd. He began his speech by describing the application process his organization went through in order to obtain a permit to gather that day. Unsurprisingly, they were initially denied by city bureaucrats, whose superiors have repeatedly attempted to thwart New Yorkers from exercising their 1st Amendment rights. Notwithstanding the fact that we live in a city that was once the nation's capital, there is probably no city or town in this nation whose elected officials and bureaucrats are more implacably hostile to expressive speech.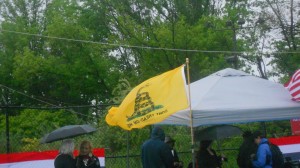 A perfect illustration of this antipathy to one of the most indelible aspects of our constitutional republic can be seen in Governor Cuomo's reaction to law enforcement officers and county sheriffs who pointed out the impracticality and unenforceable nature of the SAFE Act. Instead of meeting with them and asking for suggestions on how to modify this law, he told them to shut up. This is why resistance to Cuomo and the legislature's actions is so vital; once we've yielded to assaults upon one of our inalienable rights the entire covenant of liberties is imperiled. The reason the Bill of Rights exists in its current form, a charter of enumerated rights, is to prevent our freedom from being litigated in the court of public opinion, or subjected to curtailment and/or revocation by a democratic majority.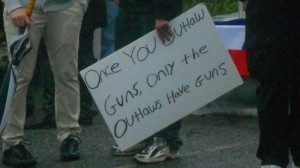 While Mr. Zahn rightly condemned the pusillanimity of our representatives-who, with one exception, voted to send this bill to Andrew Cuomo's desk-his speech left me questioning the viability of his strategy in seeking redress for this gross violation of our rights. Yes, we are law-abiding citizens, but that doesn't mean that we are compelled to submit to laws that are clearly violative of the Constitution. After all, what is a law? If it's simply a decree that we must submit to-regardless of whether or not it's consonant with basic Constitutional principles-then what's the point of political participation of any kind?
As Edmund Burke declared, All human laws are, properly speaking, only declaratory; they have no power over the substance of original justice.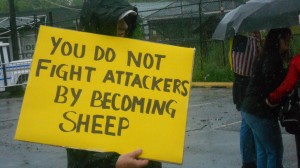 As part of its mission statement, the Tea Party Patriots pointedly reject the notion of majoritarian rule; which is good, because as Mr. Zahn declared throughout his speech, people who share our beliefs are in the distinct minority in this state. As welcome as Andrew Cuomo leaving office might be-and as necessary as building opposition to his policies is-that doesn't mean we should abdicate responsibility for defending our innate rights. Launching legal challenges to blatant encroachments upon our Constitutional rights is an important safeguard of our rights, as civil rights attorney Alan Gura has demonstrated  repeatedly, and needs to be part of any movement intent on thwarting statutes like the Safe Act.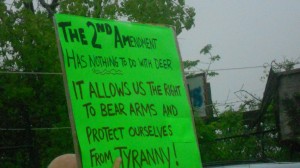 However, nullification-whether on a statewide or city and county level-can't be taken off the table. To the contrary, moves to nullify these laws-like the anti-SAFE Act resolutions passed by many counties in upstate New York-should occupy a prominent place in any political strategy designed to thwart their implementation. Fundamentally, this is a debate over whether the state is able to deprive you of your natural rights; whether these inerrant rights are subject to rescission by a majority of legislators.
It comes down to the question of whether we should yield to laws that are unjust and unconstitutional by their very nature.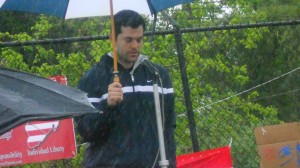 That's why the speech by Louis Adimando-who is arguably more knowledgeable of the law than those responsible for drafting the SAFE Act-was so refreshing. He contextualized Governor Cuomo's attack upon the Second Amendment into the broader assault upon civil liberties and rights we're currently enduring. The attempts by the Obama administration to undermine the 1st Amendment, including  freedom of the press, as well as its sustained assault on the 4th Amendment, pose no less of a threat than efforts by Cuomo and his fellow governors to deny individuals the ability to exercise their right to keep and bear arms.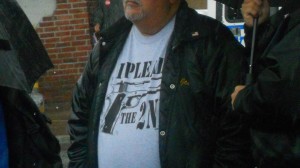 That is what the debate, such as it is, over the SAFE Act boils down to. There are rights enjoyed by mankind which predate the creation of governments, and which were incorporated into the text of this nation's founding documents because they are inalienable, i.e. incapable of being surrendered. Regardless of  how politicians interpret the Constitution, the words of that document represent real rights, not artificial constructs that are only intended to diminish the scope of our freedoms. These are rights that are universal, not delimited to uniformed officers, be they active duty or retired.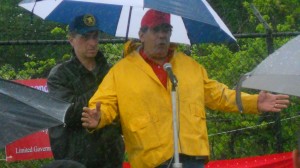 I have to commend Dino Longueira for not only urging people to join the National Rifle Association-which has a well-deserved reputation as a lobbying powerhouse on Capitol Hill-but smaller, grassroots gun rights organizations like Jews for the Preservation of Firearms Ownership and Gun Owners of America. These organizations, although underfunded, are the first line of defense in the war to preserve our civil liberties and civil rights. These groups constitute the hemoglobin of a thriving republic's bloodstream, and to the extent that the NRA resists temporizing its principles, they are responsible.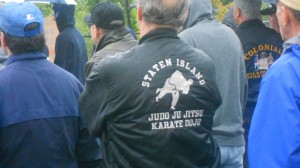 The right to defend your life, property, and liberty is a fundamental right, and it's not simply a matter of keeping your guns. As long as tyrannical governments have existed, there have been attempts to disarm the population. The same arbitrary distinctions between ordinary citizens and those deputized by the state were invoked in past weapons bans having nothing to do with firearms. Even today, restrictions imposed upon the possession of defensive weapons can be found in nations across the globe, including the United Kingdom, which has some of the most draconian penalties for violating these restrictions on the planet, although I doubt the Lee Rigby's family finds much solace in that.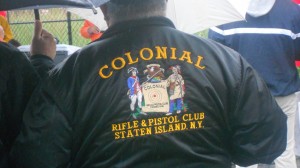 The man who drafted the Declaration of Independence was correct when he wrote, 
The natural progress of things is for liberty to yeild, and government to gain ground.
However, that does not mean we can not and should not resist the impulse by the Cuomos and the Malloys to arrogate more power to the state even as they attempt to strip us of our liberties. The widespread and spontaneous resistance to the SAFE Act, as well as other attempts to erode the protections of the Second Amendment, is a sign that Americans are not as pliant as our authoritarian leaders and their political apparatchiks believe us to be.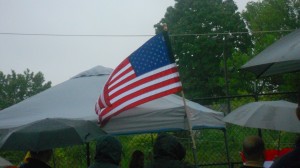 For a transcript of the remarks at this rally by the Tea Party Patriots, Molon Labe by Legal, Political Processes, and to see a few of the (much better) photos taken by my friend Virginia Ross, check out this thread on Free Republic.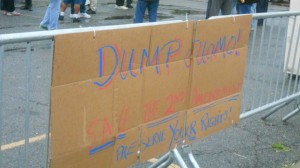 In summary, DUMP CUOMO and stick to your guns!