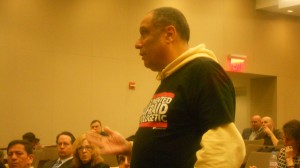 One of the most frustrating aspects of the immigration monologue that's unfolded over the past few years is the inability of one side-representing those who are committed to open borders and an uninterrupted stream of mass immigration-to acknowledge the legitimacy of the concerns expressed by their opponents, despite the fact that they constitute a significant majority of the American public. Perhaps the lack of a powerful, eloquent advocate for American interests who is a minority-yet is also liberal and has access to influential media and political circles within Washington D.C.-is responsible for this disconnect between reality as experienced by most Americans and the straitjacket of elite consensus on this topic. 
However, I think there are larger forces at work which serve to prevent open borders enthusiasts and beneficiaries from accepting the concept that there is a very large segment of the population that fundamentally disagrees with their political philosophy-and who do so not out of any ignoble or reactionary impulse. The cleavage between how these forces view themselves and their ideology and how the rest of America views them was nowhere more evident than at the screening of Two Americans, an anti-enforcement documentary critical of Joe Arpaio which was screened at New York Law School last month.
While we focused extensively on the film itself in my last post on this subject, we didn't sufficiently address the post-film question and answer session, which included a panel filled with ACLU and AILA spokesmen that spent most of the allotted time advocating some form of legislative amnesty along the lines of what the Gang of Eight proposes. While I don't object to the imbalanced nature of the discussion-the event was hosted by the ACLU-I was disappointed by the disingenuous-and at times, inaccurate-way in which the issues under discussion were framed.
Notwithstanding the meandering statement/jeremiad by the Puerto Rican gentleman seen in the photo above, there were several very incisive questions asked by audience members which were not addressed, or answered in a circumlocutory-if not misleading-manner. The evasive and/or misleading responses ranged from the answer of a representative of Bronx  Defenders who implied that illegal aliens living outside of New York City limits were being routinely detained and/or deported-neglecting to mention Governor Cuomo's vitiation of Secure Communities-to the accusation by the filmmakers that Joe Arpaio was some sort of crypto-white supremacist-a slander that comes with the territory, unfortunately-because of a chapter in his latest book. Perhaps even more alarming  was the implication that the 1996 Illegal Immigration Reform & Immigrant Responsibility Act and the Antiterrorism and Effective Death Penalty Act of the same year were calamitous laws, even though the former vested immigration enforcement powers in the same local and state authorities that open borders advocates claim are not legally allowed to execute enforcement and detention procedures.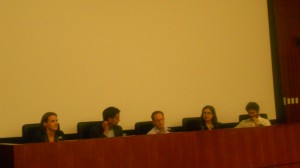 The most irritating part of the immigration panel though was the way the participants constructed a meta-narrative that studiously ignored any facts that might have weakened the argument for the elimination of immigration enforcement. The most prominent example of this tendency was the intense focus on how much money the private prison industry has spent lobbying Congress, a meme that has been given prominent play throughout the media since discussion of the latest amnesty plan began in earnest. The not so subtle implication being that avaricious contractors for the prison industrial complex are attempting to increase punitive sanctions against future, non-amnestied illegal aliens. The fact that over a billion dollars has been spent lobbying Congress on immigration reform-almost all of it by actors intent upon enacting amnesty or carving out large subsidies for their industry in the form of cheap, imported labor, was completely overlooked by all members of the panel.
What's more, when confronted with a relatively simple question, i.e. "do you favor abolishing any restrictions upon immigration into the United States," they were completely unable to formulate a definitive response. Andre Segura-an ACLU attorney charged with monitoring domestic immigration laws-spent nearly five minutes filibustering this seemingly binary question. Of course, we're under no illusions as to what the answer to that question is. However, we also know that responding forthrightly would not be politically advantageous to the supporters of mass immigration and amnesty, which is why they feel compelled to engage in immigration kabuki. After all, arranging summits featuring Potemkin conservatives and sacrificial lambs, demonizing a heretofore obscure scholar, and bankrolling a multimillion dollar advertising campaign confusing private profits with public good is much easier than engaging in an honest, substantive debate over this nation's immigration policies.
One of the more admirable qualities of open borders libertarians is honesty about their intentions and  beliefs. They come right out and enunciate the principles they adhere to, sometimes in editorials published in national newspapers which are read by scores of Americans. Occasionally, they'll write entire books expostulating their theory of why abolishing immigration controls is a swell idea. Regardless of the medium they use to disseminate their views-and however incompatible their solutions are with certain libertarian principles-they do not contour their message in order to deceive a public that vehemently disagrees with their perspective. The same can't be said for open borders leftists-and their allies in the corporatist blob-who refuse to be held accountable for their actual  beliefs, just as the architect of the bill that irreparably altered the United States of America refused to be held accountable for the deception he and his allies in the press corps employed in order to enact it into law.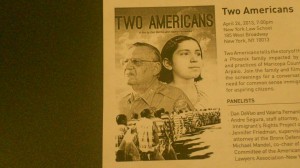 In the end, that is the most bewildering aspect of this "debate." Instead of actually engaging in an honest intellectual exercise involving what the United States wants and needs out of an immigration system-and allowing each side's arguments to stand or fall on their relative merits-we are forced into Chinese finger traps of race which are not only based upon false premises-like most of the left's racial narratives-but are wholly irrelevant to the subject under discussion. The issue isn't that Americans who support political leaders like Russell Pearce and laws like SB 1070 are hard-hearted xenophobes or crass political opportunities-as films like Two Americans would lead you to believe-but that illegal aliens-such as the ones profiled in this film-present unique problems that open borders enthusiast do not wish to address.
It turns out that it's much easier to create cinematic bogeymen and craft sympathetic human interest stories involving undocumented migrants than it is to tackle a complex area of public policy that has been left to fester for decades. There are two sides to every story, even if only one enjoys the favor of our social betters. That's the true lesson to be gleaned from the tale of Two Americans.