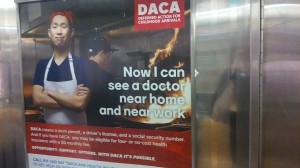 Taking a break from the towering inferno that is our presidential election, it's worth noting some disturbing, yet sadly predictable, developments in our own backyard. The ad you see above is now plastered over subway cars taken by straphangers traveling to and from their jobs, which they have obtained legally in most cases. Even though the Obama administration's attempt at unilaterally rewriting federal immigration law was rejected by the Supreme Court, the Jacobins who run the Mayor's Office Of Immigrant Affairs never call it quits.
In addition to helping illegal aliens take advantage of a federal program of dubious constitutionality, our friend Bill de Blasio has also relieved New York City's cab drivers of the crushing burden of learning English. Perhaps as a means of grooming future politicians like Councilman Ydanis Rodriguez, a public official who can't speak the language himself! For those of you who are curious why this might be a bad idea, I'd recommend my friend Karol Markowicz's op-ed in the New York Post, which pretty much encapsulates my thinking on the subject.
A less recent innovation, just over a year and a half old, is the NYC ID Card. Although billed as a legitimating document for transgendered people, homeless adults, and the entire spectrum of the rainbow coalition, the truth is that it's sole purpose is to further embed illegal aliens into American culture and normalize the subsidiary crimes their presence occasions, like document fraud. If you think I'm being hyperbolic in my description of this piece of identification, I suggest you examine the words of the Democratic representative to the City's Board of Elections, who believes that these cards are simply another vessel to commit electoral fraud.
Even so, perhaps having our elections manipulated by scores of people who aren't legally entitled to be in this country-let alone, cast ballots in municipal or state elections-isn't much of a concern. In that case, what do you think of the actions of Speaker Melissa Mark-Viverito, a woman who's just as red as her Sandalista friend at Gracie Mansion? Specifically, her attempt to get an African-American NYCHA manager fired because she committed the crime of not being Hispanic. Welcome to the wonderful world of multiculturalism, the war of all against all.