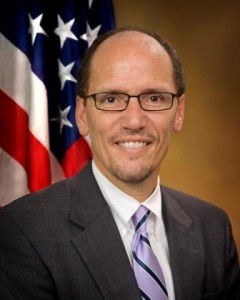 Update: Matt Bruenig explains what happened this weekend. 
Michael Tracey raises an interesting question. 
Keith Ellison's loss is noteworthy for a number of reasons, many of them unrelated to the fact that his victorious opponent will be the first self-identifying Hispanic to preside over the Democratic National Committee. Yes, ethnicity/race did play a pivotal role in this intra-party election, but not in the way that the mainstream media and Democratic shills would have you believe. Perez's victory is not so much a case of Democrats implicitly rebuking President Trump and his purportedly anti-latino immigration policies as Barack Obama's man on the inside once again stepping on the Bernie Bros.
The party hatchet-man who did so much to pave the way for Hillary Clinton's disastrous candidacy, crafting the message which social justice warriors and feminists gleefully vomited at Bernie Sanders and his backers in the Democratic primary, is now in a position to run the Democratic Party. The former President who has done so much to divide his own party, which continues to be riven by the parallel political institutions he created, now has his own Machiavelli steering the course of the DNC.
This is not only a ratification of the open borders, corporatist, elitist vision which animated the Hillary Clinton campaign-progressives be damned-it is yet another slap in the face of African-Americans, i.e. the foundation of the contemporary Democratic Party. How do woke individuals continue to reconcile their support for Barack Obama with the concrete policies and decisions made by a man who, beyond empty gestural politics, has done absolutely nothing for the black community? To the contrary, the legacy of the 44th President is one of neglect and indifference towards the people most responsible for helping him make history.
We have just witnessed an elite cross-section of Democrats from around the country reject someone who is literally a black Muslim in favor of a Brown alum who's whiter than Steve Bannon, and whose campaign manager would fit in perfectly at a Huffington Post editorial meeting. Don't expect national Democrats to curtail their moral preening and sanctimony as we enter the Perez  Era. Just as we're forced to endure lectures attacking this country from a smarmy talking head for The Reconquista whose fame and fortune were given to him by Americans, we will now experience four years of privileged leftists telling us why white people need to check their privilege. Apparently, the new head of the Dems seems to agree that white people are entitled to fewer rights based upon their skin color.
I can't wait until 2020.