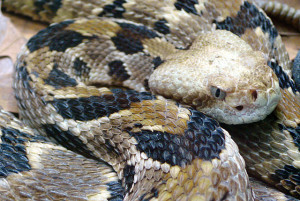 One of the most misunderstood creatures in this country is crotalus, a genus of venomous pit vipers most people simply call rattlesnakes. Crotalus horridus, also known as the timber rattlesnake or canebrake snake, epitomizes the deeply ambivalent relationship Americans have with this animal, which Benjamin Franklin considered a symbol of our nascent country-and which remains a symbol of freedom and defiance of unjust government-yet has been hunted to extinction or near-extinction throughout New England.
The fear and loathing with which most Americans view rattlesnakes is illustrated most vividly by events like the Sweetwater Rattlesnake Roundup, wherein thousands of rattlesnakes are captured, killed, and skinned-often in gruesome ways-as a means of promoting local tourism. This deep revulsion is exhibited towards an animal that in normal circumstances does not threaten or harm humans, who are rarely-if ever-killed when an encounter does occur. It should be noted that some of these fatalities include people who wantonly abuse snakes.
With this sort of deep misunderstanding and distrust, Ted Levin's insightful book, America's Snake: The Rise And Fall Of The Timber Rattlesnake, is such a welcome resource. It not only debunks some common misconceptions about this increasingly threatened species, it explores why timber rattlesnakes were able to inhabit Maine, Long Island, and even New York City, although you'll no longer find any dens-or rattlesnakes-in these places. One of the proximate causes of the rattlesnake's decline in the Northeast, and a key part of the puzzle Levin hopes to unlock in his book, is Ophidiomyces ophiodilcola, a fungus which can prove fatal if a snake is not rehabilitated.
Although Ophidiomyces is the immediate villain, as Levin's story unfolds the reader realizes that the greatest threat to the survival of the timber rattlesnake in the northeast is the increasing encroachment of humans upon this species' habitat. The disruption of the mating process through development-particularly roads which cut between snake dens-the rapacious poaching, especially of gravid females, and general indifference of society towards the welfare of this fascinating animal all imperil its continued survival in this region.
To get a better idea of what this book is about, and learn why you should be concerned about its future, I would recommend watching this video of a talk delivered by Ted Levin last year. It might give you a new perspective on a quintessentially American reptile.