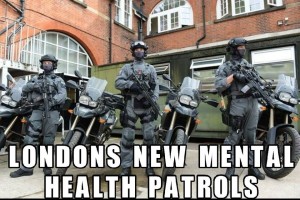 Update: Yes, I realize that this image macro has a typo, but there's only so much proper grammar you can expect from people on the Internet. 
One of the more  arresting scenes in Ayaan Hirsi Ali's memoir takes place when she visits her dying father in a London hospital. A man that despised the West, who tried to force his daughter into an arranged marriage which would have enslaved her to purdah for the rest of her natural life, yet exploited its generosity and technological prowess in order to prolong his existence, the dialogue between father and daughter vividly illustrates the problem of Muslim integration.
An even starker, more immediate contrast between these two irreconcilable civilizations occurred earlier in that chapter, when Ayaan was walking towards her father's deathbed and came across a group of women-presumably-enshrouded in niqabs. Women who proudly  embraced a symbol of 7th century Arab-Muslim hegemony and hatred of Western values were now defiantly walking through Europe's commercial capital. The shock evinced by Ayaan, who was born into the Hawiye tribe in the Horn of Africa, merely served to demonstrate the journey-not only in distance, but in mentality-which she had made over the 4 decades of her life, and the emotional and intellectual stagnancy so many others who came there remain mired in.
I was reminded of these scenes while reading about the latest atrocity perpetrated by a Somali refugee, or a Norwegian-Somali, in the bizarre parlance of the UK press, on the streets of London. It's difficult to say whether the political leaders who have brought this dystopian hell-scape to our shores fully understand the implications of what they're doing, or if they even care. As others have pointed out, the woman who once (correctly) branded multiculturalism a failure has now come around to the conclusion that the people who she rules need to fuck off. It's entirely possible that our current political class simply believes that the periodic bloodlettings of infidels, systemic rape and sexual dehumanization of Western women, and psychic terror inflicted upon the indigenous population is the cost for vibrant diversity. The enormous powers they've accumulated in the process, including encroachments upon the speech and free assembly of their most prominent critics, simply being a fringe benefit.
However, it's worth contemplating what the end game of these catastrophically stupid politicians looks like. After all, it's hard to see how you preserve your cherished modern nostrums of LGBTQ rights whilst importing millions of people who would like nothing more than to throw gay men and gender non-conformists off of the highest rooftop. Just ask the residents of Europe's former gay Mecca, Amsterdam, if  you can catch them when they're not fleeing from their country's newest additions. Enlightened liberals rightly condemn the shameful treatment of scientific visionary Alan Turing, yet the fact is that he would have probably been hung from a crane if he lived in a nation whose cultural peculiarities these same progressives demand we understand and even accept.
But what if the nastier byproducts of Islamic, third world immigration, e.g. honor killings, Taharrush, and attempting to assassinate people who draw things, could be magically eliminated before these folks crossed customs? Wouldn't the ineluctable pull of diversity convince you to embrace the importation of millions from Somalia, Bangladesh, and the like? Well, no, I don't think it would. Even if I were to accept the somewhat implausible story that the latest murder spree in the heart of Europe had nothing to do with Islamic dogma, I'm still not certain how this is a justification for completely effacing the historic American nation and European continent.
Perhaps this truly was an instance of a mentally unstable young man going postal, and not a carefully plotted jihadist plot. But even if that's the case, I fail to find that reassuring. As numerous international bodies have documented over the past 3 decades, the rate of untreated mental illness in Somalia is astronomical. I described a case of one such disturbed young woman several years ago, but that portrait is by no means an aberration. The idea that we're helping mentally unbalanced individuals by transporting them into a wholly alien culture, putting them on the dole, and asking them to integrate-much less enhancing the quality of life in our nations-is so absurd as a proposition that it could only be accepted by someone completely divorced from reality.
We're being asked to accept the notion that the deracination of millions from the third world, who have a completely different value system and religious ethic than the people they'll be forced to interact with for the rest of their lives, is somehow a brilliant idea. This is why cultural Marxism is a mental illness.