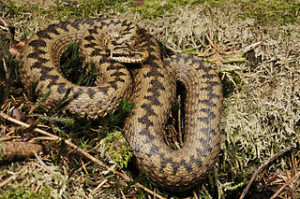 That is not the timber rattlesnake with which we're so familiar, and which symbolically represents this website, but the common European adder. A viper which is not dangerous, and which only bites when threatened or disturbed. Much like the normally placid British, who only strike out when they are left with no alternative. Their stunning rejection of continued abasement at the hands of the EUrocracy this week is perhaps the most striking manifestation of this tendency we've seen in recent times.
One of the main takeaways from the EU Referendum is the chasm which exists between the British electorate and the people who purport to represent them in Westminster. To get an idea of what this looks like, you need only glance at the list of MPs who opposed Brexit, which includes nearly every single Labour member of the House of Commons, and compare it to the electoral map of UK on the day after the vote. Even if the hatred of ordinary, working class voters expressed by the BBC is muted in the monologues of Labour politicians, the antipathy for their values and concerns is unmistakable. George Orwell exposed the hypocrisy and venality of these sham socialists brilliantly in The Road To Wigan Pier-a location that voted to leave, BTW. And like the objects of Orwell's criticism who learned absolutely nothing, Owen Jones, Laurie Penny, Polly Toynbee and the rest of the detestable lot now castigating their social inferiors refuse to even entertain the notion that they're egregiously, catastrophically wrong.
The main lesson they've drawn from the overwhelming support for Brexit in Rotherham-notorious home to the Pakistani Muslim rape gangs imported and given criminal immunity by successive Labour governments-is that white, Christian Britons are intolerable racists. They've responded to incandescent rage from the backbone of Britain with contemptuous sneers and invincible arrogance. Like their counterparts on this side of the pond, these brilliant political philosophers have decided that the best response to collective, widespread outrage at unrelenting 3rd world immigration and debasement of law by demanding more of the same!
Conservative politicians, at least those on the losing end, are even more openly disdainful of the peasants who've effected this historic victory for British sovereignty and independence, spitting on the little people who are purportedly afraid of migrants, i.e. want to preserve their national identity. The truth is that these little people are the ones who make Great Britain great, even as its basic freedoms have been undermined for decades by EU bureaucrats, Guardianistas and globalist politicians infatuated with altering the composition of historic Britain. Regardless of what the future holds, Brexit represents a victory of Great Britain over Brussels, which wants to rule Europe even as it is besieged by those who seek to transform it into an Islamic state.
This week saw the awakening of a people, the first stirrings of what will hopefully be a revolution which will envelop the entire continent of Europe.