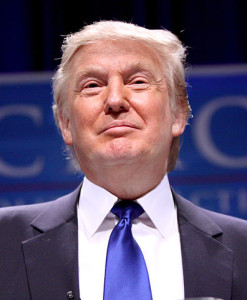 Just to give you a rough summary of what I thought of the first debate, here are a few rather lengthy observations:
Donald Trump dominated the first 20 minutes to half hour of the encounter. Focusing primarily upon trade, the one public policy he's immersed himself in-and has a mastery of-played to his strong suit. It also highlighted the stunning hypocrisy at the core of Hillary Clinton's campaign. Trumpeting her opposition to CAFTA merely served to emphasize her political opportunism, as this stance was crafted expressly with the purpose of securing her left flank in any future Democratic contest. Supporting one of President Bush's signature foreign policies would have made her path to victory in 2008 that much more difficult. We should recall that Barack Obama was not on her political radar at the time.
Likewise, her opposition to TTP-a pact she enthusiastically promoted as Secretary of State-was born of political opportunism, not genuine conviction. Even without the surprisingly successful Sanders campaign, endorsing a plan which was almost universally opposed by organized labor-the backbone of the Democratic Party even in its current corporatized, Clintonian shell-could have proved fatal to her presidential ambitions. Her labored attempt at triangulation, combined with Trump's implicit appeal to disenchanted supporters of her primary opponent, was unquestionably the highlight of the debate from his perspective.
Unfortunately, the discipline and preparation Trump exhibited during the beginning of this debate was squandered over the course of the next hour. We needn't rehash the explicitly stacked nature of this event, which might as well have been hosted by a Democratic partisan and has been explored in detail throughout the conservative blogosphere over the past 2 days. We all knew beforehand-as Trump should have known-that Lester Holt is not an impartial referee so much as an active participant in the media's universal quest to install Hillary Clinton in the Oval Office-even as they attempt to delegitimize this self-evident fact.
Even so, Trump seemed at a loss as to how to combat this two-headed attack during the actual debate. Lester Holt's contrived attempt at connecting the irrelevant Birther issue to the parlous state of American race relations is a perfect example of how Trump failed to seize the initiative. The correct response to this tendentious line of attack was to refuse to play a hand with the stacked deck given to him by the moderator. He should have pointed out this is simply a Democratic talking point crafted with the purpose of arresting his growing popularity among black voters, which has absolutely no relevance to any domestic policy even tangentially connected to race.
While Trump deserves credit for highlighting the grim body count piling up in the city where President Obama made his political bones, as well as the threat posed to African-Americans by our government's lax immigration policies, he gave more substance to this inane discussion than was necessary, reliving his own involvement in a completely irrelevant issue which has no purpose other than its use as a cudgel against the 1 candidate despised by the fourth estate. Trump could have used this opportunity to simultaneously highlight the bleak prospects of African-American males-who have been shortchanged by our first black President-and the insularity of our wretched journalistic establishment.
By contrast, Hillary Clinton had very few unforced errors. While she didn't do anything to change her public image, i.e. that of a viscerally unlikable, overly scripted, opportunistic career politician, she didn't step on any land mines either. She came across as a technocratic, seemingly competent liberal Democrat. She managed to persuasively advance the argument that Donald Trump, the anti-thesis of Bushism and country club Republican virtues, was simply a reincarnation of George W. Bush on tax policy. And that she, a woman desperately trying to attach herself to the Bush family, is somehow an agent of change. Trump rightly pointed out the economic stagnation of the past 8 years, which has nothing to do with the Bush clan, but dropped the ball by not explicitly pointing out that the Bush and Clinton families are part of the same circle of elites which have run this country into the ground over the past 3 decades.
More importantly from Clinton's perspective, she avoided casting herself as the the candidate of social justice fanatics, despite pandering to them relentlessly throughout this campaign-going so far as to write an open letter to Ella Dawson, otherwise known as herpes girl. The only departures from this appeal to normality were an aside where she accused our country of engaging in systemic racism and her Jezebelesque complaint that Donald Trump likes attractive women. While I'm sure the latter played well with her base of feminist, baby boomer female voters, it also highlighted the fact that she's alienated from the concerns of anyone who doesn't belong to the coalition of the fringes, particularly working class white men.
The Alicia Machado exchange is illuminating for other reasons, including its almost perfect distillation of the central flaw in the reasoning of open borders propagandists. Namely, that we need the millions of people who have been imported from the third world over the past half-century. We are told repeatedly that these immigrants or illegal aliens are essential to our functioning as a republic, yet the men and women who serve as poster children for this policy are without exception terrible people. Or, at the very least, not vital cogs in the machinery of American democracy.
Although Machado might not have been involved in an assassination plot, she is a confirmed philanderess and egregious hypocrite. However, because she intends on casting a ballot for the Democratic presidential candidate, like millions of other immigrants from Latin America, she is by definition an asset to this country. While I can understand why leftists and Democrats would believe that importing men and women who'll increase the size of the state is good for this country, I fail to see how this is a good thing from an objective, patriotic standpoint. Trump could have challenged the assumption that what's good for Democrats is good for the country, but conspicuously failed to do so. He could have also pointed out that the woman across the stage had spent decades slandering the reputation of women who had been victims of sexual assault at the hands of her husband.
The cumulative impact of these lost opportunities is hard to quantify, but it can't be dismissed out of hand. For those of you looking for positives to take away from this debate, Donald Trump's closing remarks emphasized a key point which could become part of a winning message if articulated in a coherent manner to the American people. The United States should not be the policeman of the world. Even if we were to concede the good intentions of those advocating continuous intervention in countries across the globe, the fact remains that this posture is counterproductive to America's strategic interests. Our government's sclerotic invade the world, invite the world foreign policy has been a catastrophic failure and needs to be abandoned.
That should be Donald Trump's message going forward. Ignore media-generated talking points about personal tax returns and obese former beauty queens. Focus on the central issues of our time and communicate your ideas to the American public. We need to be debating the future of our country, not the trivialities that dominated the Hofstra debate.