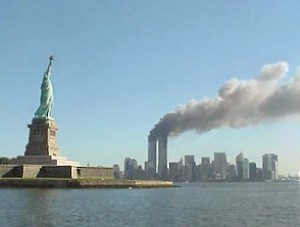 CNN is one of those ubiquitous aspects of the American soundscape which I've always looked upon as part of our gradual cultural decline. Whether you're in a dentist's waiting room, or simply passing by a restaurant on your way home-as I was this weekend-you can't help but overhear one of that network's correspondents, news anchors or hosts do their best KCNA imitation. The fact that so many millions of Americans unconsciously imbibe its propaganda on a daily basis merely illustrates how difficult it will be to craft a counter-narrative to the open borders, liberal interventionist propaganda which shapes our government's domestic and foreign policies. To successfully deprogram the people who are barely aware of the deliberate, pernicious bias which animates the media will be a monumental task.
However, on September 10th I inadvertently watched something of inestimable value on that network, an interview of Howard Lutnick. The CEO of Cantor Fitzgerald, a company which lost 658 employees during the 9/11 massacre, including Mr. Lutnick's brother and best friend, he is a living reminder of the determination and compassion embodied by New Yorkers and Americans. I couldn't watch that interview without tears welling up in my eyes, because I viscerally remember the horror of that day, as well as the weeks that followed. Although I'm blessed not to have lost any loved ones or friends that day, the desolation and despair those attacks left in their wake, the incalculable human grief and misery they inflicted upon this city and our nation, couldn't help but make a permanent impression upon my psyche.
I still vividly recall the columns of smoke floating over the my college campus from the scene of destruction at Ground Zero in lower Manhattan. The horrifically pungent smell of death wafting its way up to Union Square for nearly a month afterwards. The tangible fear and anxiety which gripped me for the following week whenever I boarded a bus or walked outside of my apartment in Brooklyn. The posters of missing men and women who would never return to their families, which blanketed the entire city and hundreds of which I passed on my way to visiting my late uncle in Cobble Hill later that month. Only later did I, like many Americans, begin to feel the incandescent rage and fury at the anti-civilization that had demolished 2 architectural landmarks which its emissaries could never have even conceived of, let alone designed and erected.
That anger and resentment has only increased in the intervening years, as the ruling class has done everything within its power to condition the American public to accept Islamic identity as equal-if not superior-to Western civilization and American values. Values which courageous FDNY, PAPD, NYPD and EMS workers-as well as heroic civilians like Howard Lutnick-displayed a decade and a half ago. Even as our rights and freedoms have been steadily diminished and we have witnessed Americans being slaughtered again and again on our television screens. With each anniversary of the single worst attack upon American soil the cognitive terrorism conducted by our press organs increases in intensity.
As others have pointed out, the main takeaway from the September 11th atrocities-for the enemedia, at any rate-is that it's an event which has made the lives of Muslims slightly more uncomfortable. The fact that the commemoration of 9/11 this year coincides with a Muslim holy day-and the presidential candidacy of a man who refuses to pretend that the architects of this unprecedented provocation belonged to a religion of peace-has only intensified the Muslims as victims press coverage, no matter how inane or blatantly false the chimera of Islamophobic backlash is in reality.
The fact that we haven't spent the past decade implementing measures to prevent future 9/11s from occurring-securing our borders, deporting national security threats, and curtailing immigration from nations which amount to terrorist incubators-but have instead dwelled upon how we can cosset the feelings of Muslims and contextually understand a book which has no context is absolutely infuriating. That future generations of American students will be taught that the victims of 9/11 were actually Muslims, and as abroad Austrians are being condemned by their purported countrymen for celebrating their ancestors' defeat of an Ottoman army sent to perpetually enslave them, is so galling that it defies description.
The amount of mental space and emotional energy I've had to devote to understanding Islam-what motivates its adherents, why it's persisted into the 21st century despite leaving no cultural or philosophical monuments of lasting significance, why Western intellectuals, going back to Gibbon, maintain that it has something of value to impart to our civilization-is spiritually enervating. I am, like the great Mark Steyn, Islamed out. I want future generations of American children to learn about the brilliance of men like Minoru Yamasaki, who designed an architectural masterpiece which 3 generations of Muslim immigration has never approached, and in all likelihood never will. A man who embodied the best of American values, i.e. individualism, perseverance, and creativity allowed to blossom in freedom, not ethno-religious resentment, ingratitude, and attachments to historic hatreds which will never be eradicated.
We are a warm and generous nation-and have been since our founding. Therefore, we should welcome Muslims throughout the world. As visitors though, not as settlers. Think of how many Ron DiFrancescos could have been admitted to this country in place of the Omar Mateens and Dzhokhar Tsarnaevs. It's time to move past our culture's pathological altruism and recognize the sacrifices of the men and women who perished on that bleak September morning. It might be too late to stop the civilizational suicide of our European allies, but there is still hope for us. America needs to preserve the memories of its martyrs and ensure more of them are not sacrificed on the alter of vibrant diversity.