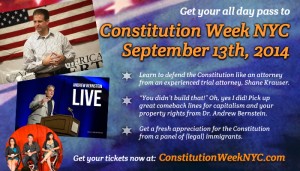 Constitution Week, 9/13/14
Bitfire Inc.
320 West 37th Street
Suite 600
New York, NY  10018
The political impact of the Tea Party is a subject which has been debated ceaselessly over the course of the past six years. Even as it has made tremendous strides in mobilizing public opposition to disastrous statist manipulations of the economy and health care, the tangible results of this nationwide experiment in philosophical education and civic action have been ambiguous, at best. Many in the class of newcomers ushered into Congress on a wave of conservative resistance in 2010 have turned their backs on the citizens who voted them into office, in an all-too-familiar pattern of ostensible outsiders being absorbed by the corporatist leviathan which dominates policymaking in the nation's capital. Even as advocates of liberty gain a more prominent foothold in public debates over these issues-while having their philosophy mischaracterized by the usual suspects-it can plausibly be argued that the scope of government, as well as its manifold abuses, expands with each passing year.
That's why I believe the most enduring contribution the Tea Party has made to our national discourse and political environment has been its dissemination of knowledge about this nation's founding documents to the broader American public. It has popularized many of the ideas espoused by invaluable organizations like the Federalist Society, Tenth Amendment Center, and Institute for Justice, as well as individuals like Tom Woods and Kevin Gutzman, prompting millions of Americans to explore the ideological basis for the creation of this country.
That's why I'm  delighted to spread the word about Constitution Week in New York City, an event explicitly dedicated to preparing liberty-minded individuals and patriotic citizens for a robust defense of that charter of negative liberties so reviled-and wantonly violated-by the current occupant of the White House. Last year, a small group of creative activists banded together to host this grassroots event in the hope of generating a boomlet within the local liberty community. Exceeding all expectations, this event turned into a rousing, standing-room only success. This year my good friend Thomas Nguy, as well as veteran physician and health care consultant Dara Grieger and Constitutional expert Shane Krauser, are hoping to repeat the success of their initial gathering.
That's where you come in. This event will be taking place on September 13th, but you can order your tickets in advance by purchasing them online. Here's the link! For less than the price of a typical movie ticket in the borough of Manhattan, you will have the privilege of being prepped for rhetorical combat by some of this nation's leading experts on Constitutional law, viewing a performance from the fantastic Boston Tea Party Opera, and witnessing a panel composed of legal immigrants who will describe what it's like living in nations ruled by bureaucrats and dictators rather than natural law. It's a deal that you simply can't resist, which is why I urge you to snatch up those tickets while there's still time.