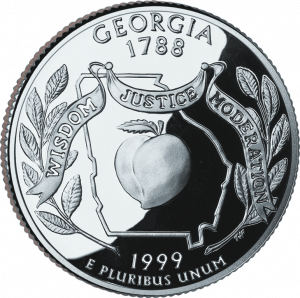 In one of the first major statewide successes achieved by the immigration control and enforcement movement since the passage of SB 1070, the state legislature of Georgia has passed a comprehensive measure targeting illegal aliens and the companies and individuals that employ them.
William Houston gives us a great summary of just what Georgia has just done-and why it is so pivotal to the progress of our patriotic movement-over at Youth for Western Civilization. Some of the most important aspects of Arizona's landmark immigration reforms, including the requirement that businesses with more than 10 employees use e-Verify, which is the most effective program stopping illegal aliens from obtaining legitimate employment yet enacted, are reflected in this bill. HB 87 also allows state and local law enforcement officials to detain illegal aliens who've been stopped for non-immigration-related violations and transport them to federal prisons. 
The one potential drawback in this piece of legislation is the inclusion of a clause directing Georgia's Agriculture Department to investigate the possibility of creating a separate, statewide guest worker program, a much more tepid version of the worker exchange Utah specified in the amnesty lite law it enacted last month. 
Putting that aside, I still believe this is a valuable step in redirecting the national debate away from granting rights and privileges to which illegal aliens are entitled towards a policy of deterrence and detainment, which will ultimately lead to deportation. It took too long for this day to come, but some state legislators have finally developed a backbone and decided that enough is enough. Keep up the pressure! This is your country.