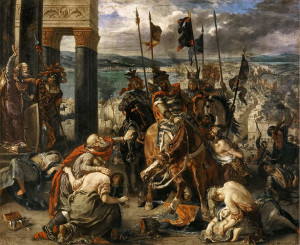 Update: Tommy Robinson right again, the perp arrived in Turkey via Syria. 
ISIS claims responsibility. 
Graphic photos of the Istanbul massacre. 
A profile of the victims of jihad. 
For good ongoing overage of this attack, follow Abdullah Bozkurt's Twitter feed.
One of the most exasperating parts of following news coverage of the latest wave of Islamic atrocities is the deliberately mendacious way these crimes against humanity are portrayed by the Fourth Estate, the Santa attack inside of an Istanbul nightclub being just the latest example of this willful deception. At least the editors of the Daily Beast had the courtesy to enclose that word in quotation marks, but people who didn't read beyond the headline of this story would probably be under the impression that a deranged mall santa decided to go on  a bloody rampage, a la A Christmas Horror Story. No, this wasn't a case of an otherwise non-ideological lunatic going postal, or a person cosplaying a scenario from a Batman vs. Joker film.
It was a calculated jihadist methodically mowing down Kufr and infidels-foreign tourists, but also secular Turks who enjoy living in (relative) freedom-as is prescribed in his scripture, i.e. the Koran. This terrorist was acting upon the same impulse as his fellow Turks, some of whom spent the Christmas season holding Santa Claus at gunpoint in order to express their displeasure at a religious/cultural festival which does not involve rivers of blood. When an acquaintance informed me of this massacre on New Year's Eve, the way he described it made it seem like an utterly random outbreak of ultra-violence. This popular misconception needs to be challenged at every opportunity, because it is literally taking innocent life.
As horrifying as it is to admit that over 11,000 human beings have had their lives erased because of Islam in 2016 alone, this truth needs to be assimilated if we are to ever hope of living in anything approaching Western civilization. People need to reject the comforting delusions which have made these types of massacres more, not less, likely. We are facing a global ideology which is anti-civilization, anti-thought, and anti-humanity.
Saint Nicholas would not be allowed to live in modern-day Turkey, and if Santa Claus existed I'm almost certain he would have been quickly beheaded by one of the many Sunni terrorist groups operating within that country. 2016 should be a wakeup call to those who have been ignoring the exterminationist war being fought against crusaders and infidels. Continuing to live in ignorance is no longer an option.