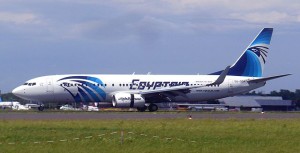 Update: Human remains found. 
What we know about Flight 804, courtesy of The Takeaway. 
Some interesting possibilities explored by John Batchelor. 
More details about the moments preceding Flight 804's crash. 
Terrorism can't be ruled out. 
Transparency is not at a premium when you work for the Egyptian state, evidently. 
Egyptian civil aviation officials believe the flight has crashed. Some good info can be found on this Free Republic thread.
Live updates, courtesy of the New York Times.