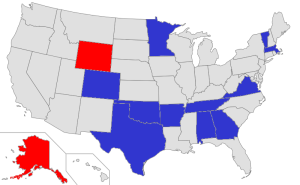 The most notable development leading up to today's pivotal primaries is, of course, the raft of prominent Donald Trump endorsements, including those of former governor Jan Brewer and immigration stalwart Senator Jeff Sessions. Why the latter decided to endorse Trump rather than his Texas colleague is open to debate, although Mark Krikorian-a Cruz supporter-has an interesting theory.
The New York Times has published 2 stories of interest to those of us in the immigration reform camp, focusing on the 2 main competitors-at the moment-for the Republican nomination. One describes the sub rosa pressure campaign initiated by the Gang of 8 against conservative radio talkers who were skeptical of embracing their amnesty proposal in 2013. You can read the NYT account here, and the more complete-and presumably, honest-description of the Rush-GO8 conclave by Mr. Limbaugh himself on his website. It should be noted that if the Times is attempting to bolster the candidacy of Marco Rubio, a la John McCain during his past presidential runs, this is impeccably poor timing on its part.
Then again, the Old Gray Lady might simply be trying to practice the craft of journalism-however ineptly-during this contentious  primary season. It also has published a tantalizing account of what its editor claims is Donald Trump softening his immigration stance in an off-the-record conversation with Times' staffers. One wonders what the significance of "off the record" information is if you then disclose hints of that content to the general public. Also, one has to wonder whether Trump's response mirrored his answer to a presumably similar set of questions posed by Byron York.
National Review-the anti-Trump conservative publication of record for some-has published some interesting pieces on the various Trump-related controversies that have cropped up recently, including a fascinating piece on Trump University, as well as a much less compelling article about the Donald's use of foreign nationals to work on his construction projects. Surprisingly, NR has also published an essay by its former editor John O'Sullivan-currently a Ted Cruz backer-explaining the provenance of the Trump phenomenon. It should be required reading for those Republicans positing a GOP crackup.