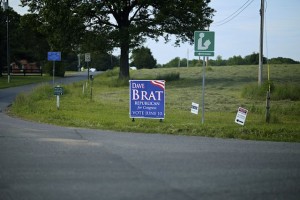 Update: Roy Beck's statement regarding the results in Virginia's 7th Congressional District is now available online. 
The only question that remains is whether the heretofore tone deaf GOP leadership in the House of Representatives is listening.
We, like many patriotic Americans of every partisan affiliation, are celebrating the defeat of soon to be ex-Majority Leader Eric Cantor in yesterday's Republican Party primary. The reaction of the open borders elites seeking to downplay the magnitude of this historic event has been all-too-predictable. Cantor's corporate benefactors are already trying to orchestrate their next move in an ongoing attempt to flood this nation with millions of unskilled workers, while the drive-by media is doing its best to obfuscate the actual issues which animated Dave Brat's successful campaign.
As Rush Limbaugh explained on his radio broadcast today, this victory-although sweet-is no excuse for letting down our guard. Just as we were assured that Scott Brown's win in Massachusetts doomed Obamacare, now we are told that congressional support for immigration reform, i.e. amnesty, has evaporated. Don't buy into the hype! The campaign to force amnesty down the throats of the American public will only accelerate now that Luis Gutierrez's companero has been removed from his comfy perch in Congress.
This isn't the time for a victory lap, but for continued vigilance in the face of an open borders behemoth which will seek to extract revenge-primarily upon the American public-for this ignominious defeat.