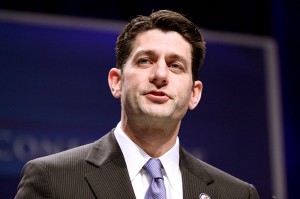 That status of the Gang of Eight amnesty, and the attempt to force a "path to legalization" into any House-Senate conference committee, remains murky. The political and economic disaster of Obamacare continues to suck up almost all media coverage devoted to domestic issues. Even so, the crusade by the lavishly-funded open borders lobby to open up the floodgates to more unskilled chain migration proceeds with due alacrity, as the unabated propaganda campaign by amnesty's biggest champion demonstrates. 
Their allies in this crusade include not only the usual rogue's gallery of labor unions, cafeteria Catholics-and other religious charlatans-but also numerous Republican lawmakers. One of the most important being Representative Paul Ryan, the former running-mate of Republican presidential nominee Mitt Romney. Breitbart.com has an intriguing report exploring how Ryan remains the last remaining pivotal Republican within the House GOP leadership who supports conferencing the immigration reform bill. 
It's well worth reading, especially in light of Speaker Boehner's recent statements regarding this subject. Will Rep. Ryan continue to tread this politically perilous and economically ruinous path? Only time will tell. Until then, keep the pressure on!