As we explained in our last activism update, the forces intent upon diminishing our rights have been emboldened by a recent series of horrific events. Most prominently, the Sandy Hook Elementary School shooting. Rather than be cowed by rapacious politicians, we should resist this encroachment upon our fundamental liberties. To that end, I'm urging my fellow New Yorkers-especially those living in Richmond County-to attend an important rally against Governor Andrew Cuomo and the legislature that rubber-stamped this egregious violation of our natural right to defend our lives, liberty, and property.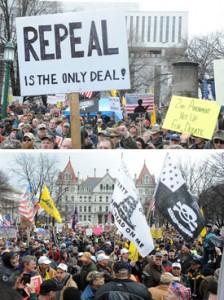 The absurdity of this law was demonstrated most recently by the arrest of a man in upstate New York for having two more bullets in his gun than legally allowed!
The call to resist this tyrannical overreach by our governor-a man who's enriched himself at the expense of American taxpayers virtually his entire adult life-has been heard throughout New York, as thousands have rallied to voice their disdain for this infringement upon the basic Constitutional right to keep and bear arms. Some county legislatures have even voted for outright repeal. Let's prove that even people in one of the least free cities can stand up their rights!
You can RSVP by accessing this link to the event's Facebook page.