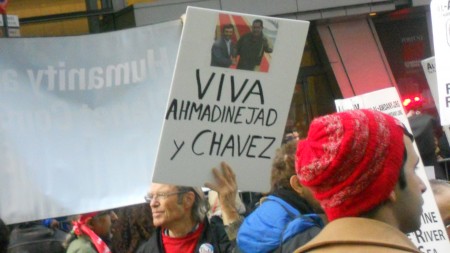 One image taken from the pro-Hamas rally held by Al-Awda NY, among other anti-Israel organizations, in Times Square this weekend. I wish I could say that it was anomalous in some way, but the inexorable truth is that the physically and intellectually etiolated creature you see above was probably as representative of the spirit of this demonstration as any of the participants. That a decrepit red diaper baby extolled the Marxist, Latin American despot Hugo Chavez  is not surprising, although neither should be his admiration for Chavez's staunch ally Mahmoud Ahmadinejad. A man who shares with his equally anti-Semitic friend a history of manipulating election results.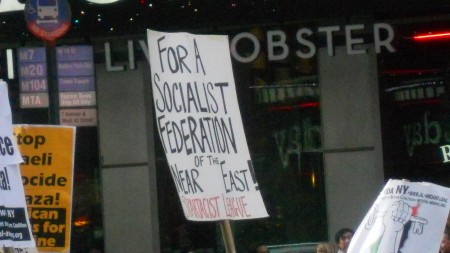 The domestic alliance between socialist and communist true believers and obscurantist, apocalyptic Islam is mirrored to a large degree in the Gaza Strip itself, where rejectionist strands of the PLO, such as the Marxist-Leninist PFLP, join forces with the Al-Qassam Brigades in shelling Israeli civilians. I'm not sure what end game the Trotskyites in the Spartacist League have in mind, but I have the nagging suspicion it doesn't quite sync with the ultimate goals of Hamas, Palestinian Islamic Jihad, or the Al Qaeda-inspired salafists currently vying for control of the Gaza Strip and West Bank.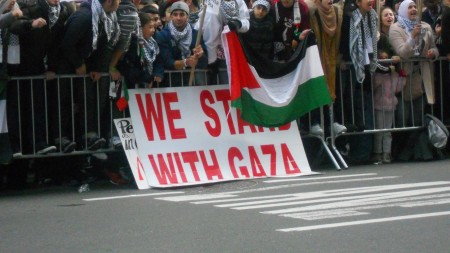 While useful idiots are pivotal to the success of any totalitarian revolution, once the despised tyrant is dethroned, they are more often than not treated to a dose of revolutionary justice. Perhaps some of these reactionary leftists should have a conversation with MEK exiles in order to learn about the pitfalls of yoking your cause to an ideology which relentlessly persecutes atheists, at its best.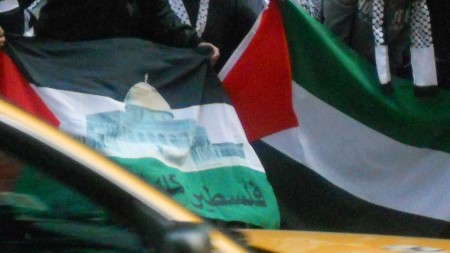 Granted, it's possible that militant Stalinists and those who want to eradicate any remnant of Judaism from the Jewish State might be able to co-exist, but it seems like those who would want to kill for the Al Aqsa Mosque might be of a different hue than those who would kill for dialectical materialism.
Although I doubt such discussions would prove fruitful, as the inclination for affinity groups and Marxist ideologues to view Arab-Muslims, particularly those living on the outskirts of Israel, as perpetually downtrodden and oppressed-the eternal underdog-is impenetrable to reason and empirical evidence. A sign of this enduring myth is the Puerto Rican flag seen above, probably held aloft by an independentista, who'll no doubt have more time to demonize Israel in a few years, once that island's ambiguous political status is permanently resolved.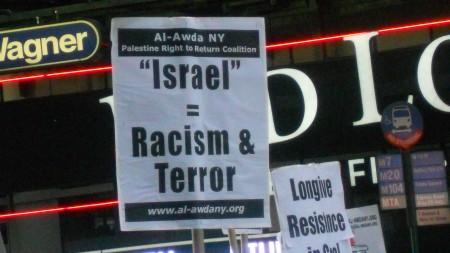 One of the incongruities of this particular anti-Israel demonstration-although it must be said, leftists and their allies have never been known for their philosophical integrity or ideological coherency-was the strange, ritualistic incantations against "hate" followed immediately thereafter by the most noxious expressions of hatred and contempt.  For example, the repeated chant "Stop the violence, stop the hate," which was quickly followed on the down beat by "Israel is a terrorist state!"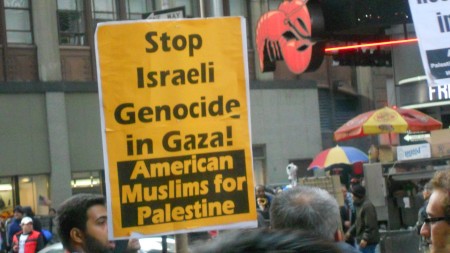 Pardon my impertinence, but isn't categorizing a nation of nearly eight million distinct individuals as racist a bit hateful, not to mention insinuating that this country is perpetrating genocide? The latter charge is especially curious, considering the fact that casualties from Israeli weaponry-including the deaths of confirmed terrorists-during this conflict number fewer than the toll of Palestinians Hamas murdered during the 2007 putsch which resulted in its seizure of power from Fatah.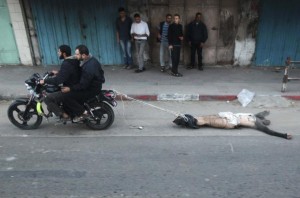 What's more, the Palestinians killed during this conflict number less than a tenth of those "collaborators" murdered without trial during the first intifada.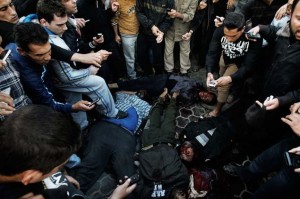 Unfortunately, as you can see, this unique interpretation of justice is still avidly practiced by those in charge of the Gaza Strip.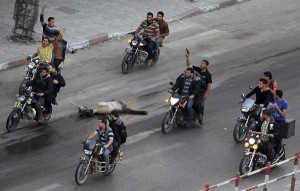 If the concern trolls who detest Israel so much really want to see a state that perpetrates genocide, perhaps they should cast their eyes north.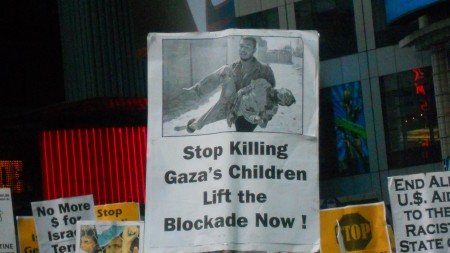 It's reassuring to imagine that a certain cognitive dissonance is at play when the most demagogic critics of Israel regurgitate their talking points and deploy some of their more eye-catching imagery-such as that seen on the placard above. Unfortunately, I don't think they recognize the inherent disconnect between accusing Israel of slaughtering children while simultaneously standing behind a group which indoctrinates Palestinian children from the time they can walk into a culture of jihadist, exterminatory violence. To say nothing of the cynical exploitation of Palestinian women and children as human shields for terrorist leaders.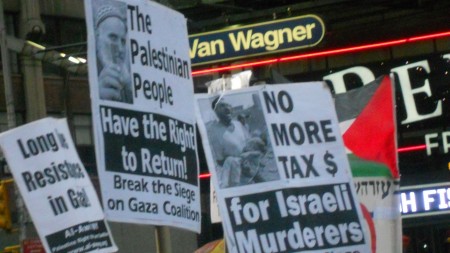 The sincerity of their denunciations of Israeli "hate" were called into question again when the mixed Palestinian fanatic/desiccated Marxist crowd began to shout "Yassin, Yassin, do not cry; Palestine will never die!" While it's possible that they were referring to a controversial military engagement that occurred during the 1948 Arab-Israeli War, the fact that this was a pro-Hamas rally leads one to the ineluctable conclusion that they were celebrating the life of a man responsible for the deaths of hundreds of Israelis and Palestinians, including those who have died as a result of the current bloodshed.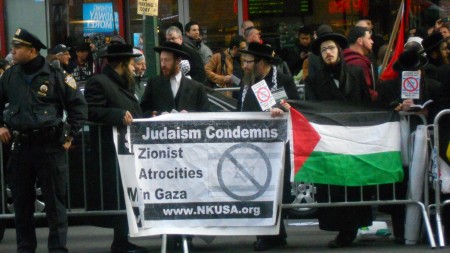 As odd as it might seem, the most ideologically coherent contingent, aside from the keffiyeh and hijab-clad Palestinians echoing the historical demand that Israelis be pushed into the sea, was the cultish faction of Neturei Karta seen in the photograph above. Whether meeting with Holocaust enthusiast Mahmoud Ahmadinejad, or breaking bread with Yasser Arafat, a protege of Adolf Hitler's Middle Eastern Reichsführer, NK has made it abundantly clear that it despises the state of Israel as it currently exists.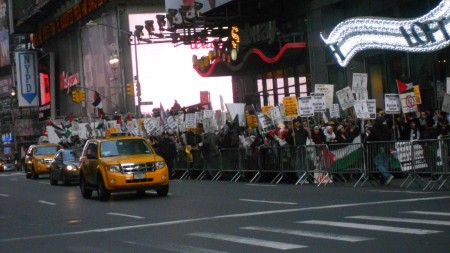 Of course, this is a free country. You're entitled to express your opinion, however loathsome, so long as it doesn't trespass against the life and safety of another individual or group of citizens. That said, I have to say the pretense that most of the people gathered in Times Square care about the lives of ordinary Muslim women and children living in the Gaza Strip is hard to digest.
It's especially difficult to conceive of a scenario where they would bemoan the fate of these particular Muslims if their suffering bore no relation to Israel. You need look no further than a perpetrator of actual genocide, the Baathist Assad dynasty, in order to apprehend this concept. More than three times as many Palestinians have been killed in Syria during its civil war than have perished in the current conflict, yet you see no comparable sense of outrage among these indignant, alleged supporters of the Palestinian cause.
Apparently, their lives are not worth as much as the ones inserted into a meta-narrative designed by Hamas to manipulate international news media. In our next post, we'll look at the other side of the coin.