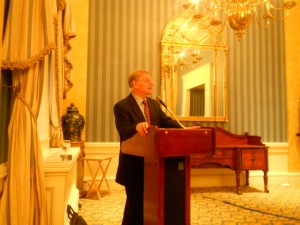 That, of course, is Roy Beck, the founder and executive director of Numbers USA, which-as I'm sure my readers are well aware-is the single most effective grassroots organization lobbying on Capitol Hill for immigration enforcement. I had the pleasure of listening to a fascinating address he delivered at the Penn Club in Manhattan last month, the penultimate in a series of lectures sponsored by the Center for Immigration Studies-events that attempt to cultivate journalists, writers, and intellects living and working in New York who share a common interest in the subject of immigration.
Mr. Beck's speech focused largely upon the Sisyphean task he and his colleagues face in persuading resistant lawmakers to address our sieve-like system of federal immigration enforcement. Numbers USA was  created from the ashes of the Jordan Commission, whose recommendations-including that the number of immigrants return to its historical norm of 200 to 250,000 per year-were wholly ignored by both Congress and the president at the time, William Jefferson Clinton. The testimony of Congresswoman Jordan is worth revisiting, for it illustrates how far short the federal government has fallen of the goals laid out by  the U.S. Commission on Immigration Reform. Contrast how she frames her first point:
Our goal should be zero apprehensions-not because aliens get past the Border Patrol but because they are prevented entry in the first place.
With the wholesale abandonment of enforcement at the border by the current administration, which coincides with ICE's administrative amnesty for over 300,000 illegal aliens. One of the primary objectives of the Jordan Commission is as elusive as it was when first enunciated  nearly two decades ago.
The second plank in the commission's recommendations, i.e. removing the jobs magnet that attracts so many illegal aliens-and which allows them to remain in this country indefinitely-is still relevant, however. In fact, the movement to eliminate this spigot of illegal immigration through E-Verify formed the basis of Roy Beck's talk, which focused mainly on his organization's attempts to move HR 2885, the Legal Workforce Act, through Congress and onto the President's desk.
Although a contentious issue even among allies-mainly because it preempts statewide immigration crackdowns-the move to implement mandatory E-Verify on a federal level is the only enforcement-specific bill that has a realistic shot at being passed before the end of this session of Congress. That's why Roy Beck chose this subject as his platform for his speech before the Penn Club. As someone who works Capitol Hill on a daily basis trying to impart patriotic Americans' point of view to member of Congress, he is in the ideal position to see how immigration law is made, or in the case of E-Verify, thwarted.
The takeaway from his speech, unfortunately, is that the change in House leadership from Nancy Pelosi to John Boehner last year has been, if anything, a net negative as it concerns advancing legislation like E-Verify. The new Speaker has done everything in his capacity to see that enforcement measures die in committee, mirroring the open borders dogmatism of his predecessor. While his lieutenants, in this case Chairman Fred Upton of the Ways & Means Committee, obstruct the implementation of employer verification on parochial grounds, i.e. it infringes upon his committee's jurisdiction over Social Security, Boehner's opposition is rooted in ideology.
As hard as it is to believe that someone as politically calculating as Boehner could hold any deep philosophical convictions, his hostility to employer verification and enforcement is deeply ingrained. In fact, this longstanding opposition has been noted by many observers-not least by Numbers USA itself-and his superficial support for employer sanctions was merely a pretext to ingratiate himself with skeptical conservatives before attaining power. The remarkable aspect of his stance though is that he maintains it in spite of  Chamber of Commerce support  for E-Verify, a political breakthrough that Roy Beck  admitted would have been unthinkable in 2010.
Numbers USA has conducted polls that demonstrate a solid majority among all ethnic groups and political affiliations back E-Verify-most demographics supporting the measure in excess of seventy percent-but the political appeal of immigration enforcement among the general public has never been a strong selling point among GOP power-brokers. However, a creature of the Chamber of Commerce-which even  Boehner's admirers would probably admit is a fair description of the current Speaker of the House-doggedly opposing a bill on which the Chamber has signed off demonstrates how committed he and his deputies are to preserving the status quo, i.e.  prolonged unemployment for millions of Americans and an endless stream of unskilled, cheap labor. Two problems that states which take this problem seriously don't seem to be experiencing.
How, then, do Americans who care about this issue passionately change things? If the leader of a party that ostensibly cares about illegal immigration-or at least makes a pretense of caring during periodic election cycles-won't do anything to advance a bill that has nearly universal support-even, rhetorically at least, from President Obama-what alternative remains? One of the bright spots of Beck's talk was his insistence that grassroots citizen activism does have a tangible impact within the Republican Caucus, even at the leadership level.
Although it might not seem like it from public pronouncements, the faxes, e-mails, phone calls and letters sent to Republican congressmen-and to a lesser extent, responsive Democratic congressmen-exert pressure upon them to hold the line, which is why we were able to defeat the Dream Act when it came up for a vote during Harry Reid's lame duck session of Congress in 2010. However, even Republican members with solid credentials on immigration enforcement are wavering on this issue-as are those GOPers with more opportunistic stances on immigration-so pressure must be constantly applied, even in those cases where you might not think it necessary.
I'm convinced that the fundamental lesson to be gleaned from the experience of Roy Beck and Numbers USA is that the mission of defending America is ongoing and requires extreme vigilance; an anecdote Beck recounted in which Frank Sharry lamented what seemed like the imminent passage of E-Verify during a forum in which they both participated is illustrative in this regard. The forces supporting unfettered immigration and defiance of the law never relent, even after repeated rebukes, because they realize that there is an extensive, well-funded lobby-furnished with copy by almost the entire news media-ready to push on a partially open door-in the form of Congress and this administration-in order to see their agenda enacted.
We have neither the seemingly endless coffers nor the pliant apparatchiks placed throughout media circles enjoyed by our opponents. On the other hand, we do have something that open borders advocates can not lay claim to. Namely, the enthusiastic support of the American public. We also have cadres of citizen activists in the truest sense of the phrase; these are people who are not rewarded with lavish endowments from the Ford Foundation, but rather seek only to protect the lives and careers of their fellow Americans.
This is why Numbers USA serves such a vital function to the immigration enforcement and reform movement. It amplifies our voice and pipes it into the ears of lawmakers who customarily refuse to hear anything that contradicts their shared assumptions about immigration. As Mark Krikorian said in his introductory remarks, while the Center for Immigration Studies has immeasurable work as the think tank of immigration realists, without Numbers USA we would be lost as a country. That's why I urge all of you to enlist in the struggle and support the work of Roy Beck and his colleagues.
You can start by visiting the action center on their official website, where you'll be able to reach out to lawmakers-including your own congressmen and senators-who are reluctant warriors-or in some cases, opponents-in this battle. Numbers USA does yeoman's work, but it can't do its job without the assistance of thousands of ordinary American citizens fed up with how Washington D.C. works.