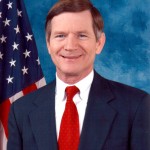 One of the central points of focus for the illegal immigration debate recently has been the use by employers of the federal government's E-Verify system for checking the immigration status of potential or existing employees. Now Lamar Smith, the Chairman of the House Judiciary Committee, has introduced a bill, H.R. 2164, which purports to mandate E-Verify use for all American employers.
The merits of this legislation are pretty obvious, and have been cited by immigration enforcement and reform groups like FAIR in support of Smith's bill. Getting  corporations and businesses that have resisted the implementation of E-Verify for years to embrace a bill that compels employers to adopt it is an historic accomplishment. Forcing businesses to verify the eligibility of potential employees in the future is the precondition for stopping the influx of people coming here illegally in order to work in the United States.
However, the fact that the Chamber of Commerce is supporting this bill should set off alarm bells among anyone who's concerned about immigration enforcement. This is the same organization that fought Arizona's E-Verify law all the way to the Supreme Court. And as it turns out, one of the reasons the COC has decided to support this bill is because it preempts laws like the one in Arizona from being enacted in the future, as the outline of H.R. 2164 describes on Rep. Lamar Smith's website. It also gives a wink and a nod to those agribusinesses employing illegal aliens right now, allowing those returning workers whose status hasn't been verified to be exempt from the new law. These are just some of the reasons Kansas Secretary of State Kris Kobach has spoken out against it, most eloquently in a New York Post op-ed.
Even so, the benefits of this legislation might outweigh the demerits if I believed it would actually be implemented as envisioned by Rep. Lamar Smith and Rep. Elton Gallegly. As Mark Krikorian describes in an extremely detailed article for National Review, the Legal Workforce Act would represent in some ways the most important jobs bill to come before Congress this year. In an economy mired in recession, opening up potentially thousands of jobs for American citizens and legal residents would be a welcome development. Yet I don't think this admittedly flawed bill will remain in its current state, or be improved if and/or when it makes its way through the United States Senate, let alone a House-Senate conference committee. By the time corporate interests and advocates for illegal aliens are done lobbying Congress I doubt that the chief rationale for enacting this bill will remain intact.
You can analogize this to the 1986 Immigration Control and Reform Act, which in addition to granting amnesty to over 3 million illegal aliens also had several ostensibly tough enforcement provisions, including clauses that:
required employers to attest to their employees' immigration status
made it illegal to knowingly hire or recruit unauthorized immigrants.
Remarkably, neither of these were ever enforced by the federal government, and even though I would like to think that times have changed in this regard, I'm not optimistic. The only difference between this quasi-amnesty and Simpson-Mazzoli is that now states would be prevented from taking auxiliary measures to deter illegal aliens. Yes, there are some great provisions in this bill, but I think its supporters are investing too much faith in the federal government's ability to live up to its word, which on the issue of immigration-like many others-it has failed to do repeatedly in the past.