When Andrew Breitbart died unexpectedly at the beginning of this month he left a void, not only in the conservative movement but in our national political discourse, which is too often characterized by trite cliches and predigested sound bites.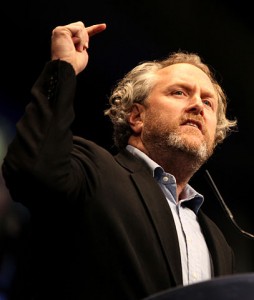 Breitbart not only challenged the assumptions of media talking heads, but often changed how mainstream journalists approached a story. His dynamism and visionary thinking will be missed, but what will be missed even more by his widow and his four children is Andrew Breibart the father and husband. That's why a trust fund for his family has been established.
Those of you who feel compelled can donate to the address below, but even those of you who wish not to can keep the memory of Andrew alive by continuing to bring attention to the issues and concerns that the drive-by media consistently ignore or disparage, something that conservative activists are doing even as the Supreme Court decides the fate of Obamacare.
Breitbart Children's Trust
149 S. Barrington Ave, #735
Los Angeles, CA 90049.
Breitbart may be gone, but his spirit and his mission persist.