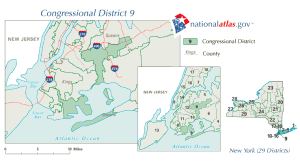 I'd like to use today's post to echo the sentiments expressed by our publisher yesterday. As someone who once lived within the confines of the 9th Congressional District when it was represented by Chuck Schumer, one of the most irresponsible, worst actors in our nation's immigration debate, I can't urge you strongly enough to go out and vote today! For those of you who are able to impact the outcome of today's vote in Brooklyn and Queens, you have a momentous opportunity to change the course of this city's stagnant political culture.
The fact that former Rep. Weiner's seat might ultimately be done away with once New York State has completed its decennial redristing process only lends urgency and weight to your vote. Committed political activists of all political stripes have already demonstrated that many voters are willing to buck the tide of political complacency that has too often come to represent our city's electoral process, as Mr. Evanchik's post demonstrates. The next step is proving that average New Yorkers are willing to oust an inveterately corrupt political machine from power.
It's up to you, New York! Show the rest of the country what you're made of.