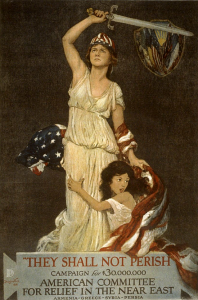 This year marks the centennial of the Turkish campaign to wipe out the Armenian people and depopulate the Ottoman Empire of its Christian subjects. Last month was the official commemoration of this holocaust, known as Armenian Genocide Memorial Day. Our good friends at the Silent Majority No More have provided us with an illuminating photo-essay documenting the solemn acknowledgement of this genocide by the Armenian community living in New York City. In addition to explaining the historical background behind the most horrific instance of  Muslim brutality towards the Ottoman Empire's economic engine, that essay also explores the continued Turkish denial of state crimes committed in defense of Islamic and national prejudices. 
For those who would like to learn more about this extremely important subject-and I would urge all of my readers to learn as much about the Armenian genocide as possible-there are many fantastic books on this subject. Including the brilliant work by Armenian-American scholar Peter Balakian, The Burning Tigris, which not only chronicles the Hamidian massacres and the much more comprehensive 1915 genocide, but also explores the extraordinary efforts of ordinary Americans who tried to turn the world's gaze to the indescribable suffering of the Armenian people at the hands of the CUP and Turkish leadership.
Another worthwhile account of this horrific series of events was written by a survivor himself, Grigoris Balakian, a bishop of the Armenian Apostolic Church and relative of Peter Balakian. Armenian Golgotha is his testament to the persecution his people endured at the hands of the last great Islamic State. It also serves as a reminder that the people who would underestimate the threat posed by Islamic jihad, or who would warp their society's ideals in order to appease  it, do not have a fundamental grasp of history.