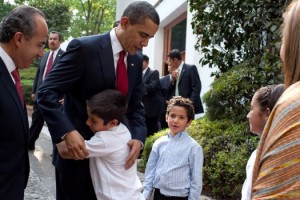 Most of you are probably wondering what my thoughts on President Obama's latest push for amnesty, culminating in a visit to the border city of El Paso, Texas, are. Although I will be analyzing the latest photo op in due time, today I thought I'd share with you my opinion of Mexican President Felipe Calderon's sit-down with Charlie Rose.
Airing last night, the hour-long interview touched upon a wide range of topics, including those issues of vital importance to Americans, immigration/border security and the violence initiated by Mexican drug cartels such as the Zetas, Beltran-Leyva and Sinaloa cartels among them. 
Remarkably enough, the Mexican president was able to dissimulate while speaking to each of the issues raised by the PBS host. For a brief recapitulation of the interview-as well as a deconstruction of each of his many prevarications-I suggest you scroll through my Twitter feed from last night. Although by no means comprehensive-no pun intended-it does give you a sense of why one of this country's alleged allies can not be trusted, and should certainly not be rewarded with yet another large scale amnesty that is designed almost exclusively with that nation in mind. If you don't believe me, I suggest you check out some of the  Census Bureau statistics describing where most of this nation's illegal aliens hail from. 
In short, the entire interview was a slick exercise in public relations and media spin. For that, Charlie Rose is the perfect vehicle. For reality, you come to websites like American Rattlesnake.