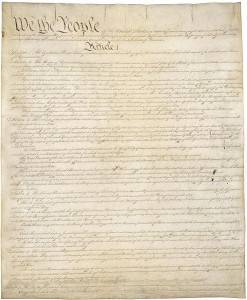 One of the most persistent, pernicious myths about the U.S. Constitution is the mistaken belief that the 14th Amendment, ratified shortly after the conclusion of the Civil War, confers automatic citizenship upon anyone born within United States territory. This misimpression has led to the catastrophic wave of anchor babies, i.e. children birthed in the country by foreigners with the specific intent of wedding their parents to this nation in perpetuity, which continues to plague the United States government at a national, state, and muncipal level.
In fact, the myth of the 14th Amendment granting birthright citizenship to anchor babies is inextricably linked to a series of  Supreme Court decisions, beginning with Wong Kim Ark, and culminating in the contemporary judicial precedent of Plyler vs. Doe. Although the ostensible outcome of the former was to confer citizenship upon a child born of Chinese immigrants, and the latter to invalidate a Texas statute denying public education to children who are in this country illegally, the judicial precedent established by both cases has had a much broader, more baleful impact. Namely, to establish the concept of birthright citizenship that entices so many to come to this country illegally, then to give birth on American soil.
With that historical background in mind, I suggest you visit a wonderful site developed by a Constitutional scholar who's spent many years trying to debunk the myths surrounding this vital part of our Constitution. John Eastman is an articulate spokesman for the millions of Americans who want to see a return to more thoughtful jurisprudence regarding the issue of birthright citizenship, and while political opportunists-such as Lindsay "Amnesty" Graham-try to manipulate the public by spouting nonsense about repealing the 14 Amendment, he has carefully explained how we can return this clause of the Constitution to its original intent.