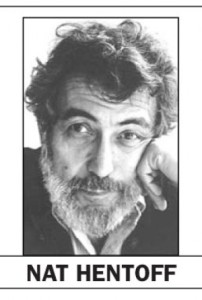 We learned of Nat Hentoff's death last night from his son, who was the first to tweet this sad news to the rest of the world. You can read his full obituary in the New York Times, but I would suggest combing the Internet to read his words for yourself. Even though he was a product of a pre-Internet age, Hentoff deftly utilized the tools of the late 20th and 21st century to spread his message of individual liberty and the rule of law. A perfect example being this Web video from the Foundation for Individual Rights and Education, an organization committed to preserving free expression on college and university campuses across the country.
A fierce opponent of the past 3 occupants of the Oval Office, as well as Executive overreach in general, a man who refused to defend anti-white racism masquerading as diversity,  an idiosyncratic liberal turned libertarian-who defended the human rights of the unborn-and a lifelong advocate of the Bill of Rights, Nat Hentoff was a truly remarkable public figure. Like fellow civil liberties advocate Wendy Kaminer, he was a scathing critic of the synthetic liberals at the ACLU, who run what is essentially a left wing affinity group under the guise of defenders of the Constitution.
He was a unique man whose absence will be missed by all who cared about the fundamental freedoms enshrined in this nation's cornerstone document. Even as progressives across the Western world silence our voices in order to placate the rainbow coalition, Hentoff bravely spoke out against the attempt to replace the 1st Amendment with sharia. He was a man from a different era, but one whose life should be a lesson for anyone hoping to preserve American freedoms into the 21st century. He will be missed.