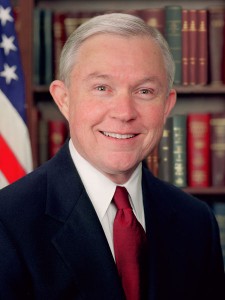 A pick that threatens all the work done by Eric Holder and Loretta Lynch.
It seems like racial arsonist and world-class grifter Al Sharpton has stumbled upon the truth of the matter. The left's opposition to Jeff Sessions is not driven by a genuine fear of how he'll approach civil rights issues-almost all of these objections are based upon falsehoods or distortions, and the primary accusers have suspect characters, to say the least-but is based upon the realization that he'll attend to the rank corruption which has permeated the Justice Department over the past 8 years.
Senator Sessions is not a racist, and has never been a racist. The man now being slandered by cultural Marxists and those who traffic in racial calumnies is the same person who desegregated schools and put the KKK out of business in his home state. What's occurring now is the quintessential Borking, which makes sense when you realize that Jeff Sessions was the first Republican judicial nominee to be Borked, even before Judge Bork himself. The only problem is that this tactic no longer works, as the election of Donald Trump to the presidency illustrates.
The public can no longer be intimidated into accepting bien pensant opinion or swallowing blatant lies about patriotic, normal American citizens. They realize implicitly that the stated reasons for these attacks are untruths. They've watched as the Obama administration has used its remaining time to force small, peaceful towns to acquiesce to the whims of Muslims and hire non-citizens to enforce American law. They've seen a Department of Justice willing to collude with the husband of a presidential candidate, a former President himself, under criminal investigation. They've watched hundreds die in the United States and Mexico as a result of this White House's gun trafficking to Mexican drug cartels.
Leftists should be afraid, but not for the reasons they've outlined in hysterical cable news jeremiads over the past week. They should be fearful because Jeff Sessions is the person entrusted to drain the swamp that the Justice Department has become under President Obama.