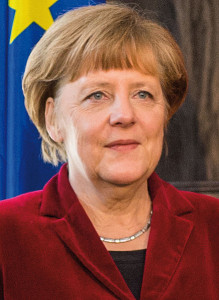 Germany recently marked an ignominious anniversary, one which future generations of Germans-assuming there are any-will look back upon with shame and regret. I'm speaking, of course, about Angela Merkel's decision to welcome over a million settlers from the Islamic world into the bosom of her country. The horrific consequences of this monumental decision have been documented on an hourly basis for those who care to look. The fact that a majority of the German population no longer believes she's fit to serve as Chancellor, and that over two-thirds believe her decision to deconstruct their nation was a bad idea is not nearly as shocking as the significant minority of Germans who still want to proceed along this suicidal path.
Fortunately, there are rumblings of an internal rift within the party she relies upon to maintain power. Whether or not this amounts to anything, the need to dethrone Angela Merkel is clear to anyone who cares about the future of Western civilization. Even if Germany retook control of its borders tomorrow, a pre-existing demographic tidal wave threatens to permanently efface German culture as we've known it for millennia. However, if nothing is done to reverse the catastrophic policies pursued by current European leaders, Europe as a continent is going to collapse. The fact that Mama Merkel herself is complaining about the reluctance her Czech, Hungarian, and Polish counterparts have shown in embracing vibrant diversity is telling.
If these migrants, i.e. invaders, are so wonderful, then why would the Mother of Refugees want to "redistribute" them? Think about this for a minute. If the CEO of an extremely lucrative firm were to offer you thousands of stock options in his or her thriving company, would you be filled with resentment? Would you avail yourself of every opportunity to unload those stocks on neighbors and friends? Why is the woman who is singularly responsible for the disaster unfolding across the European continent reluctant to accept more of the men who she has repeatedly assured us constitute an unparalleled boon for the Germany economy and culture? Could it be that she has been deceiving the German public all this time? Might there be some very legitimate reasons why ordinary Germans don't desire millions more unskilled, virtually unemployable refugees who are responsible for an unprecedented increase in criminal activity? Might vetting future army recruits for ISIS membership not be the most efficacious use of state resources?
These are all rhetorical questions, but they point to the necessity of politically removing the main source of Germany's-and to a lesser extent, Europe's-current misery. Regardless of who replaces Merkel, the fact that she needs to go is beyond dispute to any rational observer who wants to prevent Europe from descending into yet another Dark Age. Germany might not survive another year of their Chancellor's glorious experiment.