Last night I couldn't help but notice the scores of youthful, blissfully deluded Bernie Sanders supporters traveling home from Manhattan. No doubt many of them will be in attendance at the demonstration in front of the Republican Gala-hosting the remaining 3 Republican presidential candidates-which is slated to occur later today. For those of you who happen to be Trump supporters-some of whom I had the pleasure of chatting up at yesterday's We Are Breitbart meetup-there will be a counter-demonstration occurring in the same vicinity.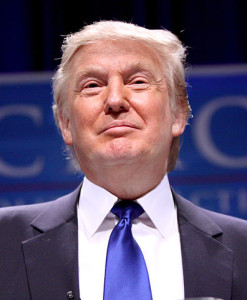 You'll find the details below the fold.
The Donald J. Trump for President Meetup will be holding a counterprotest tomorrow, April 14, near the Grand Hyatt on 42nd Street at Lexington Avenue. Their present meeting place is just to the west of the Hyatt on the north side of 42nd Street, in front of the Bolton's store, and the time is 5:30 p.m.
This is not an official campaign event, just a grassroots operation. Bring homemade signs and wear your Trump clothing if you have it. Small American flags are always good. The usual rules apply: No amplified sound, no signs or flags on hard sticks, stay in your assigned area . . . you know the drill.