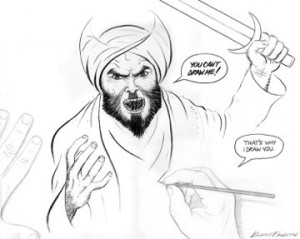 Nota Bene: Congratulations to Bosch Fawstin, who submitted the winning entry.  I think it personifies the spirit of defiance that characterizes those who stood with Geert Wilders in Texas yesterday in defense of freedom of thought and expression. You can view an enlarged version of the same drawing here. You can read the speech delivered by Wilders in its entirety here. 
I can't say that I ever expected a close friend to be the target-one of many, as it appears-of an assassination plot. Then again, I never expected to live in a country that had porous borders, and which allowed scores of criminals and terrorists to traverse them at will AFTER losing nearly 3,000 of its citizens in an unprecedented terrorist assault. Thankfully, the only deaths to come about as a result of the latest expression of peace were those of the jihadists themselves. We can only hope that the courageous police officer injured in the line of duty will completely and fully recover from his wounds in the days ahead. 
Since it's 2 am EST I'll spare you my analysis of the predictably craven, pandering, pathetic mass of cells nominally in charge of Garland, Texas-a huge diversity enthusiast, incidentally-and commentary upon the steel-framed memory hole on 8th Avenue, and simply urge you to visit Pamela Geller's website for yourself. You'll not only get the latest, firsthand information about the thwarted massacre in Texas, but also a morally and historically correct diagnosis of the plague we're facing.
It is there, where they burn books, that they eventually burn people. 
-Heinrich Heine 
Can someone remind me again why it's wrong to compare them to Nazis?