With the United States Senate rushing headlong into its rendezvous with destiny, i.e. deconstructing what remains of this nation's anemic and beleaguered economy, and the U.S. House following suit, it  seems appropriate to examine cui bono from these developments. Obviously not American citizens, beyond Facebook billionaire Mark Zuckerberg and the politicians who'll be handsomely rewarded by his corporation as a result of  yet another mass amnesty. Undoubtedly the thousands of immigration attorneys who'll be enriched through the passage of the Gang of Eight proposal-whose case was pleaded by Laura Lichter, the president of the AILA, in laughably skewed immigration hearings-will accrue some financial benefits after comprehensive immigration reform finally occurs.
Certainly, the individuals and institutions which have collectively spent over a billion dollars lobbying Congress over the past half-decade feel that they have a vested interest in altering this nation's immigration laws. However, the more immediate beneficiaries will be the millions of illegal aliens who will have their status changed, with the resultant benefits, including those enjoyed by their immediate family members and relatives.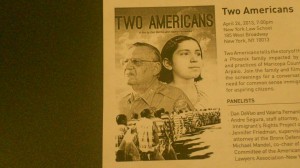 That part of this story is the ostensible focus of Two Americans, a documentary about Katherine Figueroa-whose beatific face you see juxtaposed against the snarling visage of Maricopa County Sheriff Joe Arpaio in the print ad above-a nine year-old girl from Arizona whose Mexican parents were arrested and detained after an immigration sweep at their workplace.
I caught a screening of the film by directors Dan Devivo and Valeria Fernandez, which was sponsored by the Justice Action Center and Racial Justice Project of New York Law School, last week just as the debate-such as it is-about immigration reform was percolating within Congress. As you can tell by the names of these academic centers, the foremost concern among faculty members-and presumably, their students-is achieving a desired political outcome-in this case for preferred racial and ethnic groups-regardless of whether that result is consonant with basic Constitutional precepts, a broader conception of justice according to natural law, or a firm foundation in American history. One of the main problems I have with the legal  assault against immigration enforcement-and the left's approach to the law in general-is that it relies upon this sort of results-based policy, which is predicated on achieving an outcome that is politically-not deontologically-correct.
In my estimation, this is the polar opposite of "justice," whose definition has until recently-perhaps before the era when critical legal studies achieved a foothold in academe-meant the application of objective rules which applied equally to everyone, regardless of skin color, ethnicity, religion, or sexual preference. Fortunately, the filmmakers behind Two Americans do grapple with the statutory and constitutional issues, such as habeas corpus, due process, and equal protection, that the enforcement of immigration laws in Arizona-specifically, the suppression sweeps launched by Sheriff Joe Arpaio in Maricopa County-raise. In fact, the film's focus upon these enforcement actions-and the difficult questions of federalism and the criminal justice system-is arguably the most substantive aspect of this documentary. Personally, I wish the directors had chosen to focus exclusively on these issues, rather than attempt to create an ambitious, almost panoramic-yet not altogether successful-film that often feels like four or five separate documentaries stitched together.
While the film's promotional materials bill it as an investigation of Joe Arpaio's expenditure of state funds as head of the Maricopa County Sheriff's Office, as well as a portrayal of the struggles of young Katherine Figueroa, it actually touches upon at least half a dozen other subjects that could have constituted distinct cinematic projects. From the President's implementation of Deferred Action for Childhood Arrivals, an extension of his administration's administrative amnesty, to the political struggle over Arizona's landmark law SB 1070, to the issues of leadership raised by the activities of the Maricopa County Sheriff's Office, to the relationship between Arpaio and the Maricopa County Board of Supervisors, to the relentless effort by his critics, such as Randy Parraz,  to dislodge him from office, to the battle between Sheriff Joe and the President himself, this documentary seemingly attempts to cover every angle of the immigration debate within Arizona in its hour and a half running time.
The relationship between the sheriff and Figueroa's family is tenuous at best, as Dan Devivo readily conceded during a post-screening question and answer session, where he described how Joe Arpaio is merely a stand-in for all of the elected officials and law enforcement officers-however few in number-who are attempting to enforce immigration laws in a robust manner. I was genuinely surprised by the negligible amount of time devoted to Katherine's dilemma-even the focus on the Figueroa family was divided between interviews of Katherine, her parents, and her custodial relatives. She is a very appealing personality for the anti-enforcement movement-lending credence to Mickey Kaus's theory that the DREAM Act was merely a stalking horse for a much broader amnesty-and I had made the assumption going into the screening that she would be centerpiece of this film.
Admittedly, I wasn't moved to tears-a reaction that Andrea Callan, the ACLU advocate who hosted this event, assured us would be forthcoming-at any point during Two Americans. Perhaps I've become inured to the barrage of sob stories and media puffery which deluge the American public on a daily basis regarding the plight of the undocumented. However, it's hard to discount the notion that Katherine Figueroa's story is tailor-made for a sympathetic human interest story which could have filled the plot of an anti-enforcement film in its own right. The directors chose to focus instead on the political nature of Sheriff Joe Arpaio's public persona, which is often overlooked in discussions about the utility, legality, and impact of his office's enforcement campaigns.
In truth, Arpaio is, in addition to being the chief law enforcement officer in Maricopa County, a public official whose capacity as sheriff rests upon his popularity with Arizona voters. So it's not surprising that his most hotly contested public stance generates scrutiny regarding his motives; the filmmakers asserted-both in the film and subsequent Q&A session-that his crusade against illegal immigration is driven solely by political opportunism. It's a charge seemingly buttressed by the testimony of a former colleague-interviewed throughout this film-who claims that Joe Arpaio jumped on the anti-illegal alien bandwagon in order to prosper politically. However, I feel this critique wanting, not least because Dan Devivo, in response to an audience member's (translated) question, averred that Arpaio's support within Maricopa was dwindling with each subsequent election. One wonders why an extremely popular elected official would adopt a stance that would earn him scorn and political antagonism among open borders enthusiasts throughout the country-and certainly generate opposition within his home county-if it wasn't based at least partially on personal conviction.
Furthermore, the same insinuation can be made of Arpaio's political enemies, such as open borders socialist Raul Grijalva, whose political fortunes-and campaign bank account-haven't suffered as a result of his dogged campaign against SB 1070 and the current sheriff of Maricopa County. And while  questions pertaining to Arpaio's use of his investigatory authority-particularly with regard to his office's MACE unit-are certainly valid, the misuse and exploitation of power by some of Arpaio's most powerful opponents is a question never broached by Two Americans. Specifically, the highly politicized tenure of Thomas Perez-President Obama's nominee to replace Hilda Solis as Secretary of Labor, but at the time of the administration's lawsuit against Maricopa County the Assistant Attorney General for Civil Rights-is never raised, nor is his extensive history of open borders activism.
Given that this documentary is advocacy journalism, I don't know how much balance on this subject the audience is entitled to expect. However, the narrative thread of this film continuously returned to the bad faith of people who support immigration enforcement, with the implicit accusation that their beliefs are responsible for the travails of Katherine Figuroa, rather than the actions of her two parents. I give the filmmakers credit for highlighting to a certain degree the fusillade of hatred open borders advocates have unleashed upon Arpaio-including the credible death threats he has received in office-yet the reasons why Arizona voters continue to support him are never seriously scrutinized, nor examined in anything but the most cursory manner.
The extensive and sustained public support for laws such as SB 1070 never arises at any point in this documentary, and the only footage of protestors who are critical of illegal immigration focuses, curiously enough, on members of the National Socialist Movement. The many peaceful, multi-ethnic, well-attended rallies supporting this law-which were covered by mainstream, liberal media outlets in Arizona at the time-completely escape the notice of the filmmakers, as do the public statements of  large, representative, reputable immigration reduction and anti-illegal immigration organizations and individuals in this country. In the end, I think that is the biggest shortcoming of Two Americans. Not the sprawling focus, but the refusal to honestly present the arguments made by the respective camps in the immigration debate. It's a problem that will persist so long as one side refuses to acknowledge the legitimacy of their opponents' beliefs.