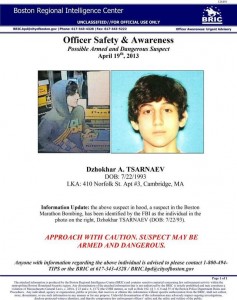 Update: The brothers' legal status has been corrected from an earlier post.  Dzhokhar A. Tsarnaev is in police custody! More details, courtesy of the Boston Globe. 
Video footage from the initial shootout between the two terrorists and police officers. Live Wire from WCVB. Atlantic Wire coverage, including a link to what's been verified as his Twitter account. 
Metro Boston SOPS scanner. Police have withdrawn from the part of Watertown where they suspected the bomber might have fled to. Military helicopters are circling the town. 
More details from Mother Jones and Deadspin. The Lid also has some updated news about what we know about this Chechen terrorist. According to Buzzfeed Politics, Dzhokhar Tsarnaev was an American citizen, while his older brother was a legally permanent resident. Despite being arrested for domestic assault, he was not deported. The father of the deceased terrorist describes him as a true angel. 
 Here's a photo of deceased MIT officer Sean Collier. Suspect's father calls on him to surrender to police.