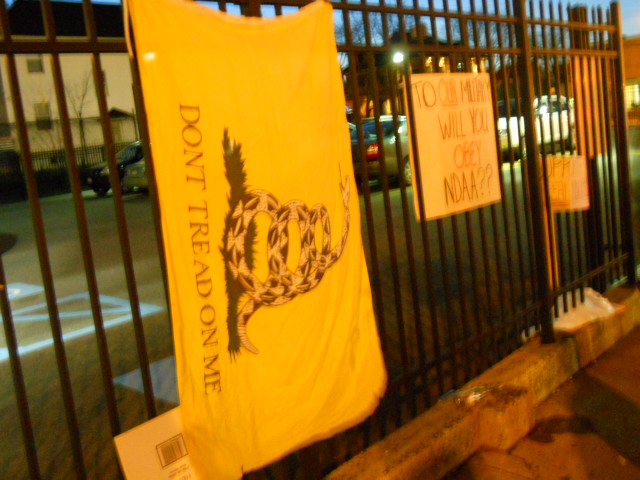 Yesterday afternoon Danny Panzella and a group of  liberty activists took to the streets of New Dorp, Staten Island in order to demonstrate their opposition to the National Defense Authorization Act of 2012, particularly Sections 1021 and 1022, which authorize the indefinite detention of anyone who commits a belligerent act against the United States or its allies under the auspices of a congressional resolution enacted in the wake of the September 11th attacks. The problem is that these provisions do not provide an exception for United States citizens on American soil, and in fact such amendments were explicitly rejected by the United States Senate during debate over the NDAA. The potential abuse of such a broad, all-encompassing law has been pointed out by legal scholars, some of whom have affirmed that the nebulousness of this year's NDAA could potentially lead to the prosecution of pro-life activists for expressing their 1st Amendment rights. As absurd as this proposition might sound, you must recall that the current administration's Department of Homeland Security-even as it flouts the immigration laws its legally obligated to enforce-is intently monitoring the constitutionally protected activities of military veterans, patriotic immigration reform activists-such as the men and women who read this website-and other Americans it designates "right wing extremists."
The potential scope of this poorly written law were outlined in detail by Senator Rand Paul, one of its chief opponents in the United States Senate before its passage.
That is why Mr. Panzella and like-minded New Yorkers endured the bitter cold of a winter afternoon in order to rally outside of the office of Congressman Michael Grimm, who voted in favor of the 2012 NDAA, and shine the spotlight on an issue that has important implications for every American living in this country, whether they realize it or not.
Here they are educating a passerby on the dangerous implications of the NDAA:
Thankfully, there are already state lawmakers, from  Washington to Virginia, who are fighting back. Along with citizen activism to raise awareness of the NDAA's actual provisions, these efforts will raise the stakes for legislators and administration officials who want their justified outrage to peter out. Thankfully, that's something that won't happen so long as there is a spark of resistance among conscientious American citizens.