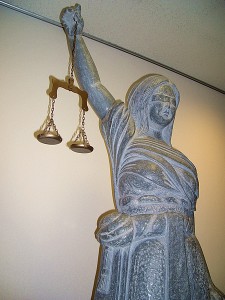 As many of you who are followers of American Rattlesnake know, one of the most infuriating aspects of our nation's unsecured borders is the number of violent crimes, including homicides, that are committed by illegal aliens who have evaded the criminal justice system precisely because of our government's lax attitude towards their initial crime. One of the most horrific crimes of this kind was committed in this city nearly five years ago by an individual who was an Ecuadorian national living here illegally. I bring up the case of Diego Pillco, which I've covered in the past, because of a disappointing ruling by  Justice Louis York in a civil lawsuit filed by Adrienne Shelly's widower, Andrew Ostroy. To exculpate Bradford General Contractors, the company that employed Mr. Pillco when he callously murdered Mr. Ostroy's wife, then proceeded to cover up his barbaric crime, from responsibility altogether is bad enough. But even more outrageous is the rationale the judge used when clearing them of blame. To assert that there was no tangible connection between Pillco's illegal status and the crime he committed-which was done in order to prevent Mrs. Shelly from calling law enforcement-is absolutely preposterous. To then go even further and claim that Pillco's illegal status didn't imply his willingness to break other laws, despite the documented link between the two, is positively galling. 
While Mr. Ostroy's attorney promises an appeal of this judgment, I think New Yorkers need to be reminded of the impunity with which many of these construction firms operate, not to mention the thousands of potentially dangerous individuals they employ. This environment has only been exacerbated by Governor Cuomo's craven decision to kow tow to special interest groups and withdraw New York State from Secure Communities. The fight for justice in this case continues, but there is also a corresponding battle to ensure that public officials don't allow criminals to roam our streets freely simply to burnish their political credentials.
For those of you who might want to contribute to a cause dear to the heart of the late Adrienne Shelly, I suggest visiting the website for the Adrienne Shelly Foundation, which was established by Andrew Ostroy in order to preserve his wife's legacy as a brilliant independent actress and filmmaker, and to give opportunities to young women who want to follow in her footsteps. Despite the injustice and staggering incoherence of this ruling, the light of Adrienne Shelly's life continues to shine brilliantly, all the more so because of the devotion her surviving family members have shown in the years since her death.