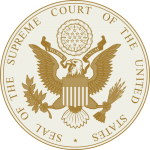 I've been remiss in addressing this subject, but I think that the recent Supreme Court decision mandating the eventual release of thousands of prisoners currently incarcerated in California's penal system is worth commenting upon for several reasons.
There is obviously the question of whether courts are excessively involved in micromanaging statewide corrections facilities, as well as a debate over whether the fiscal illiteracy and general profligacy of the California state legislature paved the way for this dramatic ultimatum from the Supreme Court. However, I'd like to address another aspect of this issue, which involves abiding by the Court's decision without endangering the lives and security of Americans. 
I believe the Washington Times has stumbled upon a perfect solution-or as perfect as can be devised, given the exigent circumstances-to California's dilemma. Namely, reach a memorandum of understanding with the federal government that would entail the deportation of an estimated 19,000 illegal aliens serving prison time in that state's correctional facilities. Considering Governor Jerry Brown's ambiguous record in opposing illegal immigration, it's far from certain that he would embrace such a course of action. However, as the Times notes in the editorial above, less than two years ago the idea of alleviating California's budget woes by repatriating foreign nationals imprisoned in California was openly discussed. 
Although deporting the sub-population of California inmates that consists of illegal aliens will not completely resolve the prison crisis, it will be a step in the right direction, not only in terms of satisfying the Court's ruling, but in ensuring the security of ordinary Californians. As Heather Mac Donald pointed out in her congressional testimony several years ago, their state is the American epicenter of criminal alien gangs, such as MS-13, the 18th Street Gang, and other predominately Mexican and Central American gangs that wreak havoc on a daily basis within Los Angeles. If California decides not to pursue this tack, it will be a decision born of political expediency and shameless pandering, not made with the best interests of California residents at heart.