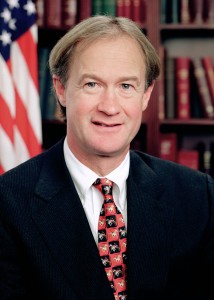 Some bad news from the state of Rhode Island, courtesy of The Boston Globe. One of the worst outcomes of this past election cycle was the replacement of outgoing Governor Donald Carcieri, who had been a stalwart supporter of state-federal cooperation on immigration enforcement, with hapless open borders panderer Lincoln Chafee.
Having attained high office based solely upon his last name, Chafee hasn't disappointed those of us who had little to no faith in his capacities as a public official, as his recent decision to scrap Rhode Island's participation in 287(g) demonstrates once again that he is not fit to sit in the governor's mansion.
While there's no opportunity to rectify this until the next time Chafee stands for re-election, it is heartening to know that the law enforcement officers in the state of Rhode Island continue to attack the problem at its source. Criminal aliens should be brought to justice, regardless of the despicable political posturing of people seeking their votes in future elections.