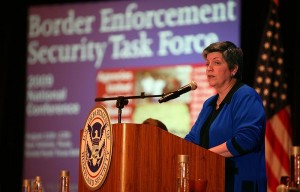 In a continuation of a story this website first addressed earlier this summer, the Obama administration's quest to enact a de facto amnesty seems to be gathering steam. The Houston Chronicle, which was the first news outlet to disclose a pattern of large numbers of immigration cases in the Houston court docket  being summarily dismissed, now reports that this jump in dismissals has increased by more than 700 percent in just the past month.
The Chronicle follow-up deserves a close reading because it illustrates a disturbing pattern of deception by this administration's appointees at the Department of Homeland Security and the Bureau of Immigration and Customs Enforcement. While John Morton and Janet Napolitano have repeatedly cited the "record number" of deportations the Obama administration has undertaken, the policies they have decreed have established an effective amnesty for large numbers of illegal aliens who had previously been slated for deportation.
By circumventing the proper legislative  channels, the Obama administration has revealed how it views our nation's immigration law. What needs to occur now is a reaction by the American public on Election Day that reintroduces the notion that the executive branch cannot enact law, and the only way to do that is to empower the opposition. An energized, empowered opposition that with a new majority will launch real oversight hearings into the abuse of power that the actions of DHS, ICE, and the Obama administration represent.