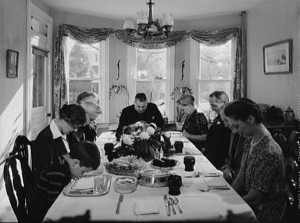 We at American Rattlesnake  would like to wish all of our followers a very contented and happy Thanksgiving. Unfortunately, there are many Americans who are pained by the absence of loved ones this holiday, including the family of Marizela Perez. More than eight months after this vivacious, precocious University of Washington student disappeared from her campus in Seattle, she remains missing. Michelle Malkin has a deeply moving meditation on the trauma, frustrations, and unexpected blessings that her family has experienced in their search for her cousin, which I strongly recommend reading. I also urge everyone to visit Find Marizela, a website dedicated to documenting the ongoing search for Marizela Perez. 
It can't be forgotten that on this day of giving thanks there are many who won't be able to celebrate with their flesh and blood because their brother, or sister, or mother, or aunt, or uncle, is no longer with us. The family of young Dustin Inman, a sixteen year-old cut down by an illegal alien with a Matricula Consular ID, will have one less place setting this Thanksgiving.
Andrew Ostroy, the husband of the late filmmaker and actress Adrienne Shelly, has a daughter who will never get to celebrate with her mother on this day. Why? Because an unscrupulous construction company named Bradford General Contractors', although by now probably operating under a different name, employed an illegal alien from Ecuador named Diego Pillco. Someone who would murder Mrs. Shelly in cold blood, then attempt to pass her death off as a suicide-a mendacious ploy that would have succeeded, had it not been for the tenacity and unyielding love of her husband. 
The father of the late Jamiel Shaw Jr. will never be able to celebrate another Thanksgiving with his son, a young man who had limitless potential, who was murdered by an illegal alien gang member released onto the streets of Los Angeles, the first major metropolitan area in this nation to declare itself  a sanctuary city. 
These are the names you should remember when ignorant politicians grasping for yet more power, who have hardened their hearts to the pain and suffering that Americans have experienced because of their indifference, accuse you of being "heartless" for caring about the lives and well being of your countrymen. For those of you who are of a faithful bent, I would also suggest saying a prayer for the families who are missing loved ones this Thanksgiving, including the many who I simply do not have enough space to list here. Unfortunately, there are many of those. 
Even so, there is much to be grateful for this Thanksgiving. As Michelle writes,
To find a way, with the help of God, family and friends, to count our blessings even (and especially) in the midst of great angst. Because in the end: "All will be well."
Happy Thanksgiving, friends!