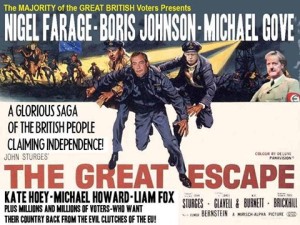 It's difficult to keep track of developments on the Brexit front, as news seems to be breaking nearly every minute. However, I'd like to provide you with some of the more useful observations about what has occurred in the UK and across the globe since Thursday. One of the most important questions, of course, is what happens next. As others have pointed out, this was a non-binding referendum and there is theoretically nothing preventing a Europhile political class from simply ignoring the will of the people. In fact, that is precisely the course some Labour MPs are suggesting Westminster take. Although these sentiments won't be voiced publicly by many, the contempt the Labour Party's political representatives  have for the people they purportedly represent is unmistakable. Nothing illustrates this more vividly than the campaign to sack Jeremy Corbyn for being insufficiently supportive of an institution that over 17 million Britons detest.
And while Hillary comforts herself by repeating the mantra that America is not the United Kingdom, the truth is that political fallout from Brexit will be felt throughout the globe, which includes the United States. What occurred in Great Britain is a stunning, remarkable defeat of the global left-one which everyone on the right, wherever you live, should rejoice in-but it's even more significant than that. It's a defeat for the political philosophy of globalism, the insidious idea that we would all be better off as deracinated cosmopolites stripped of our cultural patrimony-including our God-given right to speak our minds, even if it offends the religion of grievance.
Those who've profited from this philosophy are rightly terrified, and their hysteria will only increase as they realize that they are completely unequipped to roll back this revolution. A revolution that, as both Peter Hitchens and Daniel Greenfield have pointed out, was led by a new coalition that consists of disenfranchised Old Labour and Conservative voters. Individuals whose will has been, and continues to be, ignored by their representatives, but who have finally found their voice. Perhaps that voice is unsettling to toffs like Owen Jones because it sounds like Tommy Robinson-or a close approximation thereof-but it's the voice of Great Britain and it needs to be respected.
This is a country which has just accomplished something extraordinary. It has begun to crack the foundation of soft totalitarianism which has governed Europe for nearly half a century. It started the restoration of freedom and self-government which has been the hallmark of the United Kingdom for nearly 8 centuries. Even those who left the UK when the European Project appeared invincible can take pride in what their countrymen have accomplished. This is an historic moment, and it cannot be wasted. The British have reaffirmed their heritage, it's time for the rest of the world to follow.