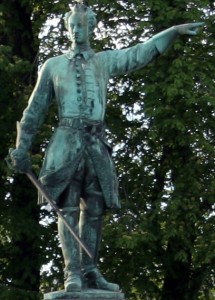 Rigidly defending the President's precise formulations will always pose a problem for his supporters. I think even his staunchest backers will acknowledge that Donald Trump isn't Churchillian in his eloquence. That said, nearly every time he is assailed by his pseudo-sophisticated, morally inverted critics in the culturally Marxist press, it turns out that he was correct.
The manufactured controversy surrounding his remarks about Sweden is simply the latest example of the media's malicious lying and/or stupendous ignorance. No, President Trump wasn't referring to a specific terrorist attack in Sweden, although there have been jihadist assaults in that nation, including suicide bombings, but rather to the degradation of that country-as well as others in Central and Northern Europe-occurring as a result of catastrophically wrongheaded immigration policies.
What happened last night, as well as many nights before in immigrant-heavy, Islam-friendly towns and cities in that country, is chaos. Rampant sex crime, tribal warfare, widespread rioting-some of which targets members of the liberal press which is so enamored of non-Swedes-and general lawlessness. In spite of the Swedish government's refusal to acknowledge reality, censorship of hate facts, and systemic coverup of migrant rape of Swedes, the non-brainwashed know what is happening in Europe.
Despite forbidding the collection of statistics which would identify the ethnicity of those committing crimes in Sweden, we still have a very good idea of who is responsible for many of them. For example, 85% of those sentenced to at least 2 years in prison for rape by a Swedish court of appeals were foreign-born or second-generation immigrants. We have firsthand accounts from career law enforcement officers attesting to the culpability of foreign immigrants and refugees in the diverse array of problems Swedes currently face.
The idea that the state and its accomplices in the media can somehow indefinitely cover up the truth in a networked world, where we can read descriptions of what the multicultural boroughs of Europe are actually like, is the height of absurdity. The facts denied and buried by the mainstream media are at the fingertips of those who choose to obtain them. That is something that will not change any time in the near future, no matter how much our ruling class would like to suppress the truth.