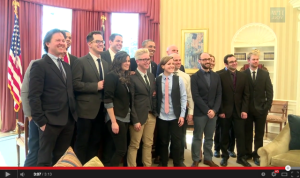 If a picture is worth a thousand words, the value of a moving image is incalculable. That's why the impact of a website like Youtube should never be underestimated. Although often marginalized as an endless repository for cat videos and dwindling supply of unlicensed songs and films, the truth is that Youtube, especially since its takeover by the Internet hydra known as Google, exercises a profound influence upon how we view the world. It's why the people behind that website devote enormous resources to sponsor presidential debates, interview the President, and generally influence the tenor of political debate within this country. Which makes its record of discrimination against unfashionable points of view all the more troubling to those of us among the non-leftist untermenschen.
Although the nature of its reporting system lends itself to abuse, especially by adherents to the Religion of Grievance, it can no longer be denied that Youtube has gone out of its way to make itself inhospitable to heterodoxy. The temporary ban of a channel documenting ISIS atrocities can be explained away as an overzealous reaction to graphic images, but it's harder to intellectually justify the removal of a video which satirizes jihadists. Or, for that matter, videos which use fragments of news footage in order to illustrate the gravity of the refugee crisis engulfing Europe.
It's certainly true that many right wing Youtube channels, even those critical of mass immigration, multiculturalism and Islam, still exist. That said, many others, whose foci range from the right to bear arms to Christian ministry,  have been temporarily or permanently banned. If you really want to incur the wrath of YT though, you should probably explore the less than positive aspects of open borders-particularly as it relates to the hijra which Europe is currently undergoing. An inventory of my own favorited videos exploring these subjects revealed that nearly 70% of them had been removed. Gee, I wonder how that happened.
Pat Condell, whose video critiquing Saudi Arabia-otherwise known as ISIS 1.0-was removed for unspecified reasons is a perfect illustration of the selective censorship exercised by Youtube. However, he is far from alone. While a cursory search would reveal hundreds of pro-Islamist and even explicitly jihadist videos, the mere existence of channels critical of this planet's most destructive ideology is too jarring for those in charge. It cannot stand. Just ask MEMRI TV, or Palestinian Media Watch, or many, many others who have run afoul of that website's peculiar interpretation of its own terms and conditions. I marvel at the continued existence of SyeTenAtheist, even as I delight in his channel, although perhaps I should temper my enthusiasm, given the history of both Youtube and its parent company.
Even if you could shrug off all of the aforementioned incidents as unpersuasive anecdotal evidence, how do you explain the fact that in any given year none of the official Youtube channels represent conservative points of view, even as a vociferous denier of the Armenian genocide has earned the company's seal of approval? Is that merely coincidence, or is it perhaps part of a pattern? Don't expect an answer from Youtube HQ, or anyone working for Youtube or Google for that matter, because that's just not what they do.
It's their world, we just live in it.