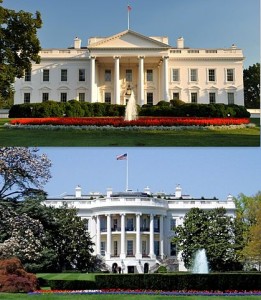 The big news to come out of the President's first weeks in office is a federal judge enjoining his executive order blocking immigration from 7 nations of concern. The motion by the Trump administration for an emergency stay has been denied by the 9th Circuit, a decision which bodes ill for its ultimate fate, as Andrew McCarthy points out, although the court will hear the challenge later today. There are a number of troubling aspects to this ruling, foremost among them being the idea that a single judge can influence American foreign policy and national security based upon specious legal reasoning. This is a distressingly familiar sight for the patriotic immigration reform movement, which has seen a single judge thwart Proposition 187-consigning California to its current dismal fate-and another obstruct the implementation of SB 1070-the law which inspired this very website.
The biggest threat to President Trump's immigration agenda, beyond the attempt by the Chamber of Commerce wing of the GOP to undermine it within Congress, is judicial obstruction. Immigration law is just one of many domains usurped by the federal judiciary over the past century, however it is one of the most vital to the survival of our republic. Notwithstanding the media-generated fog, this executive order is critically important, not least because it drastically reduces the number of refugees being resettled in the United States and, to the horror of the ACLU, targets criminal aliens.
The lack of reasoning that went into this decision is transparent. As Byron York points out, this injunction-relying upon a litany of unexamined open borders cliches-has been rebutted by the Justice Department, which described in painstaking detail the plenary power exercised by the Executive Branch with regard to the entry of foreign nationals into the United States. Contrary to the Obama administration, which attempted to confer a panoply of benefits upon illegal aliens without the consent of Congress, this is a measured attempt at maintaining the security of American citizens at minimal cost/inconvenience to foreigners. Even so, the same bureaucratic forces which enabled President Obama to flout the Constitution are intent upon thwarting that very reasonable aim of the current administration.
Josh Blackman has a thorough 2 part exploration of the injunction from a statutory perspective, which I highly recommend reading. These cases will set the precedent for how immigration is dealt with going forward. Therefore, we need to address and refute the myths and exaggerations which have already taken hold in large swathes of the media landscape. We cannot allow lies to dominate the narrative, because immigration is the defining issue of our era.